http://www.emc.maricopa.edu/faculty/farabee/biobk/biobookplantanat.html
This website provides information on plant structure and support.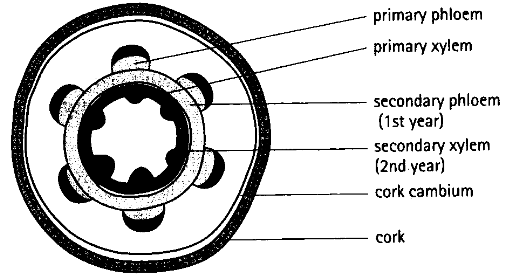 This diagram shows the process of secondary thickening in stems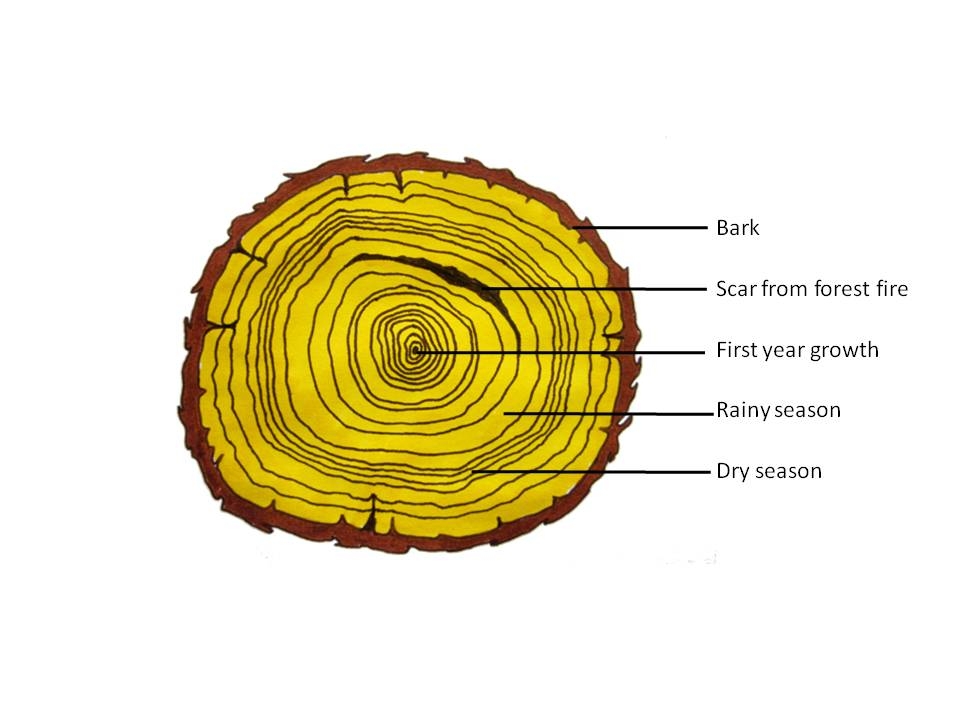 This diagrams shows the annual rings of a tree trunk
Investigation - tree rings and climate change
Every year a tree forms a new layer of xylem around the trunk. This forms tree rings, which are visible as circles in a cross section of a tree that has beencut down. Each tree ring, or wood layer, consists of two colours of wood; light wood that grows in spring and summer and dark wood that grows in autumn andwinter. Tree rings can be counted to give you a rough estimation of the age of a tree. Occasionally a tree will form many rings in one year or miss formingrings in a year. The width of tree rings is greater in years where good growing conditions occur. In years with droughts or low temperatures, the trees willproduce smaller rings. Therefore, by looking at the tree rings you can get an idea of the weather affecting a tree in a particular year. Scientists can usethis information to help determine the weather patterns of the past as well as events such as forest fires, earthquakes and volcanic eruptions. The study ofpast events using the growth rings of trees is known as dendrochronology ("dendros" = tree, "chronos" = time).
Aim: to observe annual tree rings to assess age and climatic conditions
1. Find a cut or fallen tree, and count the tree rings, starting with the innermost ring. Measure the width of each ring using a ruler, or make a note ofwhether a ring is narrow or wide. Make a note of any scars caused by events such as fires or pests.
2. Draw a bar graph showing the width of your tree rings for every year of the tree's life.
3. How old is your tree? What can you say about the climatic conditions throughout the life of your tree?
http://www.classzone.com/books/earth_science/terc/content/investigations/es2905/ es2905page01.cfm
This is a link to an online tutorial about counting tree rings.
http://www.arborday.org/kids/carly/lifeofatree/
This is a link to a great cartoon video about the different tissue layers in trees (xylem, phloem, etc) and the formation of tree rings.
http://www.worsleyschool.net/science/files/tree/rings.html
This is a link to a good website about tissue layers in trees.
Economic importance of plant support tissues
Plant support tissue supplies with two important resources namely wood and fibre . Xylem is a source of wood and the sclerenchyma is a source of fibre.
Of course in order to obtain wood and fibre we need to cut down numerous trees. This is called deforestation . Deforestation has escalated in the recent years due to the growing need for wood.
Activity
Collect data showing the area covered by forests in the years 1990 and 2010. Find this data for the following countries: South Africa, Europe, Asia, Northand Central America and South America.
Divide the class into two teams. One group will argue the need for us to cut down trees and the other will be responsible for convincing us thatdeforestation must be reduced dramatically.
Indigenous knowledge
Making paper, flax, cotton, sisal. Traditional use of fibrous plants by san bushman using sansevaria to make rope etc. thatching. Can we please get helpwith this?
Dicotyledonous leaf
Internal structure of the dicotyledonous leaf
Refer to chapter 1 to remind yourselves of the internal structure of a dicotyledonous leaf.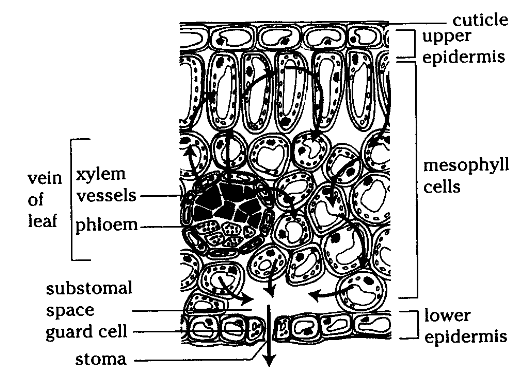 This diagram shows the movement of water through a dicot leaf.