Energy consulting companies can provide many services and innovative solutions for building owners that will reduce energy costs. This is a growing job sector within the United States economy as businesses try to capitalize on the savings that energy projects like those described above can provide.
Combining heat and power
One area of huge potential for energy efficiency is from capturing waste heat from electricity generation and many industries through a process called cogeneration or combined heat and power (CHP), which is discussed in greater detail in the Module Combined Heat and Power . Cogeneration is the simultaneous production of heat and electrical power in a single thermodynamic process. Instead of discarding the heat produced by the electrical power production or industrial process, it is captured and used to provide space heating and hot water heating, humidification, cooling (via absorption chillers), as well as other uses, thus eliminating the added expense of burning fuels for the sole purpose of space heating (see Figure Comparison of Energy Efficiency of Standard Power Plant and Combined Heat and Power Plant ). The U.S. Department of Energy calculated that CHP generation from industrial processes alone is equal to the output of 40 percent of coal-fired generating plants that produced electricity in 2007.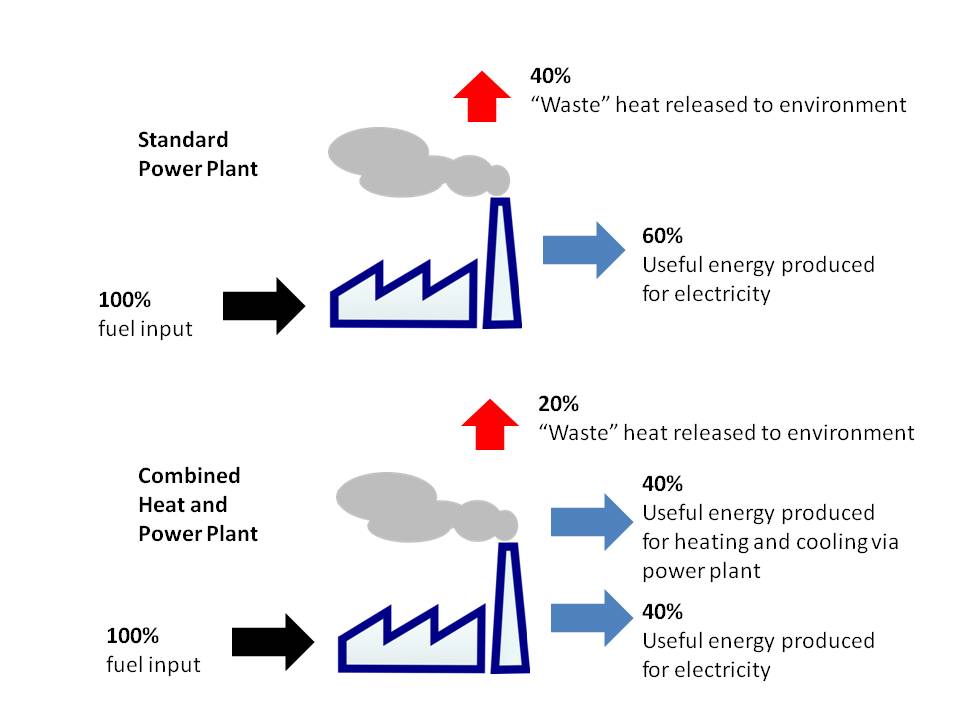 Design new buildings to reduce energy use
The construction of new buildings consumes a lot of energy from the production of the raw materials, the transportation to the building site, the construction process, and ultimately the energy used to operate the building. In the last decade in the United States, there has been a growing recognition that much could be done to reduce the environmental impact of new construction. Therefore, building energy codes increasingly demand higher energy efficiency and green building certification and recognition systems have been developed, such as Green Globes and Leadership in Energy and Environmental Design (LEED) , to promote design for the environment. Aspects of construction that can enhance energy efficiency include site selection, energy and water efficiency, materials used, proximity to public transit and provision of biking amenities, and renewable energy. In addition, using a process of integrated design where the structure of the building itself provides the energy needed to heat, cool or illuminate the building, energy savings can be achieved more readily.