What are the primary barriers that hinder eligible candidates from applying for a school leadership position?
What eligible candidates' background characteristics (i.e., gender, age, race/ethnicity, sub-administrator status, and years of teaching experience) are associated with their pursuing a school leadership position?
Literature review
Demand for school administrators in california
California is facing several challenges to improve student learning and close the achievement gap, including the highest student-administrator ratio in the country, a large number of students who are English language learners and from low-income families, and a continuing demand for new administrators (EdSource, 2007; Darling-Hammond&Orphanos, 2007; Kearney, 2010).
According to a recent study (White, Fong,&Makkonen, 2010), more than 5,000 school administrators in California (37% of the total) were ages 51-60 and will reach a peak of retirement in the next 10 years; and the cumulative student enrollment will increase by about 1.7% during the period of 2008/09 – 2017/18. When the administrator retirements and student enrollments are combined, "the projected need for new school-site administrators ranges between 9 percent and 71 percent of counties' 2007/08 administrator workforce" (White et al., 2010, p. 1). Ten large counties in California will have a higher demand for school administrators (Los Angeles, Orange, San Diego, San Bernardino, Riverside, Santa Clara, Sacramento, Alameda, Fresno, and Kern). They accounted for 73% of California's student enrollment in 2007/08, and will need more than 2,900 administrators in the next 10 years, "or 61 percent of the overall projected need of 4,815 hires statewide" (White et al., 2010, p. 11).
Demand versus supply
It is getting more difficult for schools and districts to fill administrative vacancies (Center for the Future of Teaching and Learning, 2009; Kearney, 2010). On the other hand, research indicates no evidence of a nation-wide shortage of certified candidates to be school administrators (Gates et al., 2003; Papa&Wyckoff, 2002). The same is true in California. As shown in Figure 1, the number of Administrative Services Credentials issued in California increased by 22.8 percent during the 5-year period of 2003/04 to 2007/08, and there are sufficient licensed administrators to fill projected openings (CCTC, 2009).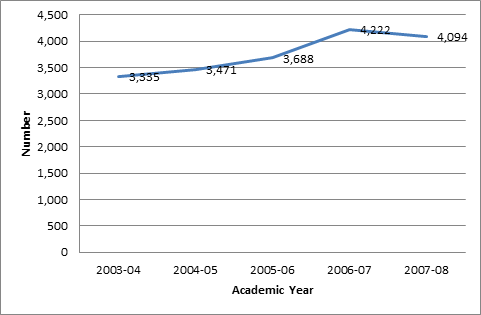 Figure 1. The number of Administrative Services Credentials issued in California from 2003-04 to 2007-08.
Why are we in the dilemma where there are seemingly sufficient candidates eligible for serving as administrators but there still exists a shortage of applicants for the job? Prior studies showed that many teachers pursuing an administrative credential were not seeking an administrative role. Levine's (2005) study revealed that many teachers enrolled in leadership programs did not intend to become administrators but were interested in advanced degrees or course credit for salary enhancement. Winter, Rinehart and Munoz (2002) conducted a survey of 194 certified individuals from a large school district; of whom, 71% had earned their certifications for more than five years. They found that "as few as 10 percent of the 194 certified personnel who participated in this research were likely to apply for principal vacancies" (Winter et al., 2002, p. 136). They also found that the primary barriers to pursuing a principalship included "lack of self-reported capability to do the job, and satisfaction with the current job" (Winter et al., 2002, p. 129).