Activity: physical change
Use plastic pellets or marbles to represent water in the solid state. What do you need to do to the pellets to represent the change from solid to liquid?
Chemical changes in matter
When a chemical change takes place, new substances are formed in a chemical reaction. These new products may have very different properties from the substances that were there at the start of the reaction.
The breakdown of copper (II) chloride to form copper and chlorine is an example of chemical change. A simplified diagram of this reaction is shown in [link] . In this reaction, the initial substance is copper (II) chloride, but once the reaction is complete, the products are copper and chlorine.

Chemical change
The formation of new substances in a chemical reaction. One type of matter is changed into something different.
There are some important things to remember about chemical changes:
Arrangement of particles
During a chemical change, the particles themselves are changed in some way. In the example of copper (II) chloride that was used earlier, the molecules were split up into their component atoms. The number of particles will change because each molecule breaks down into one copper atom ( ) and one chlorine molecule ( ). However, what you should have noticed, is that the number of atoms of each element stays the same, as does the total mass of the atoms. This will be discussed in more detail in a later section.
Energy changes
The energy changes that take place during a chemical reaction are much greater than those that take place during a physical change in matter. During a chemical reaction, energy is used up in order to break bonds, and then energy is released when the new product is formed. This will be discussed in more detail in "Energy changes in chemical reactions" .
Reversibility
Chemical changes are far more difficult to reverse than physical changes.
We will consider two types of chemical reactions: decomposition reactions and synthesis reactions .
Decomposition reactions
A decomposition reaction occurs when a chemical compound is broken down into elements or smaller compounds. The generalised equation for a decomposition reaction is:
One example of such a reaction is the decomposition of mercury (II) oxide ( [link] ) to form mercury and oxygen according to the following equation:

The decomposition of hydrogen peroxide is another example.
Experiment : the decomposition of hydrogen peroxide
Aim:

To observe the decomposition of hydrogen peroxide when it is heated.
Apparatus:

Dilute hydrogen peroxide (about 3%); manganese dioxide; test tubes; a water bowl; stopper and delivery tube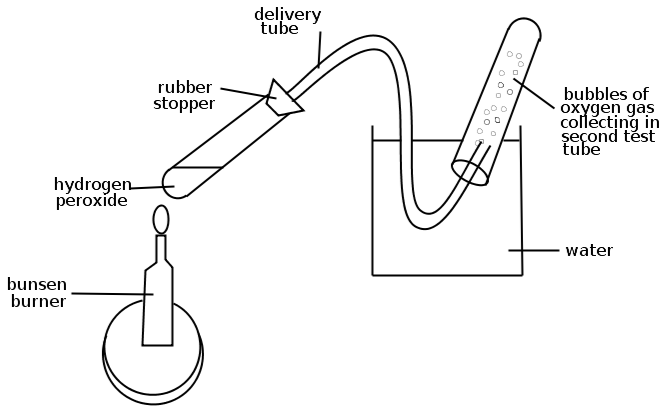 Method:
Put a small amount (about 5 ml) of hydrogen peroxide in a test tube.
Set up the apparatus as shown in [link]
Very carefully add a small amount (about 0,5 g) of manganese dioxide to the test tube containing hydrogen peroxide.