This module provides a basic user's guide to Connexions' MathML editor. In it you will learn how to access the editor, how to create, edit, and delete MathML expressions using the editor, and how to insert the MathML code into a module.
Overview
This module covers some basic points of Connexions' MathML editor, now in beta testing. It is organized as a tutorial and will lead you through basic usage of the editor, though you can skip around the sections if you wish. The tutorial covers:
You will learn how to create the expression using keyboard input and also using the toolbar menus .
You will also learn about the basic layout of the MathML editor, the context of your cursor within the editing area, and how to select or highlight part or all of the MathML within the editor with key strokes or the mouse.
All of these aspects of the editor and more are covered in more detail in the MathML Editor: Manual .
Accessing the editor
Currently, the MathML editor is only supported in Mozilla Firefox . If you use Internet Explorer or another browser, you can download Firefox for free under the link.
When editing a module using Mozilla's Firefox browser, click on an element within the module to open a blue editing box .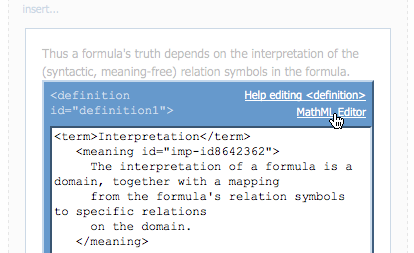 On the top-right hand side of the box is a "MathML Editor" link which will open up the editor .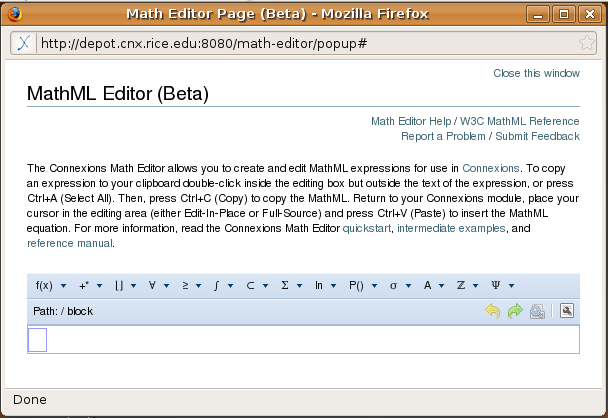 The popup window can remain open while editing a module and can even stay open while editing several modules. At any point one can close the window, but the contents of the editor will be lost.
The editor has two main sections: the toolbar and the main editing area .
The toolbar consists of
The editing area is the main area for creating math. It begins empty, but math can be pasted directly in here from Connexions, or created on the spot by either typing in expressions or using the toolbars. See the section Inserting expressions into a module below for how to move math from Connexions to the math editor and back.
Creating expressions
When you first open the MathML editor, the Editing area should have one blank box in it, called a " block ". A block is an empty slot that can be filled with a number, variable, or longer expression consisting of at least one operator and its associated arguments.
Click inside of it to place your cursor inside the empty block.
There are two ways to insert math using the keyboard. The simplest way is to use keyboard shorthand notations for operators. These exist for simple algebra notations, and are similar to the buttons on a calculator (for instance, * for multiplication, - for negative or minus). A full list of Keyboard shortcuts is located here .