For example, sodium only has one electron in its outermost shell. It takes less energy for sodium to donate that one electron than it does to accept seven more electrons to fill the outer shell. If sodium loses an electron, it now has 11 protons and only 10 electrons, leaving it with an overall charge of +1. It is now called a sodium ion.
The chlorine atom has seven electrons in its outer shell. Again, it is more energy-efficient for chlorine to gain one electron than to lose seven. Therefore, it tends to gain an electron to create an ion with 17 protons and 18 electrons, giving it a net negative (–1) charge. It is now called a chloride ion. This movement of electrons from one element to another is referred to as electron transfer . As [link] illustrates, a sodium atom (Na) only has one electron in its outermost shell, whereas a chlorine atom (Cl) has seven electrons in its outermost shell. A sodium atom will donate its one electron to empty its shell, and a chlorine atom will accept that electron to fill its shell, becoming chloride. Both ions now satisfy the octet rule and have complete outermost shells. Because the number of electrons is no longer equal to the number of protons, each is now an ion and has a +1 (sodium) or –1 (chloride) charge.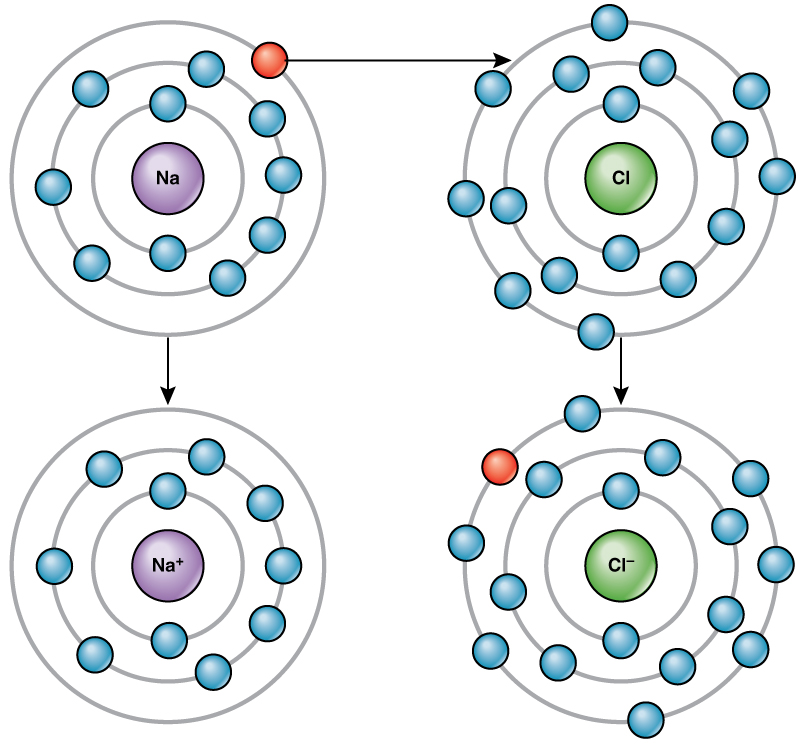 Ionic bonds
We will study three types of bonds or interactions: ionic, covalent, and hydrogen bonds. When an element donates an electron from its outer shell, as in the sodium atom example above, a positive ion is formed. The element accepting the electron is now negatively charged. Because positive and negative charges attract, these ions stay together and form an ionic bond , or a bond between ions. The elements bond together with the electron from one element staying predominantly with the other element. When Na + and Cl – ions combine to produce NaCl, an electron from a sodium atom stays with the other seven from the chlorine atom, and the sodium and chloride ions attract each other in a lattice of ions with a net zero charge.
Covalent bonds
Another type of chemical bond between two or more atoms is a covalent bond . These bonds form when an electron is shared between two elements and are the strongest and most common form of chemical bond in living organisms. Covalent bonds form between the elements that make up the biological molecules in our cells. Unlike ionic bonds, covalent bonds do not dissociate (i.e. separate) in water.
The hydrogen and oxygen atoms that combine to form water molecules are bound together by covalent bonds. The electron from the hydrogen atom divides its time between the outer shell of the hydrogen atom and the incomplete outer shell of the oxygen atom. To completely fill the outer shell of an oxygen atom, two electrons from two hydrogen atoms are needed, hence the subscript "2" in H 2 O. The electrons are shared between the atoms, dividing their time between them to "fill" the outer shell of each. This sharing is a lower energy state for all of the atoms involved than if they existed without their outer shells filled.