Both the ACLS and ASAE surveys indicate that the predominant motivations for joining a learned society are the intangible benefits of community participation and professional interest, and the ASAE study indicated that academics are the strongest supporters of their membership organizations. In the absence of data specific to its membership, a society may reasonably assume that its members will exhibit the same motivations to membership as the ACLS and ASCE surveys suggest.
In addition to the intangible benefits of society membership—such as maintaining professional identity and expressing community affinity—a society offers additional tangible benefits that its members value. The pressure that online institutional site licenses exert on a society's membership will depend, in part, on the perceived value of the society's entire suite of benefits. The following sections discuss typical member benefits and how they might be perceived by a society's membership.
Reasons for society membership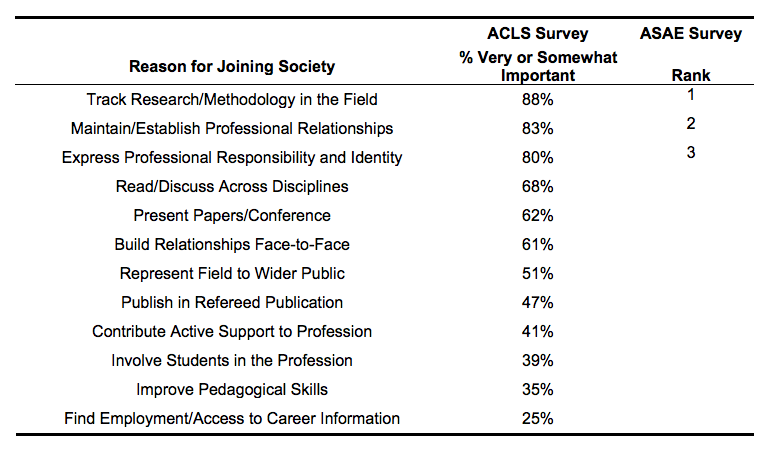 Publication benefits
The manner in which a society's publication benefit is structured—in particular, the provision of a member print subscription—can deliver value that complements member online access. Therefore, a society should assess how its members perceive its entire suite of publication benefits.
Convenience of print subscription
While researchers value the discovery power and added functionality of online journal content, many continue to value the convenience of a personal print subscription. This preference for print is driven by the positive attributes of working with paper, an aversion to reading large bodies of text online, and perceived deficiencies in online journals. And while it is slightly more likely to be perceived by faculty in the arts and humanities and social sciences, it exists across all disciplines, including the sciences. For such members, online institutional access seems an insufficient motivation to cancel their memberships in a society, even were the journal the sole benefit of membership. Obviously, this situation could change over time, if online reading technologies improve sufficiently. However, the dearth of electronic-only journals suggests that most publishers recognize that print, at least for now, retains its value for many subscribers.
That said, a society must assess the extent to which its own members value print. While a number of studies examine how usage of print and online resources varies by discipline, user type, age, and other characteristics, there is relatively little data that speaks directly to the retention of personal print subscriptions. In terms of age, there are some indications that availability of a journal in print format is less important for authors and readers under thirty-five. Thus, the age of a society's membership may also affect the extent to which individual members value print. A society that gathers sufficiently detailed demographic data from its members can use age information, in the aggregate, to gauge the potential for print retention on the part of its members.