English home language
Who am i?
Educator section
Memorandum
Using progress reports and profiles of the learners in Grade 1, the Grade 2 educator can assess the ability of each learner in the class.
The Grade 2 educator also needs to know which work has been covered in Grade 1 so that she can revise, consolidate and re-teach where necessary, before proceeding to the Grade 2 phonics, writing, reading etc. Make sure the learners understand the written instructions on each page. The learners furthermore need to know where and when to go for help when doing written work e.g. finding out how to spell a word etc.
The slower learners need continual support whereas the fast learners can be given additional work based on the activities for further stimulation.
TIME SCHEDULE FOR THE MODULES 1 – 7
All learners should complete all seven modules during the year. Allow them to progress at their own speed covering ± one and a half modules per term.
In this module learners read and listen to stories portraying the relationships within families. Feelings are discussed and decisions are made.
Vowels learnt in Grade 1 are revised and word building using these are practised.
Using the letter " y ' as a vowel, is introduced and learners are made aware of the different phonetic sounds of the letter " y '.
Learners practise those letters which they do incorrectly and the educator re-teaches these.
integration of themes
Discuss whether foxes contribute to a healthy environment or not? Give reasons for farmers wanting to eliminate them.
All family members have rights and each one needs to be respected in the home.
social justice
Compare living conditions, rules etc. in the story of 'Anati' to their own. What are the similarities and differences?
What are Anati and her family deprived of? Why? Discuss what can be done to resolve the issues.
Leaner section
Content
Who am i?
Hello, I am
This is my family
My address is
The name of my school is
I like to play with my friends every day after school. My favourite game is
After playing I have to do my homework. Then it is time for supper.
After supper, I
Draw a picture of yourself having supper with your family.

I love my family very much. We can have fun together.
When we ………………………………………………………….., I feel very happy.
I feel sad when …………………………………………………………………………
…………………………………………………………………………………………..
…………………………………………………………………………………………..
Bob the fox
Bob is a fox. He lives in the woods with his family. Bob has lots of brothers and sisters. There are ten children altogether. One day his dad went to get supper. He came back with a big fat hen.
"We will eat well tonight, my children!" he said.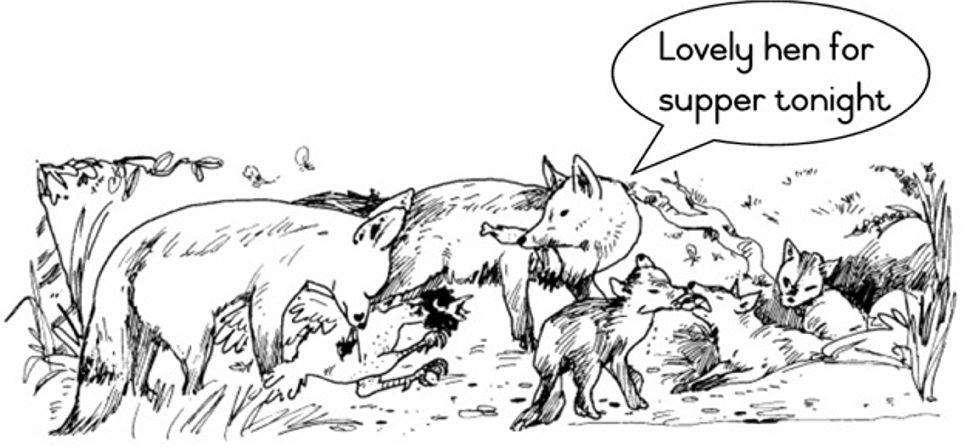 The next day the farmer was cross. He took his gun. He wanted to find Bob's dad.
Mum was sad. "Oh no! Children you must run and hide!" Luckily Bob had a plan!
When the farmer came to the woods, he saw a fox next to a tree. He wanted to shoot it. The fox said, "You can't catch me !" and ran away.
The farmer ran after him. Suddenly he saw the fox behind a log. He lifted his gun to shoot. The fox said, "You can't catch me!" and ran away.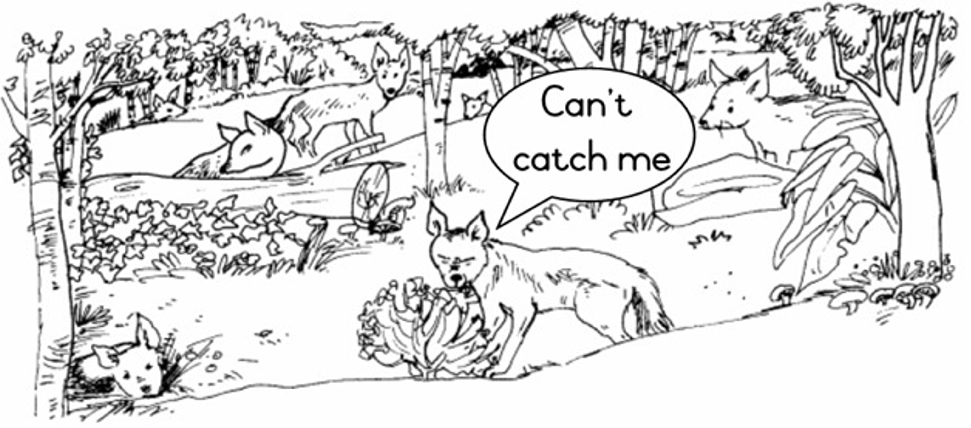 The foxes began to appear everywhere. The farmer did not know where to shoot. He went home. He was cross because he did not shoot the fox. Bob and his family were so glad.
| | | | | | | | |
| --- | --- | --- | --- | --- | --- | --- | --- |
| LO 2.4.1 | | LO 3.3.1 | | LO 3.3.3 | | LO 3.4.8 | |
Assessment
Learning Outcome 2: SPEAKING : The learner is able to communicate confidently and effectively in spoken language in a wide range of situations.
Assessment Standard 2.4: We know this when the learner contributes to class and group discussions
2.4.1 initiates topics in group discussions;
Learning Outcome 3: READING AND VIEWING : The learner is able to read and view for information and enjoyment and respond critically to the aesthetic, cultural and emotional values in texts.
Assessment Standard 3.3: We know this when the learner recognises and makes meaning of letters and words in longer texts:
3.3.1 reads with increasing speed and fluency;
3.3.3 uses phonic and other word recognition and comprehension skills such as phonics, context clues, and making predictions in order to make sense of text;
Assessment Standard 3.4: We know this when the learner develops phonic awareness:
3.4.8 recognises an increasing number of high-frequency sight words;
Learning Outcome 4: WRITING : The learner is able to write different kinds of factual and imaginative texts for a wide range of purposes.
Assessment Standard 4.2: We know this when the learner writes for different purposes:
4.2.1 writes drafts and short texts for various purposes:
Assessment Standard 4.3: We know this when the learner revises writing:
4.3.1 discusses own and others' writing to get or give feedback;
Assessment Standard 4.5: We know this when the learner builds vocabulary and starts to spell words so that they can be read and understood by others:
4.5.2 spells common words correctly.