The Constitution of the New York Etching Club, which thrived from 1877 to 1893.
Nyec constitution
As recorded, initially, by james d. smillie in the minutes book of the new york etching club.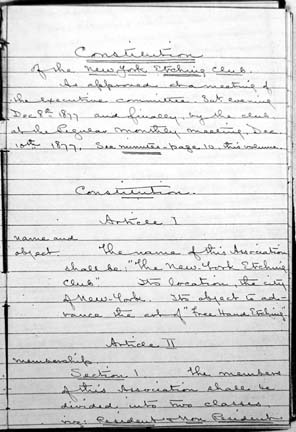 Constitution of the new york etching club.
As approved at a meeting of the executive committee – Sat. evening Dec 8th 1877 and finally, by the club, at the Regular Monthly Meeting, Dec. 10th 1877. See minutes – page 10, this volume.
Constitution
Article i
name and object
The name of this Association shall be: "The New York Etching Club". Its location, the city of New York. Its object to advance the art of "Free Hand Etching"
Article ii
membership
Section 1. The members of this Association shall be divided into two classes, viz: Resident&Non Resident members.
Resident members
Section 2. Resident members shall be chosen only from among Residents of the city of New York or those residing within such distance as will not prevent regular attendance at the meetings or the performance of the ordinary duties of such membership. In them shall be vested all the powers of the Association to be delegated as herinafter mentioned.
non-resident members
Section 3. non-resident members shall be chosen from etchers not resident in the City of New York. They shall have all the privileges of Resident members except the right to vote and hold office and shall be exempt from dues.
Section 4. All nominations for membership must be made in writing by a Resident member and thereupon referred to the Executive Committee who shall make careful examination as to the qualifications and consider all communications in relation thereto: such proceedings to be secret and confidential. Each name shall be voted upon separately by ballot and two negative votes shall constitute rejection of the candidate. The names of the candidates approved by the Executive Committee shall be presented at the next regular meeting of the Association and voted upon separately by ballot. Negative votes to the number of one third of those cast shall exclude a candidate from membership and no person so excluded shall be eligible for one year thereafter.
initiation fees and dues
Insert as amended
Section 5. There shall be Amended Mch 31/82 neither initiation fees or dues but in leiu thereof such expenditures as shall have been unanimously agreed to by the Executive Committee shall be met by assessment upon the members.
Insert as Amended
Section 6.
Amended Mch 31-82
Any Resident member neglecting to attend the Regular meetings or failing to contribute two original etchings to said meetings
for one year shall thereby forfeit his membership unless upon furnishing sufficient reason he shall be excused by special vote of the Executive Committee.
Resignations.
Section 7. All resignations shall be made in writing to the Secretary, to be acted upon by the Executive Committee. All interests in the property of the Association of members resigning or otherwise ceasing to be members shall be vested in the Association.