The velocity can be written as the angular velocity times the radius and the differential length written as dr . Therefore,
which is the same solution as before.
A rectangular coil rotating in a magnetic field
A rectangular coil of area
A
and
N
turns is placed in a uniform magnetic field as shown in
[link]
. The coil is rotated about the
z
-axis through its center at a constant angular velocity Obtain an expression for the induced emf in the coil.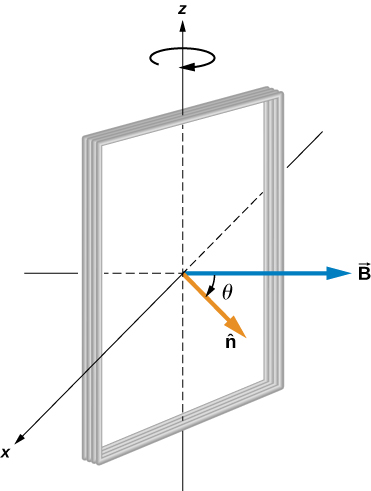 Strategy
According to the diagram, the angle between the perpendicular to the surface ( ) and the magnetic field is . The dot product of simplifies to only the component of the magnetic field, namely where the magnetic field projects onto the unit area vector . The magnitude of the magnetic field and the area of the loop are fixed over time, which makes the integration simplify quickly. The induced emf is written out using Faraday's law.
Solution
When the coil is in a position such that its normal vector makes an angle with the magnetic field the magnetic flux through a single turn of the coil is
From Faraday's law, the emf induced in the coil is
The constant angular velocity is The angle represents the time evolution of the angular velocity or . This is changes the function to time space rather than . The induced emf therefore varies sinusoidally with time according to
where
Significance
If the magnetic field strength or area of the loop were also changing over time, these variables wouldn't be able to be pulled out of the time derivative to simply the solution as shown. This example is the basis for an electric generator, as we will give a full discussion in
Applications of Newton's Law
.
Got questions? Get instant answers now!