This chapter discusses what computers are, how they work and how they are programmed. This chapter also includes an introduction to problem solving and program development.
Hardware and software
A computer is a device capable of performing computations and making logical decisions at speeds millions and even billions of times faster than human beings can. For example, many of today's personal computers can perform hundreds of millions of additions per second.
Computers process data under the control of sets of instructions called computer programs . These computer programs guide the computer through orderly sets of actions specified by people called computer programmers.
A computer is comprised of various devices (such as the keyboard, screen, "mouse", disks, memory, CD-ROM and processing units) that are referred to as hardware . The computer programs that run on a computer are referred to as software .
Computer hardware
Almost every computer may be seen as being divided into six logical units. Figure 1 illustrates the main computer components.
Input unit
This unit obtains information from various input devices and places this information at the disposal of the other units so that the information may be processed. The information is entered into computers today through keyboards and mouse devices.
Output unit
This unit takes information that has been processed by the computer and places it on various output devices to make information available for use outside the computer. Most output from computer today is displayed on screens, printed on paper, or used to control other devices.
Memory unit
The memory unit stores information. Each computer contains memory of two main types: RAM and ROM .
RAM (random access memory) is volatile. Your program and data are stored in RAM when you are using the computer.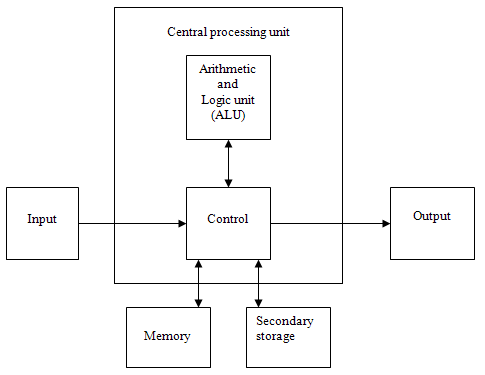 ROM (read only memory) contains fundamental instructions that cannot be lost or changed by the user. ROM is non-volatile.
Arithmetic and logic unit (alu)
The ALU performs all the arithmetic and logic operations. Ex: addition, subtraction, comparison, etc.
Central processing unit (cpu)
The unit supervises the overall operation of the computer. The CPU tells the input unit when information should be read into the memory unit, tell the ALU when information from the memory should be used in calculations and tells the output unit when to send information from the memory unit to certain output devices.
Secondary storage
Secondary storage devices are used to be permanent storage area for programs and data.
Virtually all secondary storage is now done on magnetic tapes, magnetic disks and CD-ROMs.
A magnetic hard disk consists of either a single rigid platter or several platters that spin together on a common spindle. A movable access arm positions the read and write mechanisms over, but not quite touching, the recordable surfaces. Such a configuration is shown in Figure 2.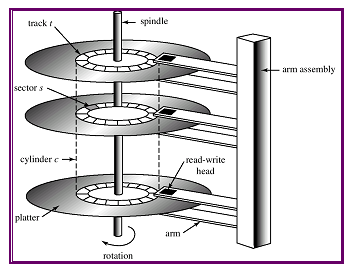 Computer software
A computer program is a set of instructions used to operate a computer to produce a specific result.