In this module, the problem-driven nature of policy development is discussed.
Learning objectives
After reading this module, students should be able to
understand the problem-driven nature of policy development, from relatively local agricultural problems to regional problems often driven by industrial development to global problems associated with population-driven human consumption
Complex environmental problems
NEPA, both in tone and purpose, was in sharp contrast to the many environmental laws that followed in the 1970s and 1980s that defined increasingly proscriptive methods for controlling risks from chemical exposure (this is sometimes termed the " command-and-control " approach to environmental management). In many ways these laws and regulations are ill-suited to the types of environmental problems that have emerged in the past twenty years. Whereas the focus of our environmental policy has been on mitigating risk from local problems that are chemical – and media – (land, water, or air) specific, the need has arisen to address problems that are far more complex, multi-media, and are of large geographic, sometimes global, extent.
An early example of this type of shift in the complexity of environmental problems is illustrated by the phenomenon of acidic rainfall , a regional problem that occurs in many areas across the globe. Although the chemical cause of acid rain is acidic gases (such as sulfur dioxide and nitrogen oxides ) released into the atmosphere from combustion processes (such as coal burning), the problem was made considerably worse because of the approach to problem solving typical of the day for episodes such as the Donora disaster (see Figures Zinc Smelter and Noon in Donora ).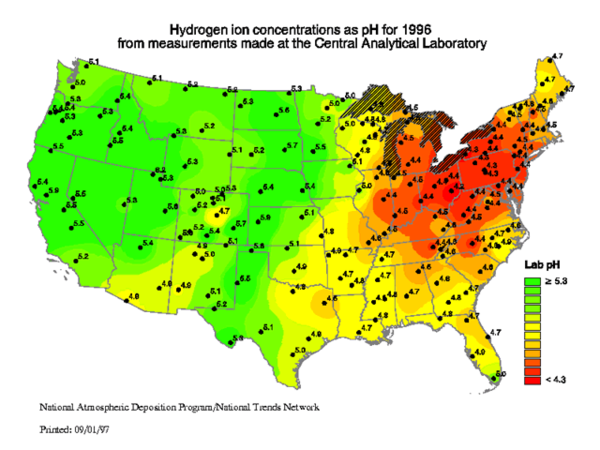 In order to prevent the local accumulation of contaminants, emission stacks were made much taller, effectively relying on the diluting power of the atmosphere to disperse offending pollutants. The result was a significant increase in the acidity of rainfall downwind of major sources, with associated impacts on aquatic and forest resources. Figure Hydrogen Ion Concentrations as pH for 1996 shows this pattern for the eastern United States in 1996. A more comprehensive solution to this problem (short of replacing coal as a fuel source), has involved integrated activity on many fronts: science to understand the impacts of acid rain, technology to control the release of acidic gases, politics in the form of amendments to the Clean Air Act , social equity that defined the role of regional responsibilities in the face of such large geographic disparities, and economics to understand the total costs of acid rain and design markets to spread the costs of control. Although acidic rainfall is still an issue of concern, its impacts have been mitigated to a significant degree.