By the end of this section, you will be able to:
Identify the classes of cells that make up nervous tissue
Discuss how nervous tissue mediates perception and response
Nervous tissue is characterized as being excitable and capable of sending and receiving electrochemical signals that provide the body with information. Two main classes of cells make up nervous tissue: the neuron and neuroglia ( [link] ). Neurons send information via electrochemical impulses, called action potentials Neuroglia play an essential role in supporting neurons so they can do their very important jobs.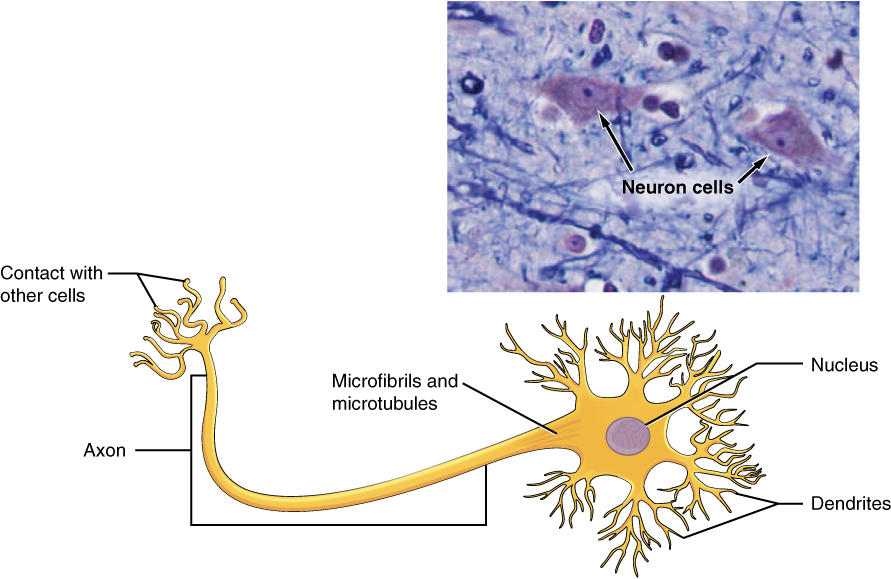 Follow this link to learn more about nervous tissue. What are the main parts of a nerve cell?
Neurons display distinctive structure, well suited to their role as conducting cells, with three main parts. The cell body includes most of the cytoplasm, the organelles, and the nucleus. Dendrites branch off the cell body and appear as thin extensions. A long "tail," the axon, extends from the neuron body and can be wrapped in an insulating layer known as myelin . The dendrites receive signals from other nerve cells, while the axons send the signal on to the next neuron or target organ.
The second class of neural cells comprises the neuroglia or glial cells, which have been characterized as having a simple support role. The word "glia" comes from the Greek word for glue.

Chapter review
The most prominent cell of the nervous tissue, the neuron, is characterized mainly by its ability to receive stimuli and respond by generating an electrical signal, known as an action potential, which can travel rapidly over great distances in the body. A typical neuron displays a distinctive morphology: a large cell body branches out into short extensions called dendrites, which receive chemical signals from other neurons, and a long tail called an axon, which relays signals away from the cell to other neurons, muscles, or glands. Many axons are wrapped by a myelin sheath, a lipid derivative that acts as an insulator and speeds up the transmission of the action potential. Other cells in the nervous tissue, the neuroglia, include the astrocytes, microglia, oligodendrocytes, and Schwann cells.
References
Stern, P. Focus issue: getting excited about glia. Science [Internet]. 2010 [cited 2012 Dec 4]; 3(147):330-773. Available from:
Ming GL, Song H. Adult neurogenesis in the mammalian central nervous system. Annu. Rev. Neurosci. 2005 [cited 2012 Dec 4]; 28:223–250.