In New York a retired Admiral by the name of Fiske has patents on a hand reading machine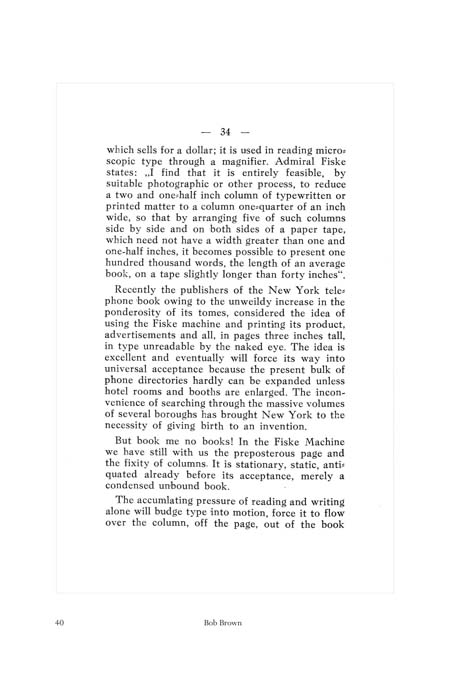 View a high-resolution scan of the original page.

which sells for a dollar; it is used in reading microscopic type through a magnifier. Admiral Fiske states: "I find that it is entirely feasible, by suitable photographic or other process, to reduce a two and one-half inch column of typewritten or printed matter to a column one-quarter of an inch wide, so that by arranging five of such columns side by side and on both sides of a paper tape, which need not have a width greater than one and one-half inches, it becomes possible to present one hundred thousand words, the length of an average book, on a tape slightly longer than forty inches".
Recently the publishers of the New York telephone book owing to the unwieldy increase in the ponderosity of its tomes, considered the idea of using the Fiske machine and printing its product, advertisements and all, in pages three inches tall, in type unreadable by the naked eye. The idea is excellent and eventually will force its way into universal acceptance because the present bulk of phone directories hardly can be expanded unless hotel rooms and booths are enlarged. The inconvenience of searching through the massive volumes of several boroughs has brought New York to the necessity of giving birth to an invention.
But book me no books! In the Fiske Machine we have still with us the preposterous page and the fixity of columns. It is stationary, static, antiquated already before its acceptance, merely a condensed unbound book.
The accumulating pressure of reading and writing alone will budge type into motion, force it to flow over the column, off the page, out of the book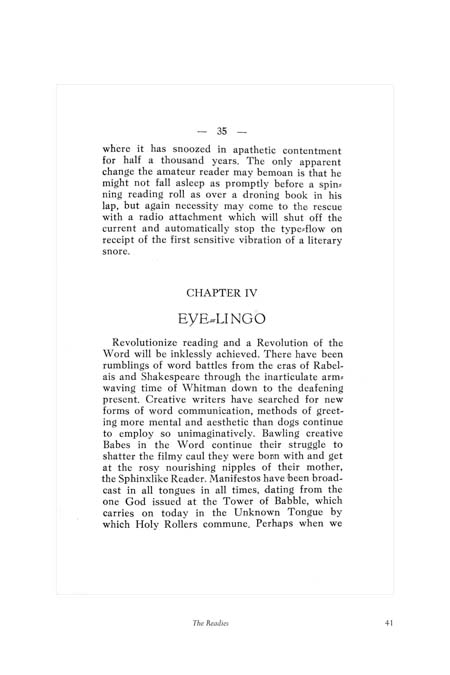 View a high-resolution scan of the original page.

where it has snoozed in apathetic contentment for half a thousand years. The only apparent change the amateur reader may bemoan is that he might not fall asleep as promptly before a spinning reading roll as over a droning book in his lap, but again necessity may come to the rescue with a radio attachment which will shut off the current and automatically stop the type-flow on receipt of the first sensitive vibration of a literary snore.
Chapter iv: eye-lingo
Revolutionize reading and a Revolution of the Word will be inklessly achieved. There have been rumblings of word battles from the eras of Rabelais and Shakespeare through the inarticulate arm-waving time of Whitman down to the deafening present. Creative writers have searched for new forms of word communication, methods of greeting more mental and aesthetic than dogs continue to employ so unimaginatively. Bawling creative Babes in the Word continue their struggle to shatter the filmy caul they were born with and get at the rosy nourishing nipples of their mother, the Sphinxlike Reader. Manifestos have been broadcast in all tongues in all times, dating from the one God issued at the Tower of Babble, which carries on today in the Unknown Tongue by which Holy Rollers commune. Perhaps when we