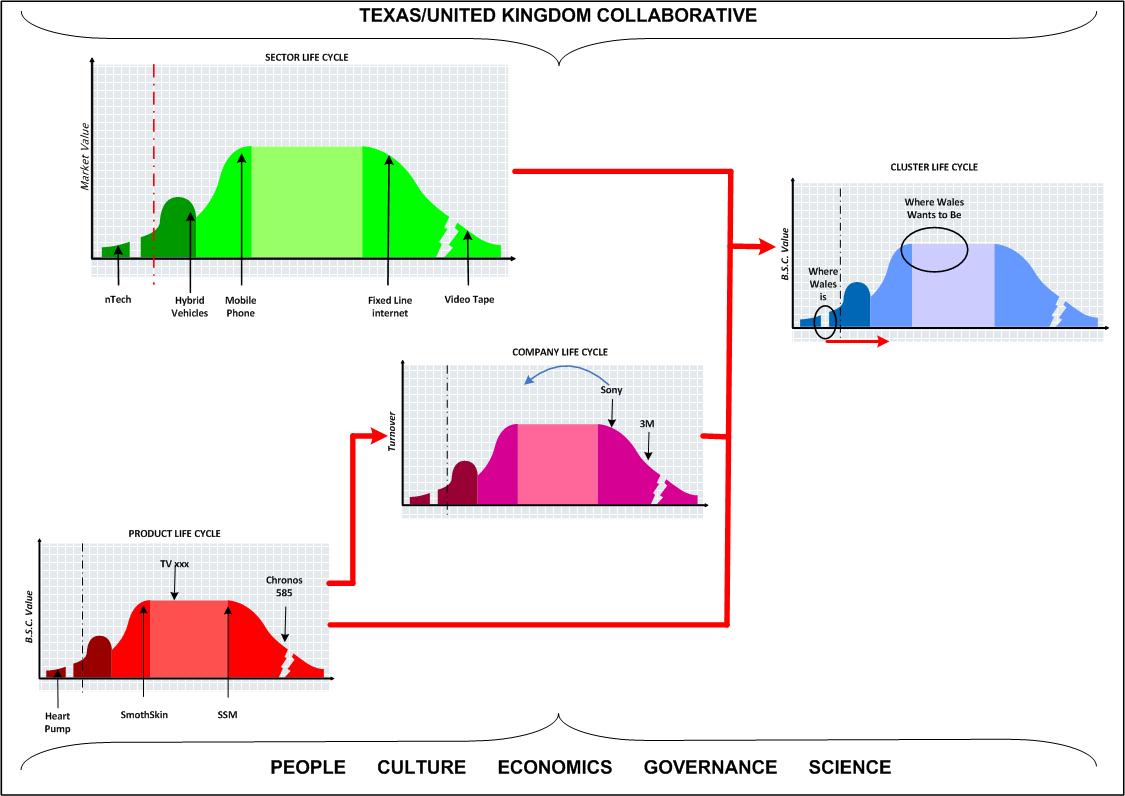 Triple Helix
The triple helix of industry, academia and government is relatively mature concept in regional knowledge based economic development. The role of universities has been championed by many as playing a vital role in developing the knowledge economy (Goh 2005 , Dreyer and Kouzmin 2009, Nasto 2009). This is important both in regions with strong universities and knowledge clusters (e.g., MIT/Cambridge), and regions in a more developmental stage (e.g., Southwest Wales)
Universities: knowledge cluster anchor tenants
The linkages between academia and industry have received much interest over recent years by governments (WAG 2004, Lambert 2003), academics (Nelson 1986, Varga 2000) and other organisations including the private sector, though many commentators observe that it is the private sector that will deliver the fruits of innovation in the knowledge economy (Porter and Stern 1999).
The above studies recognise the importance of universities and academic knowledge in driving innovation and the knowledge economy. Nelson (1986) was one of the earliest to clearly demonstrate the positive effect of university on industry and technological advance, based on research undertaken in the US. This came at a time when American academia was undergoing the start of a seismic shift in technology transfer following the Bayh-Dole Act. This important pieced of legislation is regarded as a paradigm shift in US academia-industry relations for it clarified ownership of IP developed during research, and incentivised and charged universities to exploit its value.
Higher education institutions (HEIs) and public research facilities play a variety of roles in supporting the Knowledge-Based economy including ' knowledge production ' developing new knowledge, ' knowledge transmission ' – in developing human capital, and ' knowledge transfer ' – by disseminating knowledge and supporting industry (OECD 1996, WAG 2004). HEIs are also recognised as important knowledge businesses that are often 'anchor tenants' in regional knowledge economies (WAG 2004). The importance of HEIs in supporting knowledge-based industrial clusters in their regions is acknowledged by the UK and Welsh Governments (DTI 2001 and WAG 2003b).
Challenges to collaboration
The opportunities and challenges for each region and individual collaboration are unique to its ambition, environment and the efforts invested. This context includes for example: the existing vibrancy of knowledge-based enterprise within the region; the presence of research activity allied to growth sectors; and the mobilisation of collective efforts within the region to develop the initiative.
It is possible to identify key factors that can affect the likelihood and potential extent of success for collaboration. These include individual and organisational factors as well as broader issues such as funding availability. For example, a first weakness lies in the way that the United Kingdoms Research Assessment Exercise (RAE) operates. The Research Assessment Exercise (RAE) is intended to recognise world-class research undertaken with business partners, as well as other forms of academic excellence. In practice, however, the assessment panels tend to concentrate on purely academic benchmarks, such as output in important journals. This may be partly because this kind of output is what most interests the people who sit on the peer review panels. It is also because such work is easier to measure than business collaboration. An article in an academic journal has by definition been through a rigorous process of assessment even before it appears, and can be judged against similar work from other sources. It is much harder to define what constitutes world-class research undertaken with business partners (Lambert 2003).