By the end of this section, you will be able to:
Explain the structure and function of epithelial tissue
Distinguish between tight junctions, anchoring junctions, and gap junctions
Distinguish between simple epithelia and stratified epithelia, as well as between squamous, cuboidal, and columnar epithelia
Describe the structure and function of endocrine and exocrine glands and their respective secretions
Most epithelial tissues are essentially large sheets of cells covering all the surfaces of the body exposed to the outside world and lining the outside of organs. Epithelium also forms much of the glandular tissue of the body. Skin is not the only area of the body exposed to the outside. Other areas include the airways, the digestive tract, as well as the urinary and reproductive systems, all of which are lined by an epithelium. Hollow organs and body cavities that do not connect to the exterior of the body, which includes, blood vessels and serous membranes, are also lined with epithelium.
All epithelia share some important structural and functional features. This tissue is highly cellular, meaning there are many cells with very little material between them. Adjoining cells form a connection between their cell membranes called a cell junction . A basement membrane is found at the bottom of the epithelia and helps to hold the cells in place.
Generalized functions of epithelial tissue
Epithelial tissues provide the body's first line of protection from physical, chemical, and biological wear and tear. The cells of an epithelium act as gatekeepers of the body controlling permeability allowing only certain substances to pass through it. All substances that enter the body must cross an epithelium.
Many epithelial cells are capable of secretion and release mucous and other compounds. The epithelium of the small intestine releases digestive enzymes, for example. Cells lining the respiratory tract secrete mucous that traps incoming microorganisms and particles.
The functions of epithelia

Protects underlying structures. Skin protects the delicate tissues beneath it from scrapes.
Acts as a barrier. Skin keeps bacteria out of your body.
Permits passage of substances. The air sacs of the lung allow oxygen and carbon dioxide to pass through them.
Secretes substances. Epithelia that line the nasal passages produce mucus.
Absorbs substances. The epithelia in the intestines absorb nutrients from the food into the blood.
Cell to cell junctions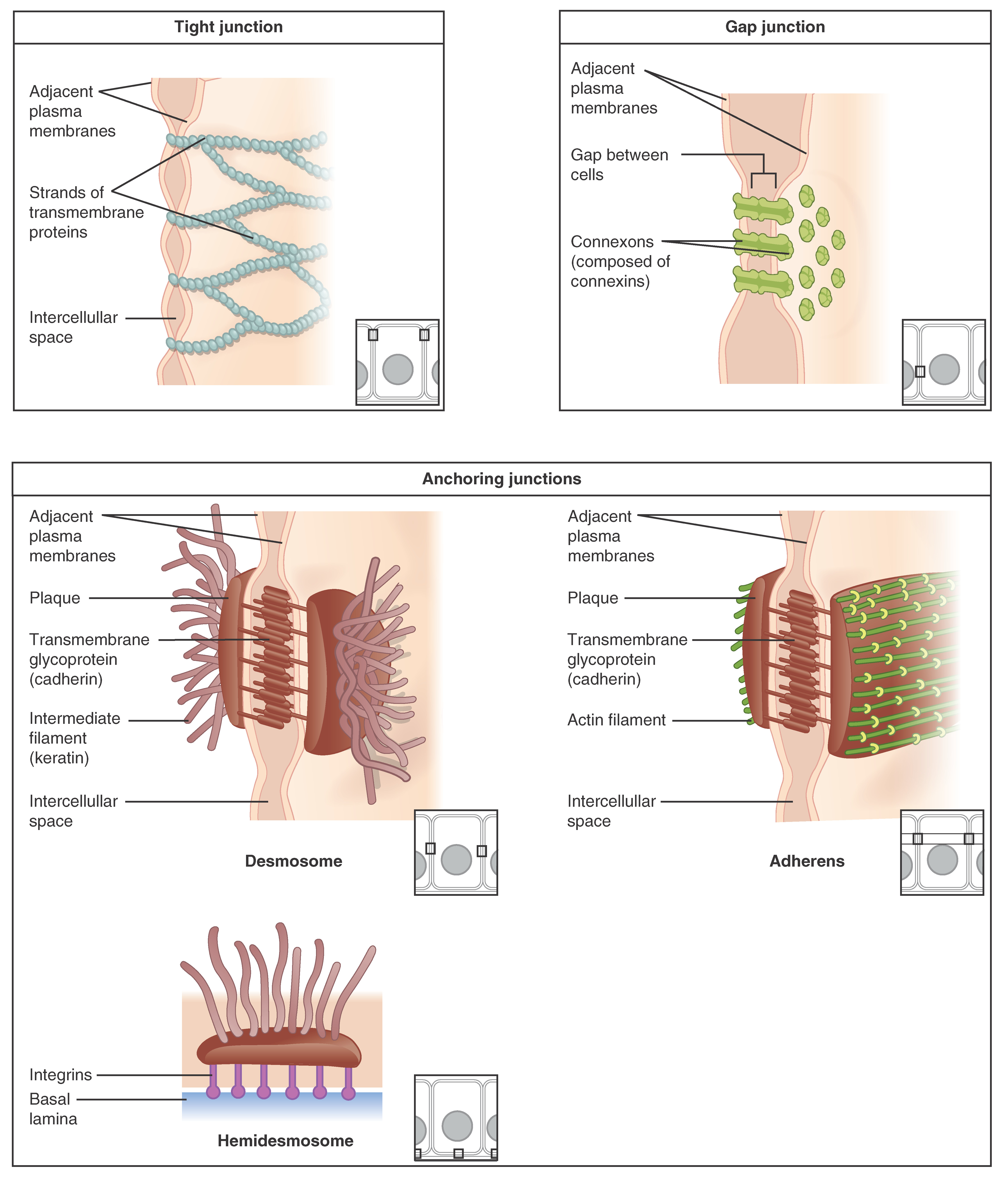 There are 3 types of cell to cell connections in epithelia. The tight junction , which separates the cells into upper and lower compartments, which prevent the passage of materials through the cells. An anchoring junction includes several types of cell junctions that help stabilize epithelial tissues. Desmosomes are common on surfaces of cells where they provide strong and flexible connections.
In contrast with the tight and anchoring junctions, a gap junction forms an passageway between adjacent cells allowing the movement of small molecules and ions between the cells. These junctions coordinate the functions in large groups of cells.