Calling frequency increases with risk of predation
Many primate species use alarm calls to mitigate the threat of predation. Close range clear calls are observed in multiple primate species (Gautier&Gautier 1977; Zuberbühler et al, 1997). The clear calls could be used to avoid predation, as a form of vigilance, in which case the frequency of calls should increase with heightened risk of predation (Uster et al, 2001). Multiple predators threaten Diana monkeys as they forage throughout the day, and individuals often find themselves out of sight of other group members (Uster et al, 2001). The clear calls that males produce may function to confirm that a particular area is safe. Fitting with this idea, the monkeys produce calls most often when they are widely dispersed, when they are about to move to a new area, in areas of low visibility, and when they are foraging separately to find food (Uster et al, 2001). In other words, the Diana monkeys call more often when there is an increased risk of predation. All of this corroborates the hypothesis that Diana monkeys use clear calls as a form of mutualistic vigilance to communicate about the presence of danger, and this communication increases when the monkeys face an increased chance of predation.
Predator specific alarm calls are adaptive
Besides calling to give a reassuring "all clear" signal, primates use alarm calls to indicate danger, sometimes in very specific ways. Primate alarm systems can often consist of distinct alarm calls for different predators. These functionally referential signals should be adaptive because certain responses are beneficial in one instance but harmful in another; a species with predators that attack in different ways should develop distinct alarm calls to allow the primate to choose the beneficial strategy. Vervet monkeys (see [link] ), which face attack from both the air and the ground, have evolved three calls: a short tonal call for leopards, a series of staccato grunts for eagles, and a high pitched chutter for snakes (Evans 1997; Seyfarth et al, 1986). Vervet monkeys will run into the trees, safe from ambush, in response to a short tonal leopard call, but will hide in dense brush, closer to the ground, in response to grunts for eagles (Seyfarth et al, 1980). If Vervet monkeys could not identify different predators by different calls, they would have to simply guess which evasion strategy to use, and may end up choosing a strategy that makes them easier prey.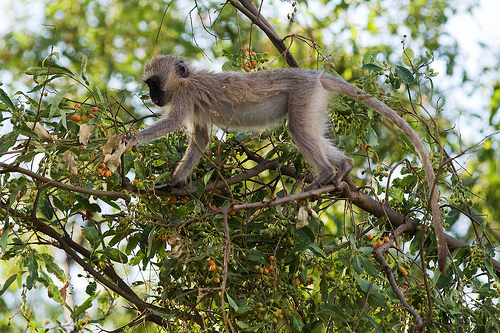 The semi-arboreal and semi-terrestrial white-faced capuchin (see [link] ), which also faces predators from the ground and the air, has an aerial predator alarm and a terrestrial predator alarm (Digweed et al, 2005). The aerial alarm always results in a rapid descent from the treetops, while the terrestrial alarm has a more diverse response. It will sometimes lead to retreat into the trees, but may also lead to closer inspection or mobbing of the threat. Capuchins have more than one escape option open to them based on the predator, which makes it especially advantageous to have different alarm calls that allow the capuchin to pick the "best" strategy (Digweed et al, 2005).