This program of funds is unique in at least two ways. The program resulted from the United States being in the worst depression since the 1930s; and the package was generous to several key science and technology-related agencies, the funding designed to foster both energy independence and green technologies. Although it is impossible to say what previous administrations would have done had they encountered the serious economic problems that Obama faced even before he became president, no administration since that of the first President Bush has focused so much attention on science and technology; and no administration in history has earmarked funds for such energy innovation.
In summary, these early actions taken by Obama and his senior advisors demonstrate not only the seriousness with which high-priority national issues are taken, but the conviction that investments in science and technology can help resolve them.
Budgets
While overall R&D spending in Obama's fiscal year 2010 budget was up only 0.3 percent from 2009, there were some substantial targeted increases. The NSF budget was increased 9.5 percent, to $5.3 billion, the NIST was up 15.8 percent, to $637 million, and the DOE was up 3.3 percent, to $4.5 billion. Despite these and other proposed increases, however, the federal R&D budget as measured in constant 2009 dollars has remained essentially flat since 2004.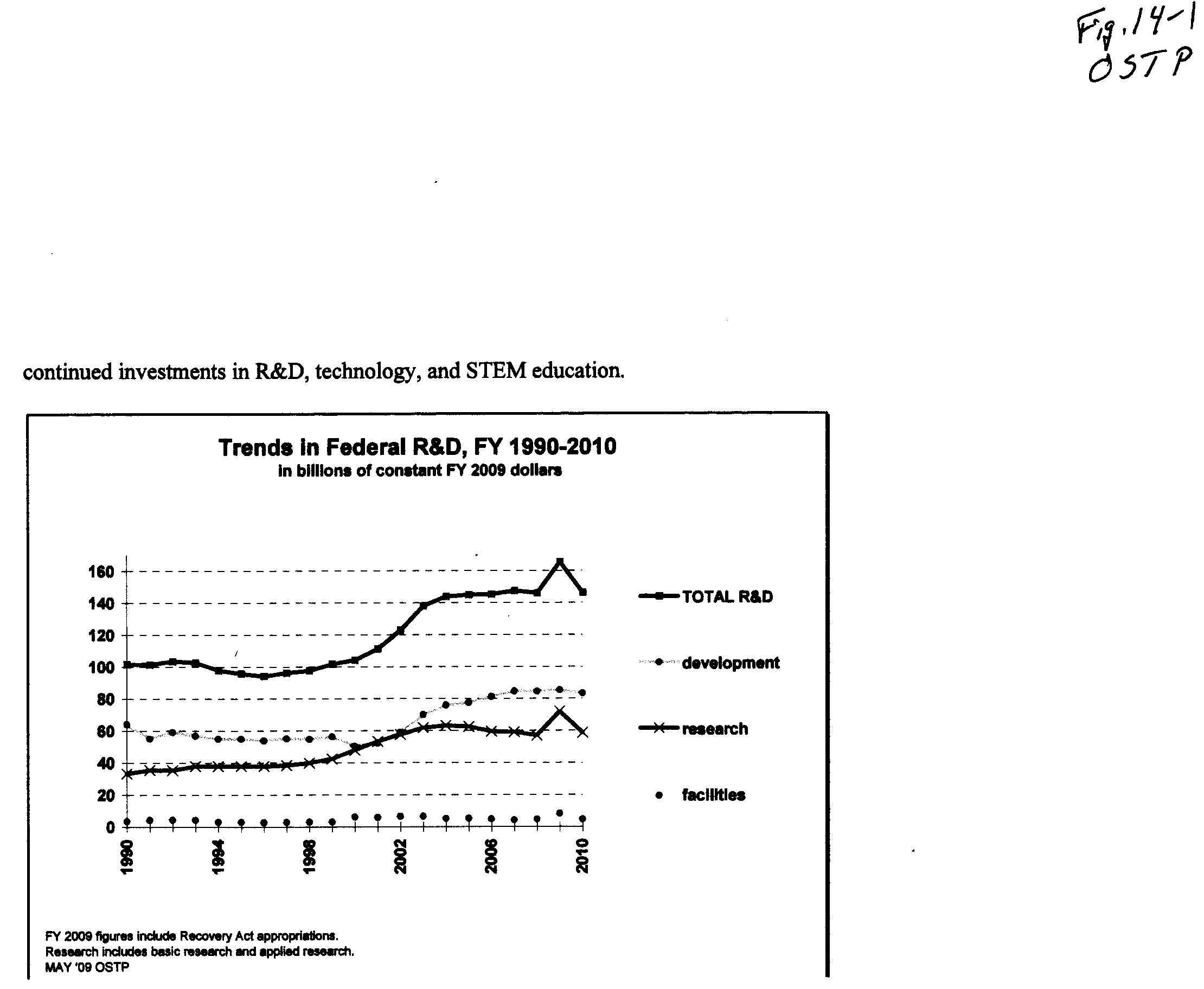 Congress had barely begun work on the fiscal year 2010 budget before John Holdren and OMB Director Peter Orszag sent a memorandum to the heads of all federal science and technology agencies instructing them to redirect resources "to science and technology activities that address four practical challenges" in areas such as economic recovery and growth, reducing energy imports and mitigating climate change, improving health while reducing health costs, and national security. OMB and OSTP were interested in increasing research productivity, improving STEM (science, technology, engineering, and mathematics) education, vital infrastructure, and "enhancing our capabilities in space."
Writing in Science , Holdren editorialized that he "saw the top S&T priorities in terms of four practical challenges":
bringing science and technology more fully to bear on driving economic recovery;
driving the energy-technology innovation needed to reduce energy imports and climate-change risks;
applying advances in biomedical science and information technology together to help Americans live longer, healthier lives with reduced health care costs; and
ensuring that we have the defense, homeland security, and national intelligence technologies required to protect our troops, citizens, and national interests.
A strategy for innovation
In September 2009, the National Economic Council and the Office of Science and Technology Policy issued A Strategy for American Innovation: Driving Towards Sustainable Growth and Quality Jobs. The paper outlined the Obama administration's approach to rebuilding "a new foundation for durable, sustainable economic growth":