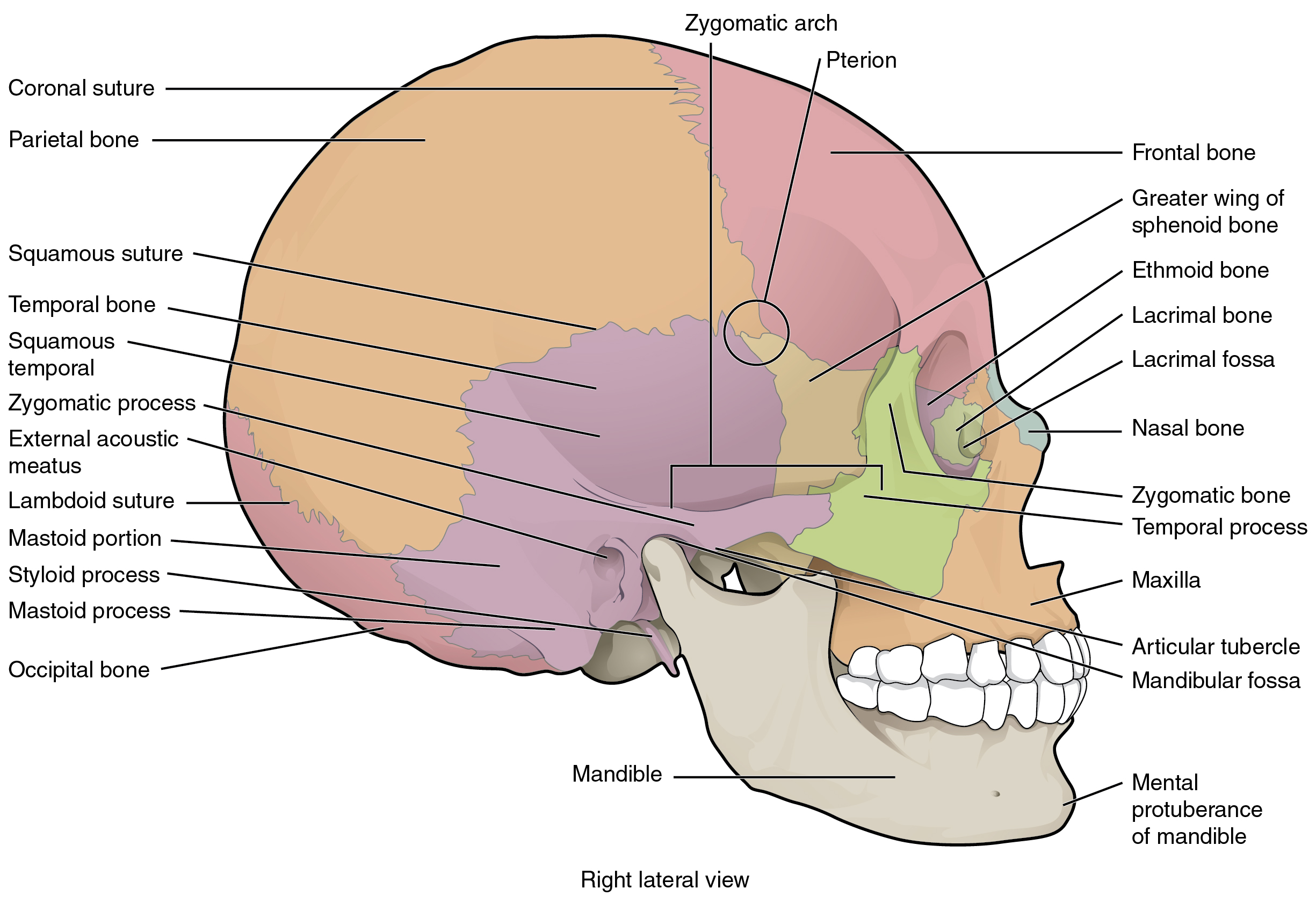 Bones of the brain case
The brain case contains and protects the brain. The interior space that is almost completely occupied by the brain is called the cranial cavity . This cavity is bounded superiorly by the rounded top of the skull, which is called the calvaria (skullcap), and the lateral and posterior sides of the skull. The bones that form the top and sides of the brain case are usually referred to as the "flat" bones of the skull.
Parietal bone
The parietal bone forms most of the upper lateral side of the skull (see [link] ). These are paired bones, with the right and left parietal bones joining together at the top of the skull. Each parietal bone is also bounded anteriorly by the frontal bone, inferiorly by the temporal bone, and posteriorly by the occipital bone.
Temporal bone
The temporal bone forms the lower lateral side of the skull (see [link] ). Common wisdom has it that the temporal bone (temporal = "time") is so named because this area of the head (the temple) is where hair typically first turns gray, indicating the passage of time.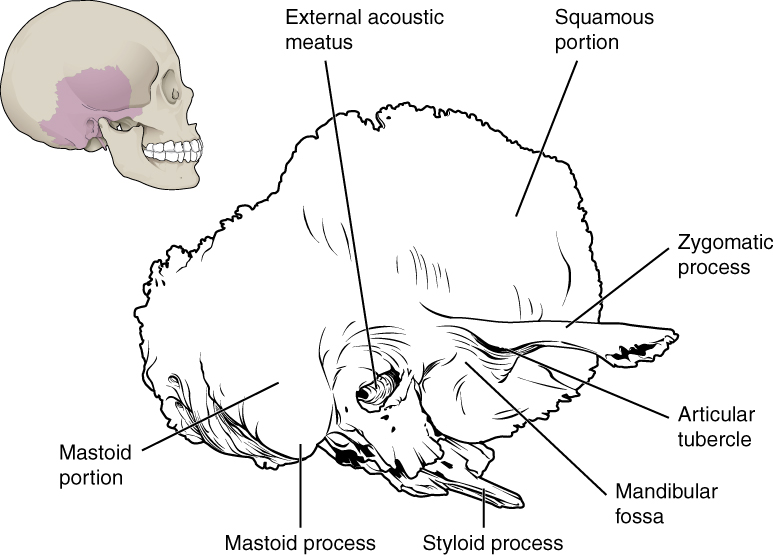 Important landmarks of the temporal bone, as shown in [link] , include the following:
External acoustic meatus (ear canal)—This is the large opening on the lateral side of the skull that is associated with the ear.
Mandibular fossa —This is the deep, oval-shaped depression located on the external base of the skull, just in front of the external acoustic meatus. The mandible (lower jaw) joins with the skull at this site as part of the temporomandibular joint, which allows for movements of the mandible during opening and closing of the mouth.
Styloid process —Posterior to the mandibular fossa on the external base of the skull is an elongated, downward bony projection called the styloid process, so named because of its resemblance to a stylus (a pen or writing tool). This structure serves as an attachment site for several small muscles and for a ligament that supports the hyoid bone of the neck. (See also [link] .)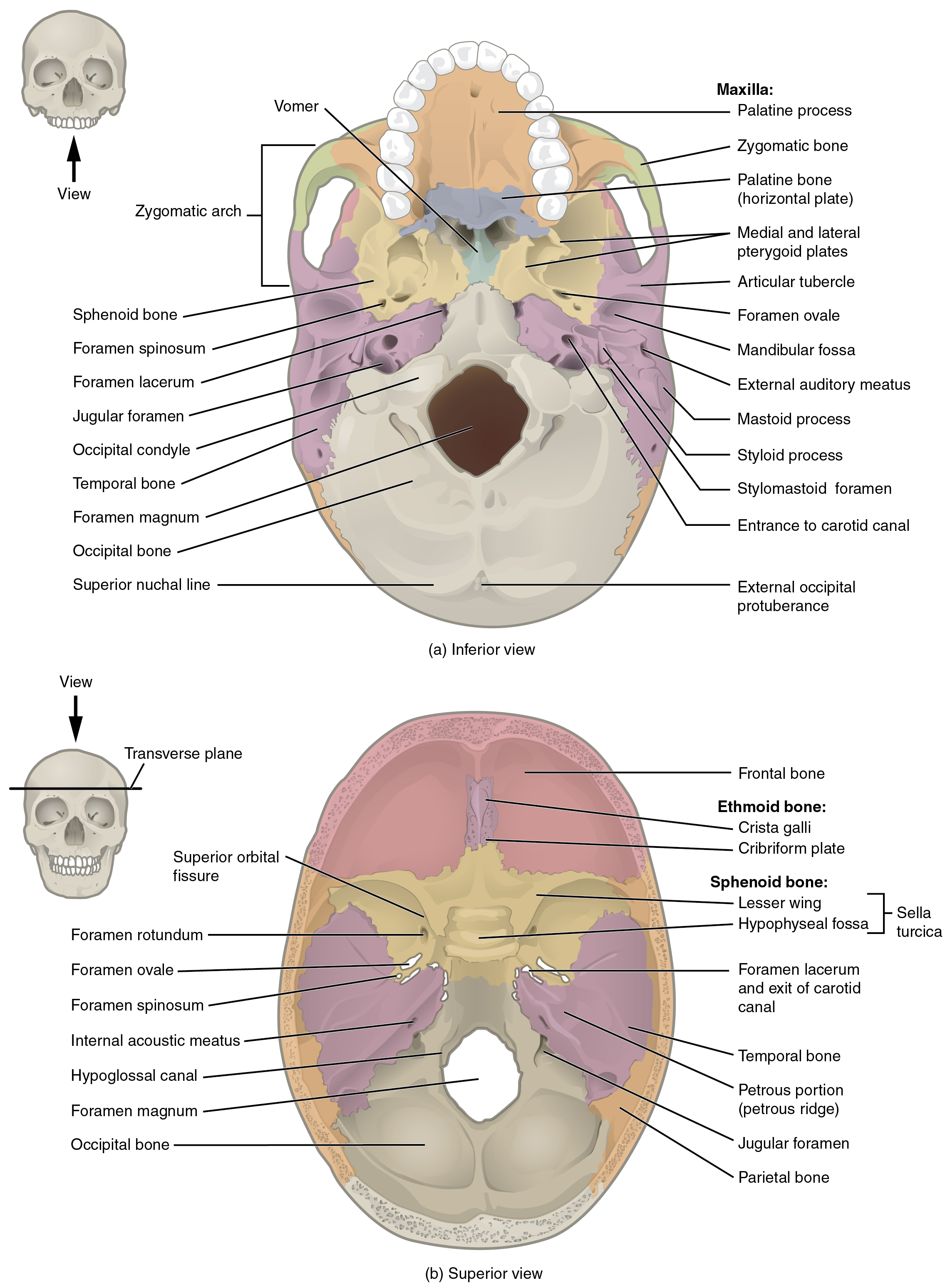 Frontal bone
The frontal bone is the single bone that forms the forehead. The frontal bone is thickened just above each supraorbital margin, forming rounded brow ridges. These are located just behind your eyebrows and vary in size among individuals, although they are generally larger in males.