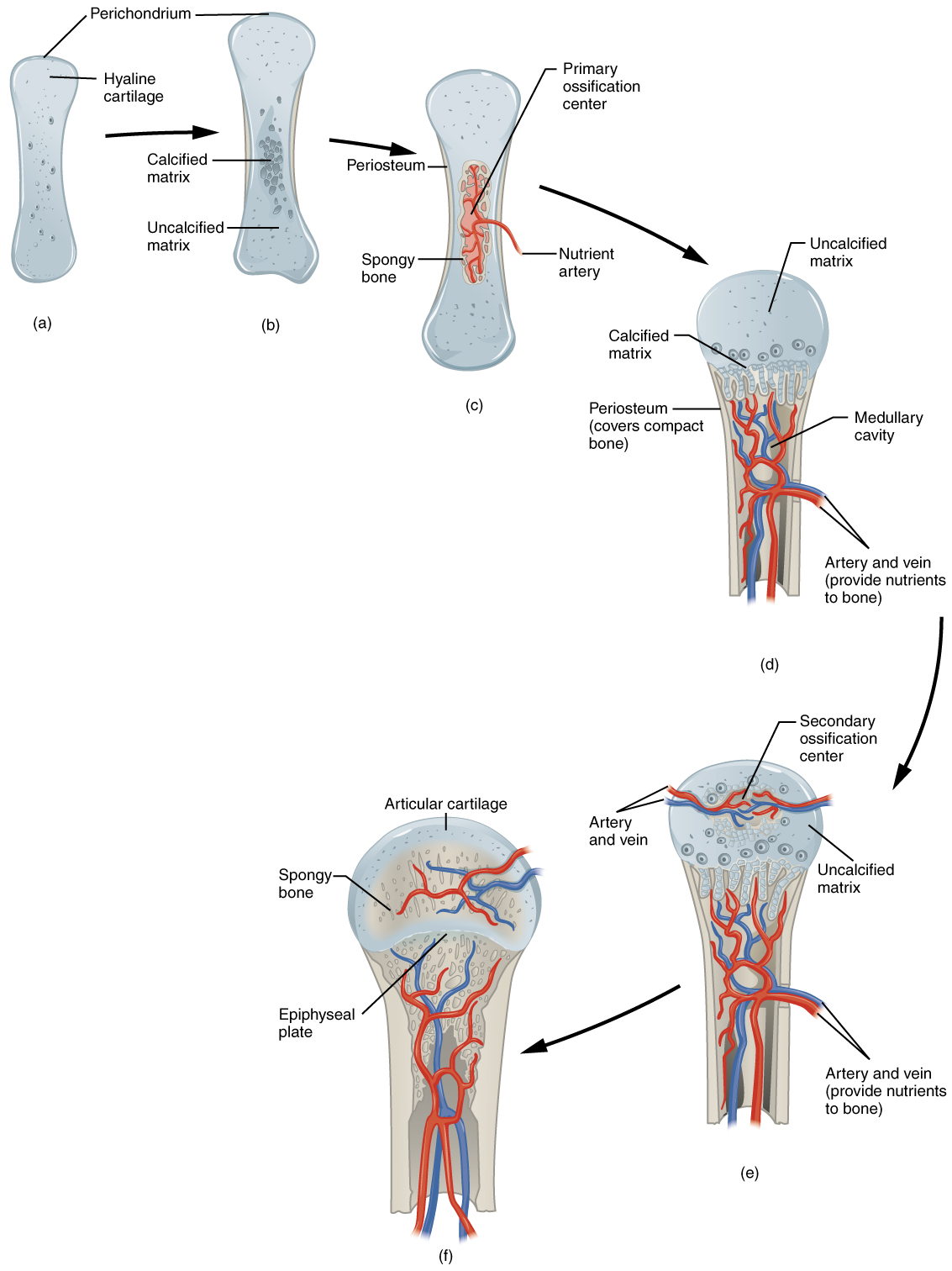 The chondrocytes in the center of the cartilaginous model grow in size. As the matrix calcifies, nutrients can no longer reach the chondrocytes. This results in their death and the disintegration of the surrounding cartilage. Blood vessels invade the resulting spaces, not only enlarging the cavities but also carrying osteogenic cells with them, many of which will become osteoblasts. These enlarging spaces eventually combine to become the medullary cavity.
How bones grow in length
The epiphyseal plate is the area of growth in a long bone. It is a layer of hyaline cartilage where ossification occurs in immature bones. On the epiphyseal side of the epiphyseal plate, cartilage is formed. On the diaphyseal side, cartilage is ossified, and the diaphysis grows in length.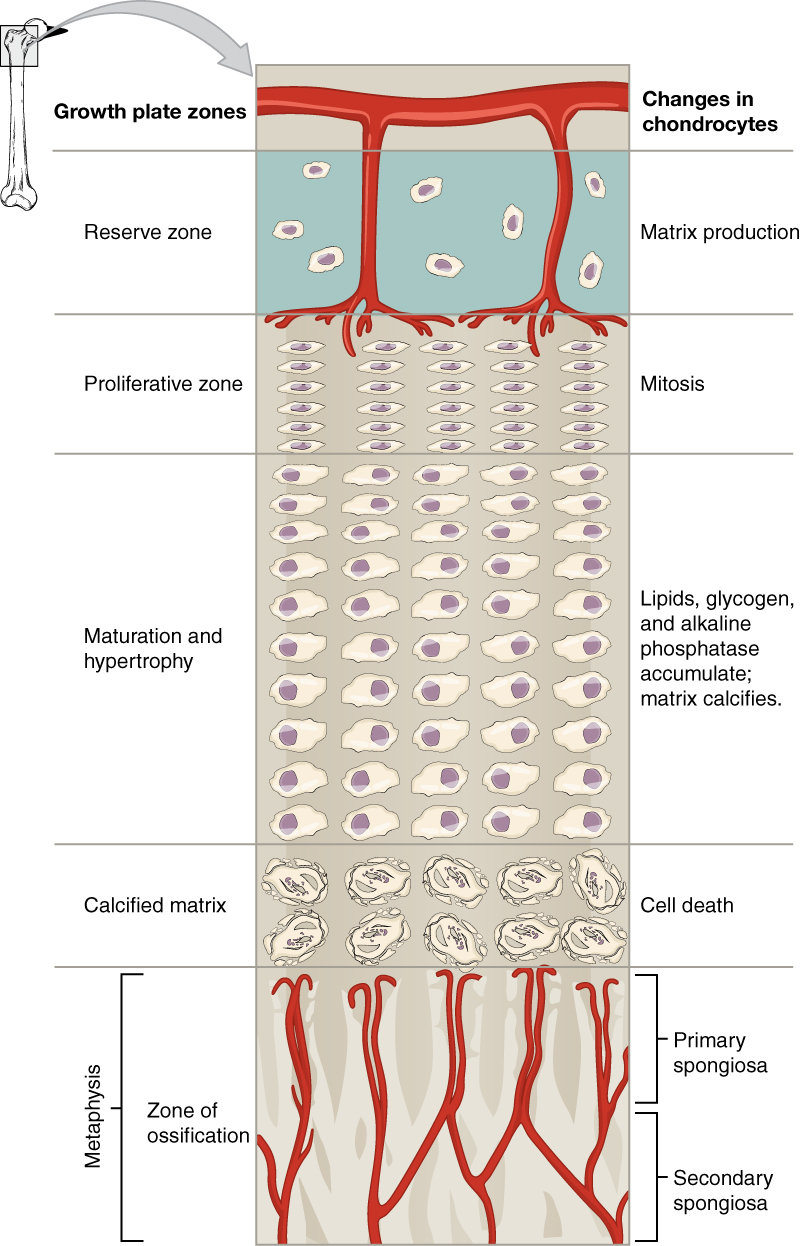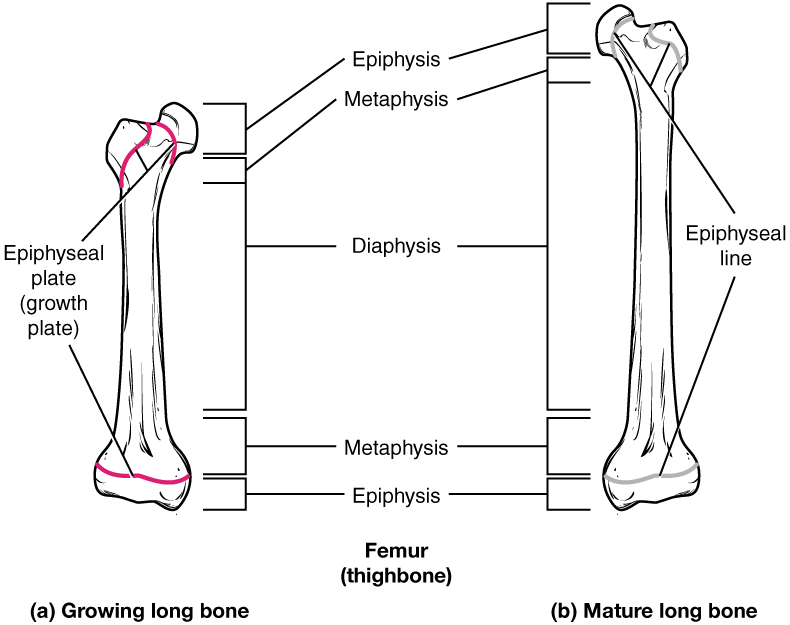 How bones grow in diameter
While bones are increasing in length, they are also increasing in diameter; growth in diameter can continue even after longitudinal growth ceases. This is called appositional growth . Osteoclasts resorb old bone that lines the medullary cavity, while osteoblasts, via intramembranous ossification, produce new bone tissue beneath the periosteum. The erosion of old bone along the medullary cavity and the deposition of new bone beneath the periosteum not only increase the diameter of the diaphysis but also increase the diameter of the medullary cavity. This process is called modeling .
Bone remodeling
The process in which matrix is resorbed on one surface of a bone and deposited on another is known as bone modeling. Modeling primarily takes place during a bone's growth. However, in adult life, bone undergoes remodeling , in which resorption of old or damaged bone takes place on the same surface where osteoblasts lay new bone to replace that which is resorbed. Injury, exercise, and other activities lead to remodeling. Those influences are discussed later in the chapter, but even without injury or exercise, about 5 to 10 percent of the skeleton is remodeled annually just by destroying old bone and renewing it with fresh bone.
Chapter review
All bone formation is a replacement process. Embryos develop a cartilaginous skeleton and various membranes. During development, these are replaced by bone during the ossification process. In intramembranous ossification, bone develops directly from sheets of mesenchymal connective tissue. In endochondral ossification, bone develops by replacing hyaline cartilage. Activity in the epiphyseal plate enables bones to grow in length. Modeling allows bones to grow in diameter. Remodeling occurs as bone is resorbed and replaced by new bone. Osteogenesis imperfecta is a genetic disease in which collagen production is altered, resulting in fragile, brittle bones.