Afrikaans eerste addisionele taal
Graad 5
Hou die aarde skoon
Module 14
Beveg vernieling en besoedeling
Mondeling
Rollees of "rolpraat" die volgende dialoog saam met 'n maat. Probeer om die dialoog sover moontlik te memoriseer. Dit is 'n dialoog tussen twee seeskilpaaie.
A. ( Bang en uitasem ) Kom, Tammy, swem so vinnig as wat jy kan. Die boot kom al hoe nader!
B. Ek probeer, Charlie. Ek hoor hoe die boot al harder dreun. Ek is al so moeg!
A. Nog net 'n klein entjie, dan is ons by die koraalrif.
B. Ja, daar sal ons veiliger wees en sal die mense ons nie kan raakskiet nie.
A. Nog vinniger, Tammy, kom nou. Ons is amper daar.
B. Ek kan nie meer nie, my vinpote is te lam.
A. Jy moet net. Ek sien die koraalrif daar voor. Gebruik jou laaste bietjie krag.
B. ( Asof sy huil ) Ek gaan nie betyds daar kom nie. Ek gee oor, Charlie. Ek is eenvoudig net te moeg.
A. Ons is hier, Tammy, ons is hier! Dankie tog. Ons is nou veilig.
B. Kom ons rus 'n bietjie asseblief. Ek wil net my asem terugkry.
A. Agge nee! Kyk net hoe lyk ons pragtige koraalrif. Dis verskriklik. Ek wil dit nie glo nie.
B. Kyk net hoe lê die gebreekte korale hier rond. En al die leë koeldrankblikkies en ander gemors wat oral rondgestrooi lê! Wie sal so mors?
A. Wie anders as mense sal dit doen? Mense het mos geen respek vir die omgewing nie! Hulle mors en verwoes en breek af oral waar hulle kom.
B. Kom ons swem liewer tot by die strand. Dit breek my hart om hierdie eens pragtige koraalrif so verwoes te sien.
A. Ja, dis tyd dat ons by die strand kom. Het jy genoeg gerus?
B. Ek voel nou beter en sien kans om verder te swem. Moet net nie vir my wegswem nie.
A. Natuurlik sal ek by jou bly. Ek sal jou nooit alleen los nie.
B. Hier is ons nou by die strand. Kom ons loop 'n bietjie hoër op om 'n geskikte plek te soek waar ek my eiers kan lê.
A. Tammy, wat is verkeerd? Jy los 'n bloedspoor sover as wat jy loop!
B. Eina, my regterkantse vinpote brand altwee baie erg! Kan jy sien wat verkeerd is? Ek sal my voorste vinpoot oplig.
A. Ai tog, jou vinpote is gesny. Kyk, daar lê stukke glas in die sand – dis stukkende bottels. Seker weer mense wat gemors het.
B. Ek dink hierdie is 'n geskikte plek om eiers te lê.
A. So ja, nou moet jy net die eiers met sand bedek. Dis tyd om terug te gaan see toe.
B. Wat dink jy is die toekoms vir ons kinders in hierdie besoedelde wêreld en see?
A. Ons kan maar net hoop ons spesie sal bly voortbestaan.
B. Dis altyd so lekker om weer die koel water in te stap.
A. Tammy, wat gaan aan? Ek kan nie asemhaal nie. Help, Help!
B. Daar is 'n plastieksak oor jou kop. Jy sal nie kan asemhaal nie. Kom ek help jou om dit af te haal.
A. Hoor jy ook 'n geraas, Tammy? Dit kom van die strand af!
B. ( Kyk om ) Ek sien wat so raas. Dis 'n vierwielaangedrewe voertuig wat daar jaag – presies oor die plek waar ek my eiers gelê het!
A. Ek begin al hoe meer wonder of ons spesie sal kan bly voortbestaan. As dit van die mensdom afhang, twyfel ek baie sterk!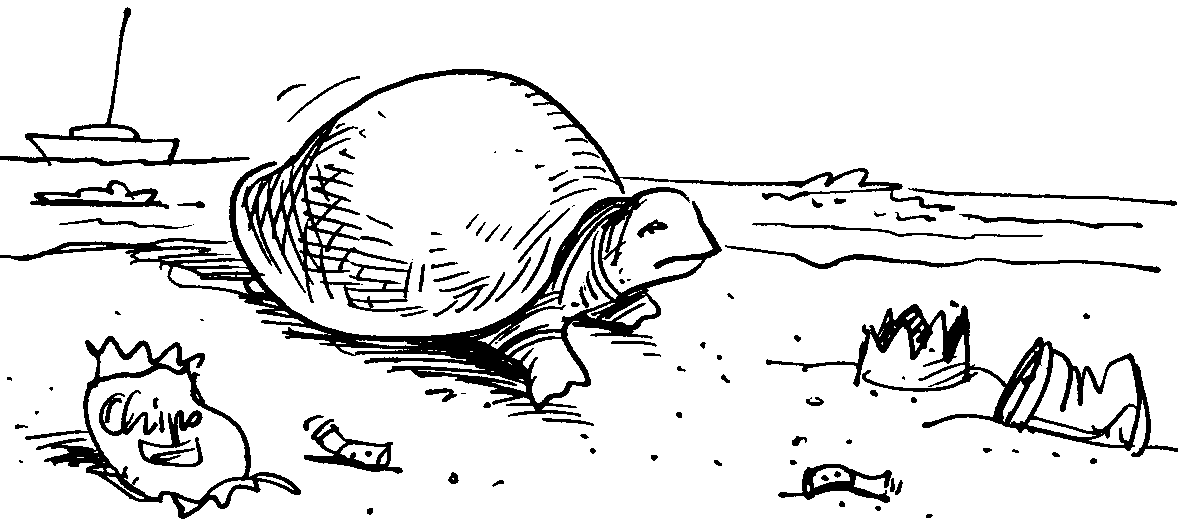 [LU 2.2.1]
Dit is dus nie net ons dorpe en stede wat besoedel word nie, maar ook die see, strande, riviere, waterstrome, ensovoorts.