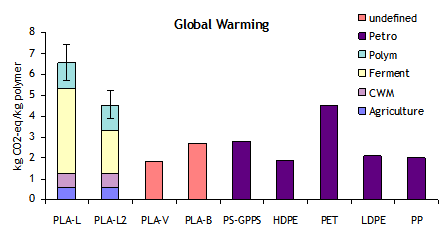 equal mass basis (the functional unit is one kilogram of plastic). The PLA inventory also shows the sources of fossil fuel used for each step along the manufacturing chain, with the fermentation step being the most intense user. What may not be obvious is that the total greenhouse gases (GHG) emitted from the process, on an equivalent carbon dioxide (CO 2 ) basis, are generally higher for the biopolymer in comparison with the petroleum polymers in spite of the lower fossil fuel usage. When the data are examined closely this is due to the agricultural step, which consumes generates relatively little fossil fuel, but is responsible for a disproportionate amount of emissions of GHGs, mostly in the form of nitrous oxide, a powerful greenhouse gas (310 times the global warming potential of CO 2 ) that is a by-product of fertilizer application to fields. This example also illustrates counter-intuitive results that LCAs often generate, a principal reason why it is important to conduct them.
Interpretation of lca
The interpretation step of LCA occurs throughout the analysis. As noted above, issues related to the rationale for conducting the LCA, defining the system and setting its boundaries, identifying data needs, sources, and quality, and choosing functional units, allocation procedures, and appropriate impact categories must all be addressed as the LCA unfolds. There are essentially two formal reasons for conducting an LCA: (a) identification of "hot spots" where material and/or energy use and waste emissions, both quantity and type, are greatest so that efforts can be focused on improving the product chain; and (b) comparison of results between and among other LCAs in order to gain insight into the preferable product, service, process, or pathway. In both cases, there are cautions that apply to the interpretation of results.
Assumptions
Typically a variety of assumption must be made in order to carry out the LCA. Sometimes these are minor, for example, exclusion of elements of the study that clearly have no appreciable impact on the results, and sometimes more critical, for example choosing one set of system boundaries over another. These must be explicitly stated, and final results should be interpreted in light of assumptions made
Data quality, uncertainty, and sensitivity
In the course of conducting an LCA it is usually the case that a variety of data sources will be used. In some cases these may be from the full-scale operation of a process, in others the source is from a small scale or even laboratory scale, in still other cases it may be necessary to simulate information from literature sources. Such heterogeneity inevitably leads to uncertainty in the final results; there are several statistical methods that can be applied to take these into account. An important aspect of the completed LCA is the degree of sensitivity the results display when key variables are perturbed. Highly sensitive steps in the chain have a greater need to narrow uncertainties before drawing conclusions with confidence.