First aid for other injuries
Small cuts
Wash the cut in cold water to clean it and stop the bleeding. Dry well with a clean cloth and cover it with sticky plaster to keep it clean.
Serious cuts
Press the wound hard with a clean handkerchief, tissue or your hands to reduce the bleeding.
Put the wound higher than the rest of your body to lessen the flow of blood.
Find or call someone to help you.
Splinters
Sterilize tweezers or a needle in the blue part of a flame.
Make sure you get all the splinter out.
Then clean the wound with antiseptic liquid and cover it with sticky plaster.
Bruises
Wash with cold water to reduce bruising and swelling.
A bruised fingernail may go black. If very painful, see a doctor.
Blood blisters should be left to dry up, not popped.
Assignment 1:
To draw up a list of safety measures
[lo 1.6]
Write down five rules that you must obey with regard to wearing the correct clothing in the Technology class.
Assignment 2:
To emphasise safe working practices
[lo 1.11]
Explain the rule that applies to each of the following sketches: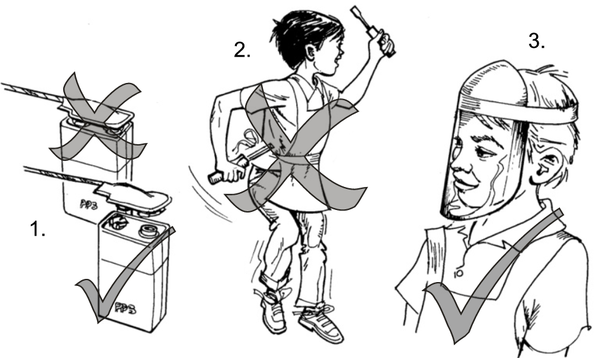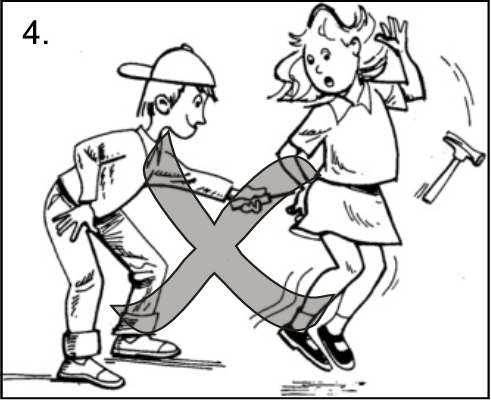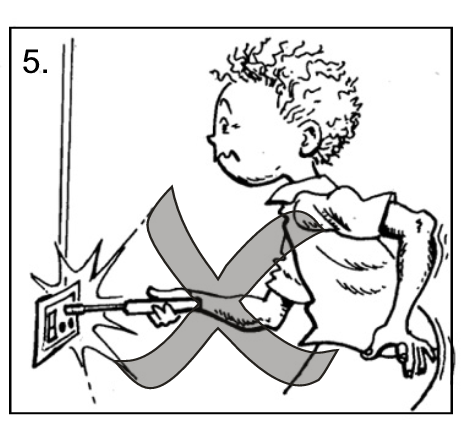 Assignment 3:
To write a short and clear statement about the safe handling of tools
[lo 1.5]
Produce a short rule with a fitting lettering design for any tool that you use in the Technology class, for example soldering irons, utility knives, glueguns, drills, saws, ex. The emphasis in the lettering type, should be that it should be easily readable, a warning and informational. The rule/s must focus on a safety aspect.
Bright colours, a bold lettering style and asymmetrical lettering would be regarded as suitable. The best examples will be laminated and put up in the class. You must use a computer or stencils for your final product.
Assessment
Learning Outcomes(LOs)
LO 1
TECHNOLOGICAL PROCESSES AND SKILLSThe learner will be able to apply technological processes and skills ethically and responsibly using appropriate information and communication technologies.
Assessment Standards(ASs)
We know this when the learner:
investigates :
1.1 investigates the background context, the nature of the need, the environmental situation, and the people concerned when given a problem, need or opportunity set in a local context;
1.2 examines existing products relevant to a problem, situation or need.
1.3 investigates by performing simple practical tests relating to aspects of the technological knowledge areas (Structures, Processing, and Systems and Control);
1.4 during investigations, plans a strategy for collecting data and information.
design :
1.5 writes or communicates a short and clear statement or a design brief for the development of a product or system related to a given problem, need or opportunity;
1.6 lists product and design specifications and constraints for a solution to a given problem, need or opportunity.
1.7 generates at least two alternative solutions and annotates the ideas;
1.8 chooses possible solutions, gives sensible reasons for choice, and develops a chosen idea using graphics or modelling techniques;
make :
1.9 develops a plan.
1.10 chooses and uses appropriate tools and materials to make products by measuring, marking, cutting or separating, shaping or forming, joining or combining, and finishing different materials with some accuracy;
evaluates :
1.12 evaluates the product or system based on criteria linked directly to the design brief and some of the specifications and constraints, and suggests improvements or modifications;
1.13 evaluates the efficiency of the plan of action followed and suggests improving future plans.