English first additional language
Grade 5
Module 14
Scripts; poetry; interviews
ACTIVITY 1
TO WRITE A CREATIVE SCRIPT FOR A DIALOGUE [LO 4.3.1]
TO EXPRESS OPINIONS AND EXPRESS REASONS FOR THEM [LO 5.2.8]
Study the cartoon - what do you think happens in this tale? Why is it funny? Dramatise the story in your groups, before filling in the speech bubbles.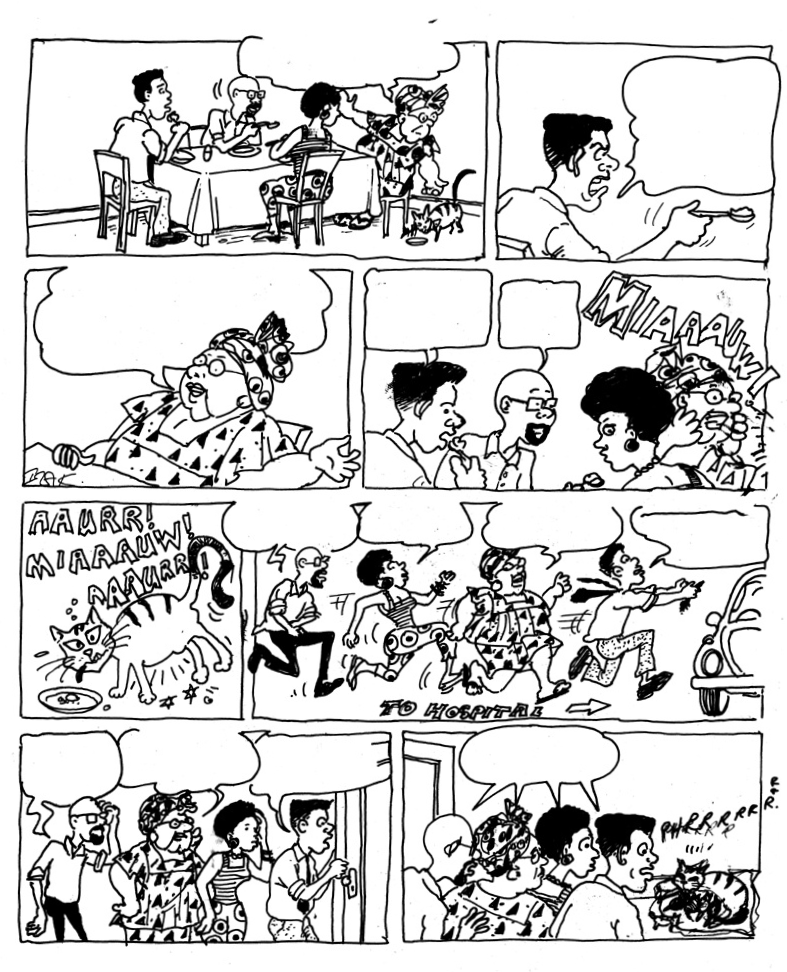 ACTIVITY 2
TO UNDERSTAND, IN A SIMPLE WAY, SOME OF THE ELEMENTS OF POETRY
RHYME [LO 3.2.1]
WORDS WHICH BEGIN WITH THE SAME SOUND [ LO 3.2.2]
Your educator will help you with this task.
We all know tongue twisters! Have fun with tongue twisters by seeing how quickly they can be read or said – without getting confused.
Betty Botta bought some butter.
"But," said she, "this butter's bitter!
If I put it in my batter,
It will make my batter bitter.
But a bit o' better butter
Will but make my batter better."
So she bought a bit o' butter
Better than the bitter butter,
Made her bitter batter better.
So 'twas better Bettty Botta
Bought a bit o' better butter.
A flea and a fly in a flue
Were caught, so what could they do?
Said the fly, "Let us flee."
"Let us fly," said the flea.
So they flew through a flaw in the flue.
(Source unknown)
ACTIVITY 3
TO RESPECT OTHER LEARNERS, GIVE OTHER LEARNERS A CHANCE TO SPEAK, LISTEN TO THEM AND ENCOURAGE THEIR ATTEMPTS TO SPEAK THEIR ADDITIONAL LANGUAGE [LO 1.5]
TO INTERACT IN ADDITIONAL LANGUAGE AND EXPRESSES OPINIONS AND FEELINGS [L.O.2.1]
TO ANSWER MORE COMPLEX QUESTIONS [LO 5.2.1]
Finding out!
Interviewing
How to interview someone successfully …
An interviewer needs to ask questions that do not require a yes or a no answer only. When interviewing somebody, your questions should encourage the person to give detailed answers or more information.
The following types of questions can help you when you plan your interview.
Select those that you would like to use and complete the questions. Can you add any of your own to the list?
What happened when ___?
Can you remember when ___?
Where were you___?
Describe your feelings ____?
Why did you ____ ?
What do you think will ___?
What about ____?
Please tell our listeners exactly ____ .
Assessment
LO 3
READING AND VIEWING The learner will be able to read and view for information and enjoyment, and to respond critically to the aesthetic, cultural and emotional values in texts.
We know this when the learner:
3.1 understands in a simple way some element of stories:
3.1.4 notices the role that visual images (pictures, photographs) play in the construction of meaning (e.g. how old and young people are represented in pictures);
3.2 understands, in a simple way, some elements of poetry:
3.2.1 rhyme;
3.2.2 words which begin with the same sound;
3.6 reads for pleasure:
3.6.1 reads fiction and non-fiction at an appropriate reading and language level;
3.6.4 solves word puzzles;
3.7 uses reference books and develops vocabulary:
3.7.1 uses a dictionary;
3.7.2 demonstrates a reading vocabulary of between 2 000 and 3 500 common words.
LO 4
WRITING The learner will be able to write different kinds of factual and imaginative texts for a wide range of purposes.