Try to find and use the following.
Fernando (Abba)
Four important Porters (Ipi Ntombi)
FRENZY!
Study this cartoon. What do you think happens in this tale? Why is it funny? Dramatise the story in your groups, before filling in the speech bubbles.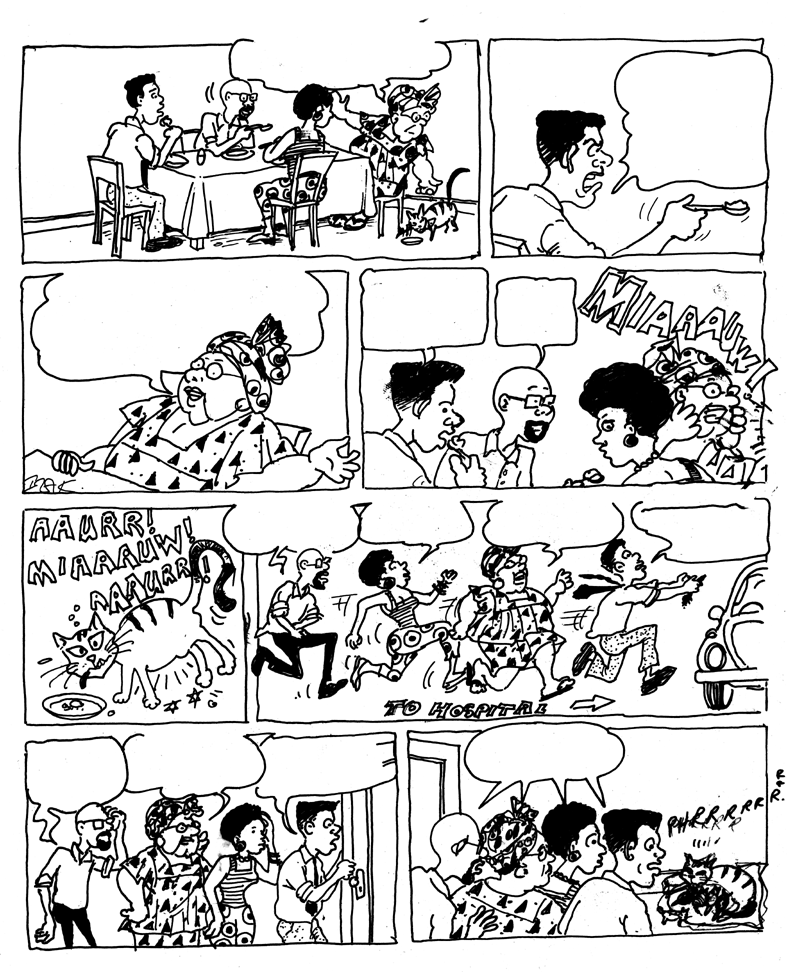 | | | | | |
| --- | --- | --- | --- | --- |
| | Checklist for teacher | | | |
| | | Clearly | Mostly | Not at all |
| | | Clearly | Mostly | Not at all |
| | Wrote relevant speeches for the characters | Clearly | Mostly | Not at all |
| | | | | |
[LO 1.2; 1.3; 2.4.1; 4.1.1]
M. CON F USION!
Tongue twisters!
We all know these tongue twisters!How quickly can you say them without getting confused?
Betty Botta bought some butter.
"But," said she, "this butter's bitter!
If I put it in my batter,
It will make my batter bitter.
But a bit o'better butter
Will but make my batter better."
So she bought a bit o'butter
Better than the bitter butter,
Made her bitter batter better.
So 'twas better Bettty Botta
Bought a bit o'better butter.
A flea and a fly in a flue
Were caught, so what could they do?
Said the fly, "Let us flee."
"Let us fly," said the flea.
So they flew through a flaw in the flue.
(Source unknown)
Can you find any others? Write them down and share them with the class. Hang them on the wall or compile a booklet, adding any new ones that you may come across.
(Not to be assessed)
Assessment
LO 1
LISTENING The learner will be able to listen for information and enjoyment, and respond appropriately and critically in a wide range of situations.
We know this when the learner:
1.2 identifies the main message and themes in oral texts and relates them to everyday life;
1.3 identifies features of oral texts (structure, language, tone, register, etc.) that make them appropriate for different purposes and audiences;
1.5 listens to different types of information texts (directions, instructions, speeches, radio talk shows, television documentries), notes main ideas or specific details, and uses information appropriately;
1.6 listens actively, considering other points of view, and responds with sensitivity to ideas and suggestions;
1.7 discusses the social, moral and cultural values, attitudes and assumptions in oral texts, and comments on what is included and excluded (e.g. "Is the moral of the story true for all circumstances? What circumstances are not covered in this story?").
LO 2
SPEAKING The learner will be able to communicate effectively in spoken language in a wide range of situations.
We know this when the learner:
2.1 communicates experiences, ideas and information in different and fairly challenging contexts for different audiences and purposes:
2.1.2 uses language for creative and imaginative self-expression (e.g. expresses feelings and thoughts, dramatises);
2.1.3 shares ideas and offers opinions on less familiar topics and events, using speculation and hypothesis;
2.1.4 describes events, presents feedback, and gives directions clearly and in an understandable way;
2.1.5 asks critical questions which do not have obvious answers, and can respond thoughtfully to such questions;
2.1.6 expresses and justifies own opinion with reasons
2.2 uses interaction strategies to communicate effectively in group situations:
2.2.1 takes turns, stays on topic, asks relevant questions, maintains discussion and responds to other's ideas with empathy and respect;
2.2.2 gives balanced and constructive feedback;
2.2.3 uses appropriate intonation and facial expressions;
2.2.4 shows sensitivity to the rights and feelings of others during group work.
2.3 uses appropriate body language and presentation skills:
2.3.2 uses appropriate intonation and facial expressions;
2.3.3 adjusts tempo and volume for emphasis.
2.4 uses appropriate language for different purposes and audiences:
2.4.1 uses language with the appropriate register in less familiar situations;
2.4.3 uses language carefully to express complex but common emotions such as anger, impatience, sympathy, admiration.
LO 4
WRITING The learner will be able to write different kinds of factual and imaginative texts for a wide range of purposes.
We know this when the learner:
4.1 writes different kinds of texts for different purposes and audiences:
4.1.1 writes for personal, exploratory, playful, imaginative and creative purposes (e.g. diary, humorous anecdotes, story, poem);
4.1.2 writes informational texts expressing ideas clearly and logically for different audiences (e.g. notices, reports);
4.2 develops and organises ideas through a writing process:
4.2.2 develops the topic by consulting relevant sources, selecting relevant information and organising ideas;
4.3 produces neat and legible work with attention to presentation (e.g. cover page, title, headings, and suitable graphics);
4.4 applies knowledge of language at various levels:
4.4.1 word level;
4.4.3 paragraph level.
Memorandum
Listening skill
1. T
2. F
3. T
4. F
5. F
6. F
7. T
8. T
9. T
10. F