Lewensvaardighede
Graad 3
Wie is ek ?
Module 1
Wees 'n vriend!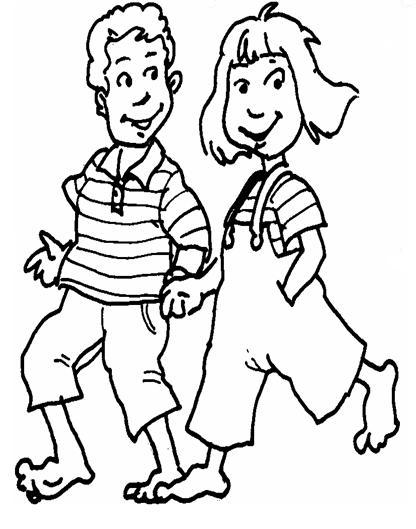 Bestudeer die strokiesprent. skryf nou neer wat in elke prentjie gebeur het.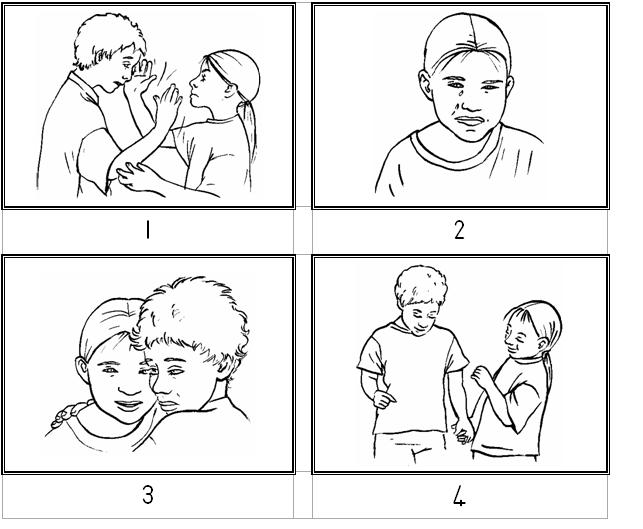 Beantwoord die volgende vrae:
Waarom was die dogtertjie ongelukkig?

Het hulle weer vrede gemaak? Hoekom sê jy so?

Gesels met jou maat oor hoe jy voel wanneer jy kwaad is.
Gee vir jou maat goeie raad wanneer hy/sy ongelukkig is.
Maak 'n regmerkie by al die eienskappe van jouself wat jy herken:
| | |
| --- | --- |
| | Ek lag graag. |
| | |
| | Ek praat soms baie lelik. |
| | |
| | Ek help graag ander mense. |
| | |
| | Ek is vriendelik. |
| | |
| | Ek raak soms baie ongeduldig. |
| | |
| | Ek knou my maats af. |
| | |
| | Ek is eerlik. |
Teken 'n prentjie van waar jy 'n ou tannie in die winkel help met haar trollie.
Julle het nou almal die geleentheid gehad om met mekaar oor al die goeie en slegte dinge in 'n mens te gesels.
Nou gaan ons vir mekaar wys hoe ons soms op die speelgrond optree.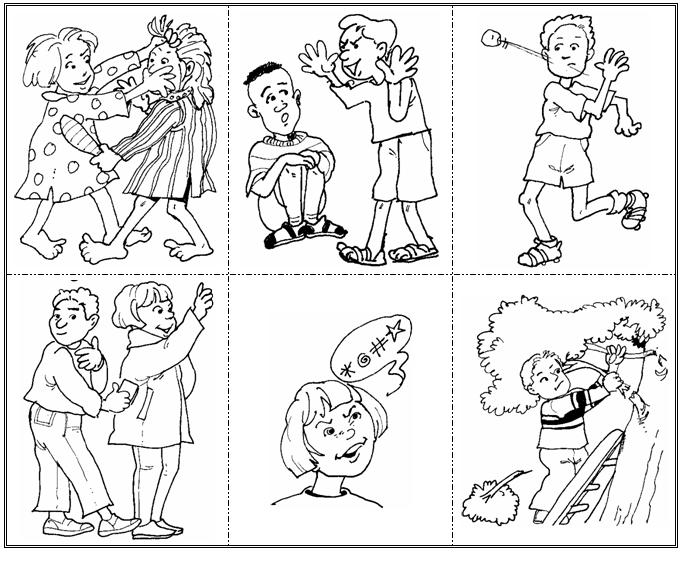 Watter eienskap moes julle dramatiseer?
Was dit vir julle moeilik om die probleem op te los?
Wat was julle oplossing?
Assessering
ASSESSERINGSTANDAARDE(LU's)
LEWENSORIËNTERING LU 2
SOSIALE ONTWIKKELING: Die leerder is in staat om begrip van en toewyding aan grondwetlike regte en sosiale verantwoordelikhede, asook begrip vir diverse kulture en gelowe te toon.
Assesseringstandaarde(ASe)
Dit is duidelik wanneer die leerder:
2.3 die rol bespreek wat aanvaarding, om te gee, vergifnis en om te deel in gesonde sosiale verhoudings, speel.
KUNS EN KULTUURLU 2
REFLEKSIE Die leerder is in staat om krities en skeppend oor kuns- en kultuurprosesse, -produkte en –style in die konteks van die verlede en die hede te besin.
Assesseringstandaarde(ASe)
Dit is duidelik wanneer die leerder:
2.1 ( dans ) – identifiseer hoe gevoelens en gemoedstemming deur middel van die liggaam en gesig, asook die gebruik van energie en die keuse van bewegings, uitgedruk word.
LU 4
UITDRUKKING EN KOMMUNIKASIE Die leerder is in staat om veelvuldige vorme van kommunikasie en uitdrukking in kuns en kultuur te ontleed en te gebruik.
Assesseringstandaarde(ASe)
Dit is duidelik wanneer die leerder:
4.3 ( drama ) – die stem, gebare en liggaamsvorms gebruik om gevoelens en gedagtes uit te druk.
Memorandum
Dramatisering kan binne of buite die klaskamer geskied.
Questions & Answers
Receive real-time job alerts and never miss the right job again
Source:  OpenStax, Lewensvaardighede graad 3. OpenStax CNX. Sep 21, 2009 Download for free at http://cnx.org/content/col11106/1.1
Google Play and the Google Play logo are trademarks of Google Inc.
Notification Switch
Would you like to follow the 'Lewensvaardighede graad 3' conversation and receive update notifications?