Boomplaasgrot
Dié grot, by Kango (naby Oudshoorn in die Suid-Kaap) is oor 'n lang tydperk deur verskeie mense bewoon. Elke laag van die dwarsnee wat deur argeoloë uitgegrawe is, vertel 'n verhaal van verskillende dele van hul geskiedenis.
b) Bestudeer meegaande diagram oor die Boomplaasgrot en beantwoord die volgende vrae:
1. Watter wapens is in die volgende tydperke gebruik?
40 000 v.C. – 30 000 v.C.
4 450 v.C – 50 n.C.
2. Watter verskillende bedrywighede het plaasgevind?
3. Watter mense het teen 250 n.C. hier gebly, en waarmee het hulle hulself besig gehou?
4. Watter inligting word oor aspekte soos erdewerk en huisdiere verskaf?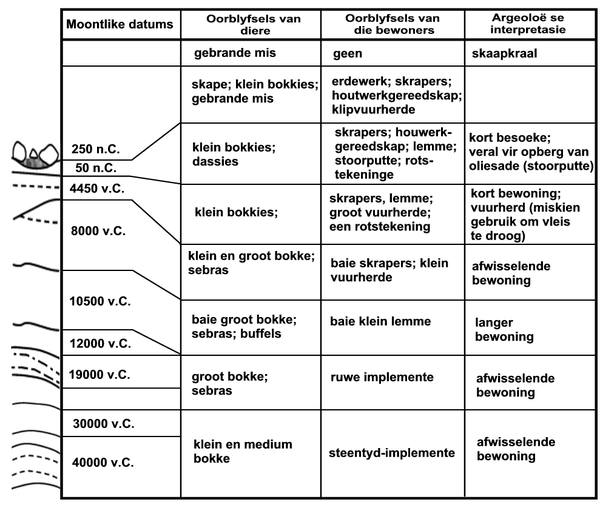 Broederstroom
Broederstroom is een van die bekendste vroeë landboudorpe suid van die Limpoporivier. Dit lê teen die suidelike hange van die Magaliesriviervallei, in die ou Suidwes-Transvaal. Die mense wat teen 350 – 600 n.C. hier gewoon het, het gejag en vee aangehou. Dit was 'n beboste omgewing met voldoende water en grasveld ongeveer twee dae se stap daarvandaan.
Na 600 n.C. het die dorp verlate geraak. Broederstroom is na 'n sorgvuldige soektog deur argeoloë van die Universiteit van Witwatersrand gevind. Slegs die vloere en fondamente van die geboue het behoue gebly.
Die huise was meestal rond, met vloere van harde kleipleister. Die dakke was waarskynlik van riet, gestut deur houtpale. Potte met versierings van verskillende vorms en groottes is gevind. Yster is gesmee en verwerk. Kopervoorwerpe is ook gevind.
c) Bestudeer meegaande kaart en sê of die volgende stellings feite (f) of menings (m) is: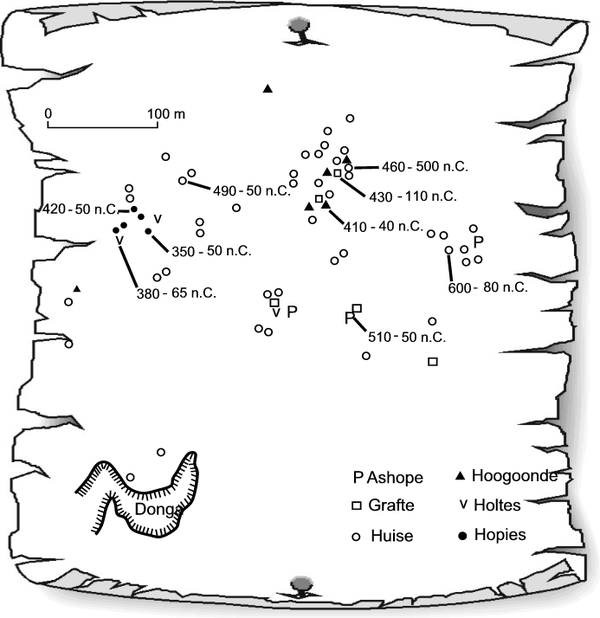 KAART VAN DIE TERREIN
Die eerste dorpenaars het hul huise in die noordwestelike deel van die terrein gebou.
Broederstroom het na die oostelike deel uitgebrei.
Dorpe wat begrawe is, word dikwels per toeval "ontdek".
Assessering
Leeruitkomstes(LUs)
LU 1
HISTORIESE ONDERSOEK Die leerder is in staat om historiese kennis en begrip aan te wend om die verlede en hede te ondersoek.
Assesseringstandaarde(ASe)
Dit is duidelik wanneer die leerder:
1.1 bronne vind:
bronne identifiseer wat help om die vraag oor die onderwerp te beantwoord;
1.2 vrae beantwoord:
relevante inligting vir 'n spesifieke doel uit 'n verskeidenheid van bronne uitsoek en aanteken;
1.3 antwoorde kommunikeer uit bronne:
inligting kronologies en logies rangskik wanneer vrae oor mense, gebeurtenisse, artefakte en plekke uit die verlede beantwoord word.
LU 2
HISTORIESE KENNIS EN BEGRIP Die leerder is in staat om bewys te lewer van historiese kennis en begrip.
Dit is duidelik wanneer die leerder:
2.1 kronologie en tyd:
gebeurtenisse, mense en veranderings op 'n tydlyn plaas wat terminologie soos v.C., n.C insluit;
Memorandum
Aktiwiteit 1
(1) d (3) f (5) g (7) b
(2) f (4) a (6) c
Aktiwiteit 2
(a) Ja
(b) (1) sinkers (visvang), pyle en handbyle (klip, hout), beenpylpunte
(Middel Steentydperk) Materiale was al meer gevorderd (Laat Steentydperk)
Maak werktuie, kos, juweliersware, jag, beoefen kuns, bou wonings
Khoina – deels ook swart boere, hou skape aan, erdewerk
Die Khoina het waarskynlik die eerste makgemaakte diere (bv. vetstertskape) en die eerste erdewerk in Suid-Afrika bekendgestel.
(c) f, f, f