'76 SOWETO-OPSTANDE
Op 16 Junie 1976 het duisende swart skoliere, veral in Soweto, teen die regering betoog, onder andere teen die beleid dat die helfte van hul klasse in Afrikaans moet wees, asook vir behoorlike politieke, ekonomiese en sosiale regte. Daar was weer landswye oproer en opstande in swart woonbuurte toe die polisie op betogers geskiet het. Baie mense het gesterf. Die Erika Theron-kommissie het daarna aanbeveel dat SA se grondwet verander moet word sodat ander bevolkingsgroepe ook aan die regering kan deelneem.
Hierna het elke Onderwysdepartement die reg verkry om te besluit in watter tale onderrig in sy skole aangebied sou word.
(b) Beantwoord die volgende vrae oor meegaande bron.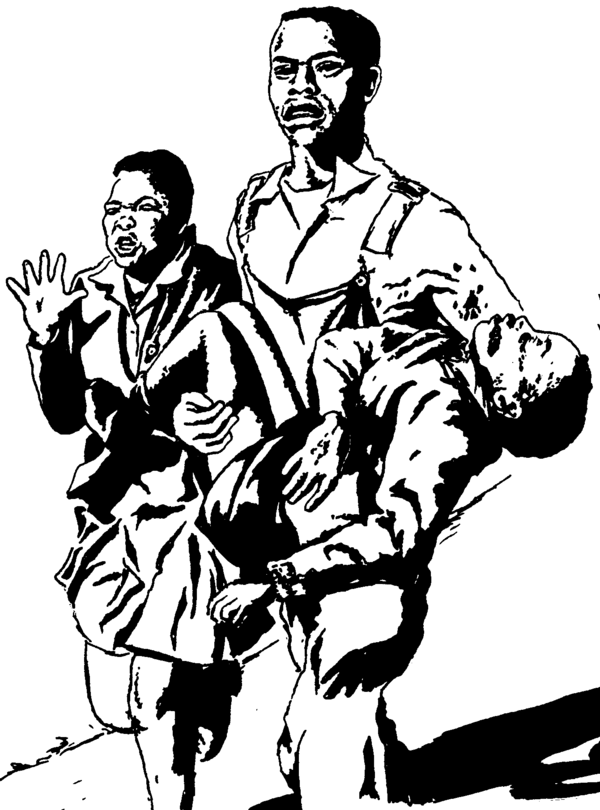 Hierdie aangrypende skets van 'n foto deur Samuel Nzima, van die dertienjarige Hector Petersen, vertel van die eerste sterfgevalle tydens die Soweto-opstande van 1976.
Wie word gedra?
Wat het met hom gebeur?
Wanneer het dit gebeur?
Waar het dit gebeur?
Waarom het dit gebeur? (Waarom het die polisie geskiet?)
Waartoe het dit gelei?
Wat verstaan jy nie?
c) Waarom het onderstaande berig in Engels verskyn ?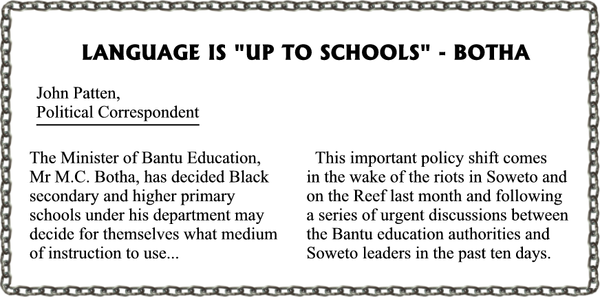 Uit: The Star , 6 Julie 1976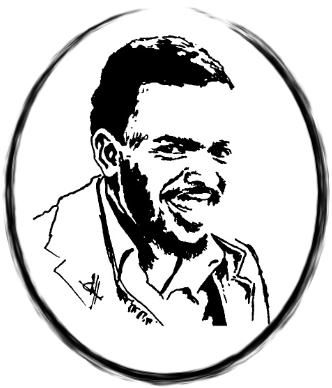 In 1977 sterf Steve Biko, leier van die swart Bewussynsbeweging, aan 'n breinbesering na 24 dae in polisieaanhouding. Daar is tydens 'n mediese ondersoek bevind dat hy in die gevangenis geweldige houe teen sy kop moes gekry het. Sy dood het tot bittere verwyt en verontwaardiging, in die buiteland en veral onder swart mense, gelei. In reaksie het die regering 17 organisasies en twee koerante verban. Die Swart Bewussynsbeweging wou veral swart selftrots aanwakker.
Assessering
Leeruitkomstes(LUs)
LU 1
HISTORIESE ONDERSOEK Die leerder is in staat om historiese kennis en begrip aan te wend om die verlede en hede te ondersoek.
Assesseringstandaarde(ASe)
Dit is duidelik wanneer die leerder:
1.1 bronne vind:
bronne identifiseer wat help om die vraag oor die onderwerp te beantwoord;
1.2 vrae beantwoord:
relevante inligting vir 'n spesifieke doel uit 'n verskeidenheid van bronne uitsoek en aanteken;
1.3 antwoorde kommunikeer uit bronne:
inligting kronologies en logies rangskik wanneer vrae oor mense, gebeurtenisse, artefakte en plekke uit die verlede beantwoord word.
Memorandum
Aktiwiteit 1
(a)
(1.1) Swart mense
Sharpeville-polisiestasie, buite Vereeniging
21 Maart 1960
Betoog teen paswette (van 1952)
(1.5) 'n Anti-pasoptog is deur die PAC by die Sharpeville-polisiestasie gereël. Die polisiestasie is omsingel en polisieversterkings is ontbied. In die proses is 69 mense doodgeskiet en 178 gewond.
(b)
(i) Hector Petersen
(ii) Polisie het op betogers geskiet. Hy is per ongeluk noodlottig gewond.
(iii) 16 Junie 1976
(iv) Soweto, Johannesburg
(v) Sien (ii)
(vi) Korttermyngevolge sluit in:
Landswye oproer en opstande in veral swart woonbuurte het voortgeduur, waarin baie mense gesterf het.
Sanksies teen Suid-Afrika het toegeneem.
Skole het hierna die reg verkry om te besluit in watter tale onderrig aangebied sou word.
Baie jongmense verlaat Suid-Afrika en gaan woon in ballingskap oorsee.
Die regering verander sekere dinge, maar die land is nog nie 'n demokrasie nie.
(c) The Star is 'n Engelstalige koerant.