Deesdae word klei en sand meestal in 'n droogoond gevuur nadat keramiek voorwerpe soos breekware (borde, koppies, pierings) daarvan gemaak is. Keramiekvoorwerpe word nie net vir voedselvoorbereiding gebruik nie, maar ook in die boukuns.
Klei is 'n voorbeeld van 'n natuurlike stof, dit wil sê 'n grondstof wat deur die natuur voorsien word, en het 'n minerale oorsprong. Natuurlike stowwe kan ook 'n plantaardige oorsprong, byvoorbeeld katoen, en 'n dierlike oorsprong, byvoorbeeld wol of sy, hê.
Wanneer klei in die son gebak word om droog te word, staan dit as erdewerk bekend. Lank gelede het die mense wat in warm lande gewoon het, die potte in die son laat bak. In kouer lande is die erdewerk in 'n houtvuur gebak.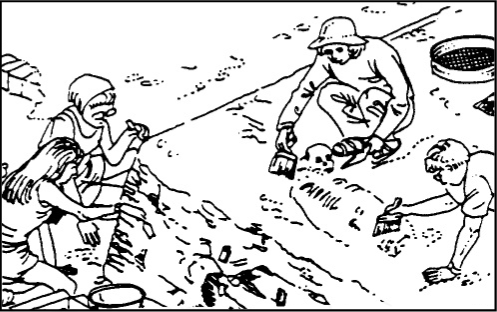 OPDRAG 7:
Besoek 'n steenmakery of 'n pottebakkery in julle omgewing. Beskryf dan met behulp van 'n vloeidiagram die proses wat die klei deurgaan vanaf die natuurlike stof tot sy uiteindelik verwerkte vorm.
Let Wel
Skryf elke nuwe aktiwiteit van die proses in 'n aparte blok en sorg dat die aktiwiteite so in 'n logiese volgorde gerangskik is. Raadpleeg 'n geskikte naslaanbron, indien 'n besoek aan 'n steenmakery of pottebakkery onmoontlik is.
Het jy geweet?
Pottebakkery is 'n tradisionele aktiwiteit van die inheemse volkere van Afrika.
OPDRAG 8:
Raadpleeg enige naslaanbron en skryf 'n paragraaf oor enige interessanthede omtrent hierdie tradisie, bv. watter rol hierdie tradisie in hul ekonomiese en kulturele lewe gespeel het en watter rol dit vandag nog speel.
OPDRAG 9:
Wat is ander se opinie oor jou houer? Vra ten minste vyf mense om hul eerlike opinie van jou houer te gee. Die mense mag nie jou klasmaats wees nie en drie mense moet volwassenes wees. Hulle kan hul kommentaar hier onder invul.
Wat dink jy van bogenoemde persone se kommentaar? Hoe laat dit jou voel?
OPDRAG 10:
Stal julle houers in die skool se voorportaal uit. Skryf jou naam, van en klasseksie duidelik in drukskrif op 'n kaartjie en plaas dit by jou houer. Dalk bestel die skoolhoof 'n juweelkissie vir sy vrou by jou!
Assessering
Leeruitkomstes(LUs)
LU 1
TEGNOLOGIESE PROSESSE EN VAARDIGHEDEDie leerder is in staat om tegnologiese prosesse en vaardighede eties en verantwoordelik toe te pas deur gepaste inligtings- en kommunikasietegnologie te gebruik.
Assesseringstandaarde(ASe)
Dit is duidelik wanneer die leerder
die volgende doen
:
Ondersoek:
1.2 vind uit oor bestaande produkte wat relevant vir 'n probleem, behoefte of geleentheid is, en identifiseer en vergelyk die ontwerpaspekte daarvan (bv. vir wie dit is, waarvoor dit is, hoe dit lyk; waarvan dit gemaak is, hoe dit werk, of dit die omgewing sal affekteer);
1.3 voer, waar gepas, 'n wetenskaplike ondersoek uit oor begrippe wat relevant vir 'n probleem, behoefte of geleentheid is deur wetenskapprosesvaardighede te gebruik;
Ontwerp:
1.4 skryf of kommunikeer 'n ontwerpopdrag vir die ontwikkeling van 'n produk met betrekking tot 'n gegewe probleem, behoefte of geleentheid en stel die tegnologiese doel van die oplossing duidelik;
1.5 stel minstens twee alternatiewe oplossings vir die probleem, behoefte of geleentheid voor wat duidelik met die ontwerpopdrag en met gegewe spesifikasies en besprekings (bv. mense, doel, veiligheid, omgewingsimpak, voorkoms) skakel, en teken dit aan;
Maak:
1.7 ontwikkel planne met besonderhede oor die stappe om dinge te maak, insluitend tekeninge of sketse wat help om die planne duidelik te stel;
1.8 kies en gebruik gepaste gereedskap en materiaal om produkte te maak deur die gekose materiaal af te meet, uit te merk, te sny of te skei, te vorm of te vervorm, aan mekaar te heg, te las of saam te voeg, en af te rond;
1.9 werk doeltreffend en veilig;
Evalueer:
1.10 evalueer die produk volgens die ontwerpopdrag en gegewe spesifikasies en besprekings (bv. mense, doel, omgewingsimpak, veiligheid, voorkoms), en stel verbeteringe en wysigings voor, indien nodig;
1.11 evalueer die aksieplan wat gevolg is en stel verbeteringe en wysigings voor, indien nodig;
Kommunikeer:
1.12 maak gepaste sketse (bv. tweedimensionele sketse van idees met byskrifte, uitgebreide tekeninge van finale oplossing en tekeninge met afmetings) om verskillende inligting gepas en doeltreffend te kommunikeer.
Memorandum
Opdrag 6
'n houtbord
'n koekroller
'n klein mes
koekmeel