Teken prentjies in elke raampie. Jy kan enige iets teken wat verband hou met Kersfees. As jy 'n Christen is, kan jy die Jesus-verhaal uitbeeld. As jy nie 'n Christen is nie, kan jy ander simbole teken, bv. presente, 'n Kersboom, liggies, vuurwerke, kos, koekies, lekkers, ens.
Gebruik 'n skerp mes en sny die venstertjie op die boonste vel papier uit. NB! Sny slegs 3 sye sodat die venstertjie oopgemaak kan word. (Dis eintlik 'n deurtjie).
Smeer gom reg rondom die buiterand van die onderste vel papier en plak die twee velle versigtig opmekaar. Wanneer jy dus 'n venstertjie oopmaak, sien jy die prentjie wat jy geteken het. Nommer die venstertjies in die volgorde wat hulle oopgemaak moet word.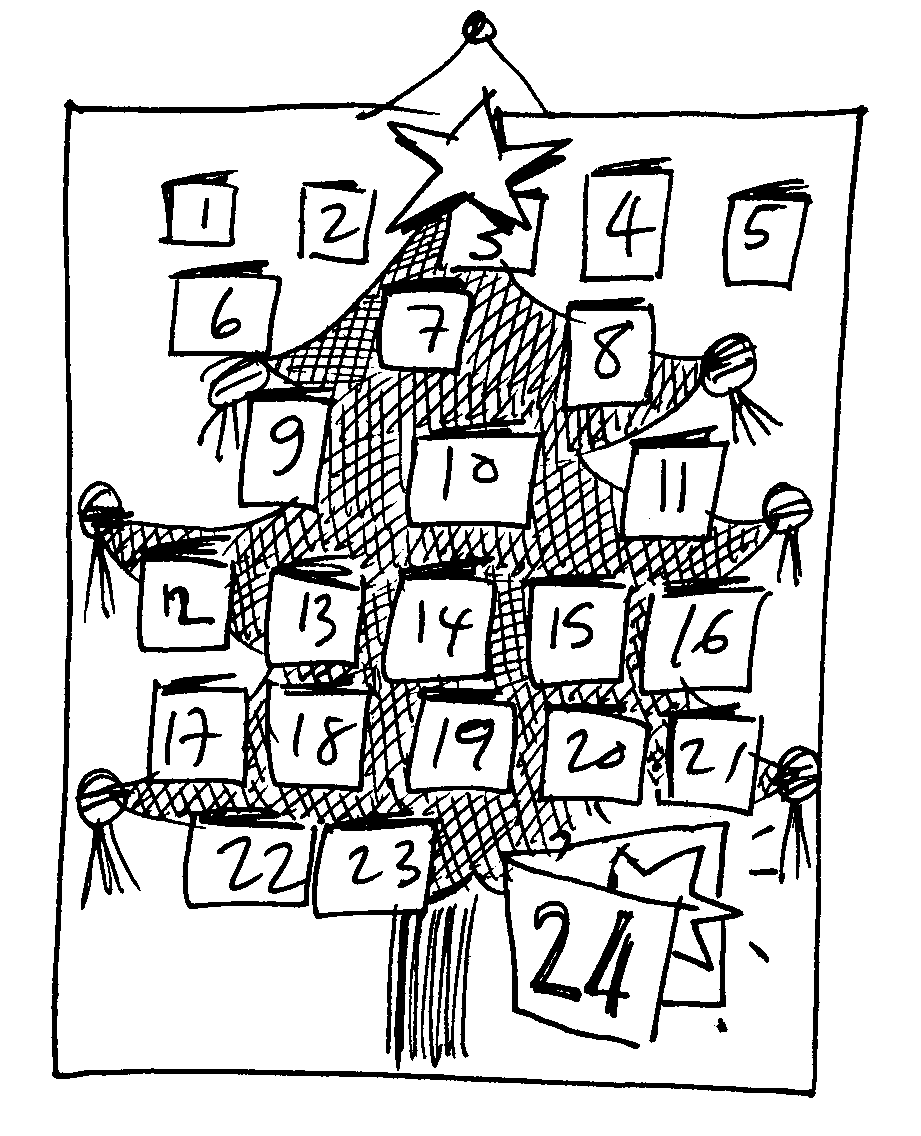 Assessering
LU 2
PRAAT Die leerder is in staat om vrymoedig en doeltreffend in gesproke taal binne 'n wye verskeidenheid situasies te kommunikeer.
Dit is duidelik wanneer die leerder die volgende doen:
2.1 voer interaksie in sy/haar addisionele taal:
2.1.1 stel en beantwoord vrae;
2.1.2 neem deel aan 'n gesprek oor 'n bekende onderwerp;
2.1.3 lug mening en gee 'n rede daarvoor;
2.2 tree op kultureel gepaste maniere op:
2.2.1 rolspeel bekende situasies met gepaste taal en gebare;
2.2.2 toon toenemende bewustheid van sosiale en kulturele verskille (soos verstaan die verskillend maniere waarop hoflikheid in die huis- en addisionele taal uitgedruk word);
2.2.3 skakel van een taal na 'n ander oor, waar gepas (soos om iemand wat nie jou taal praat nie, by 'n groep in te sluit);
2.4 gebruik die addisionele taal op 'n kreatiewe wyse:
2.4.2 voer gedigte, liedjies en eenvoudige toneelstukke op.
LU 3
LEES Die leerder is in staat om vir inligting en genot te lees en te kyk en krities op die estetiese, kulturele en emosionele waardes in tekste te reageer.
Dit is duidelik wanneer die leerder die volgende doen:
3.1 toon, op 'n eenvoudige manier, begrip van die elemente van stories:
3.1.3 let op hoe karakters en intrige aangebied word om 'n spesifieke wêreldbeskouing uit te beeld (soos: Word ou en jong mense stereotipies voorgestel, of word die verskille realisties uitgebeeld?)
3.3 lees vir inligting:
3.3.3 lees diagramme, grafieke en tabelle (soos 'n vloeidiagram);
3.6 lees vir genot en inligting:
3.6.1 lees heelwat fiksie- en nie-fiksie-boeke op 'n gepaste lees- en taalvlak;
3.6.4 los woordraaisels op;
3.7 gebruik naslaanwerke en ontwikkel woordeskat:
3.7.1 gebruik 'n woordeboek;
3.7.2 demonstreer 'n leeswoordeskat van ongeveer 2 000 tot 3 500 alledaagse woorde. Indien leerders hul addisionele taal vir leer in 'n ander leerarea gebruik, behoort hulle na 3 500 woorde te mik.
LU 4
SKRYF Die leerder is in staat om verskillende feitelike en verbeeldingryke tekste vir verskeie doeleindes te skryf.
Dit is duidelik wanneer die leerder die volgende doen:
4.2 skryf vir 'n sosiale doel;
4.3 skryf kreatief:
4.3.1 skryf 'n eenvoudige storie;
4.4 ontwerp mediatekste:
4.4.1 ontwerp 'n eenvoudige plakkaat of kennisgewing
4.5 hanteer skryf as 'n proses:
4.5.1 skryf konsepweergawes (kladwerk);
4.5.2 lees dit krities deur;
4.5.3 kry terugvoering van die onderwyser en maats;
4.5.4 herskryf die stuk na terugvoering;
4.6 gebruik ontwikkelende kennis van taalstruktuur en -gebruik:
4.6.2 spel bekende woorde korrek.
LU 6
TAALSTRUKTUUR EN -GEBRUIK Die leerder ken en is in staat om die klanke, woordeskat en grammatika van die taal te gebruik om tekste te skep en te interpreteer.
Dit is duidelik wanneer die leerder die volgende doen:
6.2 gebruik verskillende eenvoudige taalvorme en sinstrukture om mondelings en skriftelik te kommunikeer:
6.2.5 eenvoudige voorbeelde van die ontkennende vorm (soos: Ek speel nie; Ons het dit nie gedoen nie);
6.2.13 die korrekte woordorde na voegwoorde (soos: Sy slaap, omdat sy moeg is; Hy borsel sy tande nadat hy geëet het);
6.3 ontwikkel sy/haar woordeskat:
6.3.4 vorm eenvoudige samestellings (soos: piesang + skil = piesangskil);
6.3.5 gebruik eie woordeboek.
Memorandum
7.
(a) doos sjokolade
(b) graaf
(c) koekpan
(d) sakdoek
(e) serp
(f) boek
(g) koekie seep
(h) sokkerbal