Sosiale wetenskappe: aardrykskunde
Graad 6
Kaartwerk
Module 3
Handels-/vervoerroetes
Soos handel die dryfkrag was agter die ontdekkingsreise van die vroeë seevaarders soos Dias en Da Gama, is dit vandag steeds vir baie mense die hoofrede om gereeld van plek tot plek te reis. Die een groep beskik oor produkte / dienste wat die ander wil hê en daar word voortdurend kontak gemaak ten einde die handelstransaksies so vlot moontlik te laat verloop.
Die roete kan deesdae oor land, see, per lug of spoor wees. Die sentrale punte van handel is gewoonlik in groot stede gekonsentreer en daarom strek die hoofhandelsroetes tussen groot stede.
Aktiwiteit 1:
Om die vernaamste lugroetes op 'n kaart aan te dui
[lu 1.5]
Gaan na 'n reisagentskap in jou dorp en vra vir hulle 'n wêreldkaart wat die belangrikste lugroetes aandui. Gebruik nou jou skoon wêreldkaart en dui die hooflugroetes volgens die reisagentskap se kaart in rooi op die kaart aan. Vind dan die kaart met die hoofseeroetes in jou atlas en teken dit in oranje op jou kaart in. Maak nou 'n lys van al die belangrikste stede wat eind- of beginpunte van see- of lugroetes is.
Wêreldkaart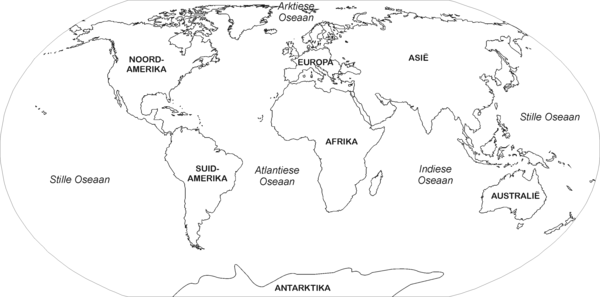 Aktiwiteit 2:
Om inligting op 'n kaart van suid-afrika aan te bring
[lu 1.5]
Teken 'n kaart van Suid-Afrika en vul die volgende daarop in (gebruik die korrekte kaartsimbole):
vier belangrike hawestede
treinroete van Kaapstad na Johannesburg
vier belangrike lughawens
die belangrikste binnelandse lugroetes
Aktiwiteit 3:
Om 'n besluit te neem oor die vervoer van goedere
[lu 1.4]
Jy is die hoof van 'n uitvoermaatskappy wat in Durban geleë is en moet die volgende goedere vir jou kliënte by hul onderskeie bestemmings kry. Konsulteer met jou uitvoerspan en besluit op die beste manier om dit te vervoer:
100 dosyn rose van Bloemfontein na Sydney, Australië;
10 ton afvalmetaal van Johannesburg na New York.
Assessering
Leeruitkomstes(LUs)
LU 1
AARDRYKSKUNDIGE ONDERSOEKDie leerder is in staat om ondersoekvaardighede te gebruik om aardrykskundige en omgewingsbegrippe en -prosesse te ondersoek.
Assesseringstandaarde(ASe)
Dit is duidelik wanneer die leerder:
1.1 inligtingsbronne , insluitend eenvoudige statistiek, identifiseer om die vraag oor 'n maatskaplike of omgewingsvraaagstuk of –probleem te help beantwoord;
relevante inligting vir spesifieke doeleindes uit bronne kies en dit opteken;
breedte- en lengteligging gebruik om relevante plekke op kaarte te vind;
inligting gebruik om oplossings vir probleme voor te stel;
1.5 verslag doen oor ondersoeke deur bespreking, debat, gestruktureerde skryfwerk, grafieke, tabelle, kaarte en diagramme.
Questions & Answers
Receive real-time job alerts and never miss the right job again
Source:  OpenStax, Aardrykskunde graad 6. OpenStax CNX. Sep 07, 2009 Download for free at http://cnx.org/content/col10999/1.1
Google Play and the Google Play logo are trademarks of Google Inc.
Notification Switch
Would you like to follow the 'Aardrykskunde graad 6' conversation and receive update notifications?