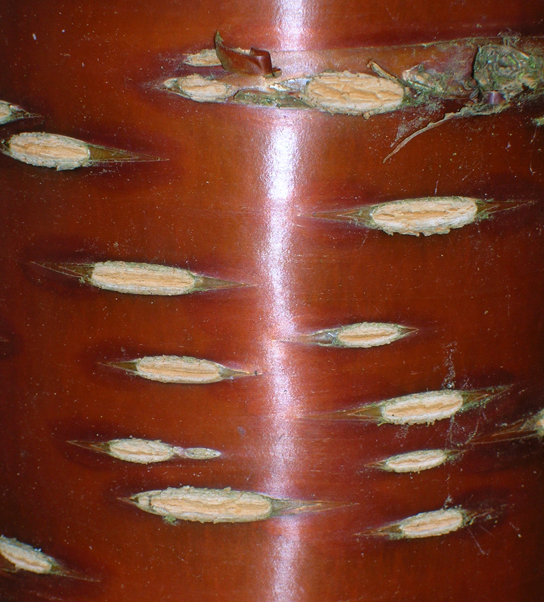 Annual rings
The activity of the vascular cambium gives rise to annual growth rings. During the spring growing season, cells of the secondary xylem have a large internal diameter and their primary cell walls are not extensively thickened. This is known as early wood, or spring wood. During the fall season, the secondary xylem develops thickened cell walls, forming late wood, or autumn wood, which is denser than early wood. This alternation of early and late wood is due largely to a seasonal decrease in the number of vessel elements and a seasonal increase in the number of tracheids. It results in the formation of an annual ring, which can be seen as a circular ring in the cross section of the stem ( [link] ). An examination of the number of annual rings and their nature (such as their size and cell wall thickness) can reveal the age of the tree and the prevailing climatic conditions during each season.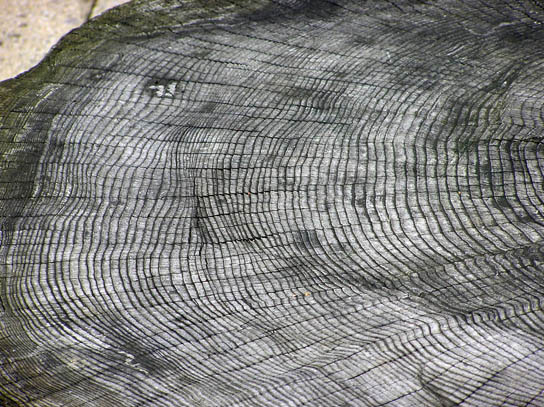 Stem modifications
Some plant species have modified stems that are especially suited to a particular habitat and environment ( [link] ). A rhizome is a modified stem that grows horizontally underground and has nodes and internodes. Vertical shoots may arise from the buds on the rhizome of some plants, such as ginger and ferns. Corms are similar to rhizomes, except they are more rounded and fleshy (such as in gladiolus). Corms contain stored food that enables some plants to survive the winter. Stolons are stems that run almost parallel to the ground, or just below the surface, and can give rise to new plants at the nodes. Runners are a type of stolon that runs above the ground and produces new clone plants at nodes at varying intervals: strawberries are an example. Tubers are modified stems that may store starch, as seen in the potato ( Solanum sp.). Tubers arise as swollen ends of stolons, and contain many adventitious or unusual buds (familiar to us as the "eyes" on potatoes). A bulb , which functions as an underground storage unit, is a modification of a stem that has the appearance of enlarged fleshy leaves emerging from the stem or surrounding the base of the stem, as seen in the iris.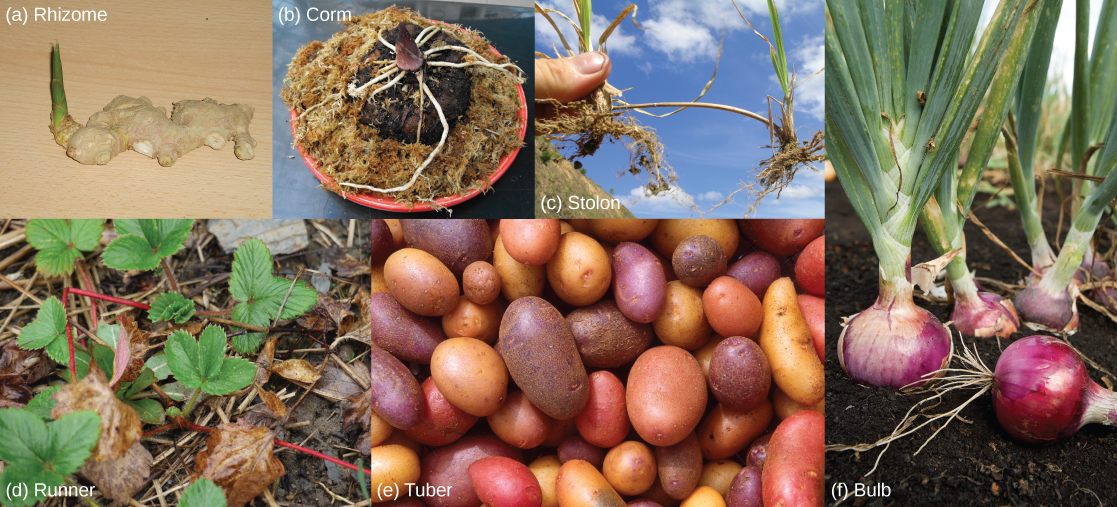 Link to learning
Watch botanist Wendy Hodgson, of Desert Botanical Garden in Phoenix, Arizona, explain how agave plants were cultivated for food hundreds of years ago in the Arizona desert in this video: Finding the Roots of an Ancient Crop.
Some aerial modifications of stems are tendrils and thorns ( [link] ). Tendrils are slender, twining strands that enable a plant (like a vine or pumpkin) to seek support by climbing on other surfaces. Thorns are modified branches appearing as sharp outgrowths that protect the plant; common examples include roses, Osage orange and devil's walking stick.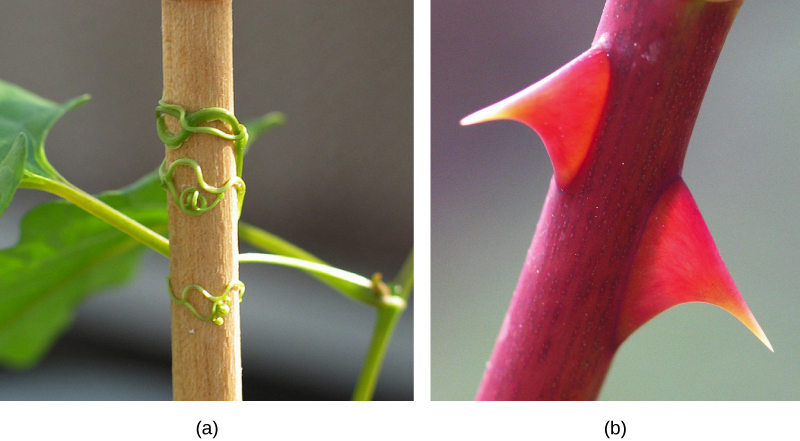 Section summary
The stem of a plant bears the leaves, flowers, and fruits. Stems are characterized by the presence of nodes (the points of attachment for leaves or branches) and internodes (regions between nodes).
Plant organs are made up of simple and complex tissues. The stem has three tissue systems: dermal, vascular, and ground tissue. Dermal tissue is the outer covering of the plant. It contains epidermal cells, stomata, guard cells, and trichomes. Vascular tissue is made up of xylem and phloem tissues and conducts water, minerals, and photosynthetic products. Ground tissue is responsible for photosynthesis and support and is composed of parenchyma, collenchyma, and sclerenchyma cells.
Primary growth occurs at the tips of roots and shoots, causing an increase in length. Woody plants may also exhibit secondary growth, or increase in thickness. In woody plants, especially trees, annual rings may form as growth slows at the end of each season. Some plant species have modified stems that help to store food, propagate new plants, or discourage predators. Rhizomes, corms, stolons, runners, tubers, bulbs, tendrils, and thorns are examples of modified stems.
Art connections