Habitat restoration
Habitat restoration holds considerable promise as a mechanism for restoring and maintaining biodiversity. Of course once a species has become extinct, its restoration is impossible. However, restoration can improve the biodiversity of degraded ecosystems. Reintroducing wolves, a top predator, to Yellowstone National Park in 1995 led to dramatic changes in the ecosystem that increased biodiversity. The wolves ( [link] ) function to suppress elk and coyote populations and provide more abundant resources to the guild of carrion eaters. Reducing elk populations has allowed revegetation of riparian areas, which has increased the diversity of species in that habitat. Decreasing the coyote population has increased the populations of species that were previously suppressed by this predator. The number of species of carrion eaters has increased because of the predatory activities of the wolves. In this habitat, the wolf is a keystone species, meaning a species that is instrumental in maintaining diversity in an ecosystem. Removing a keystone species from an ecological community may cause a collapse in diversity. The results from the Yellowstone experiment suggest that restoring a keystone species can have the effect of restoring biodiversity in the community. Ecologists have argued for the identification of keystone species where possible and for focusing protection efforts on those species; likewise, it also makes sense to attempt to return them to their ecosystem if they have been removed.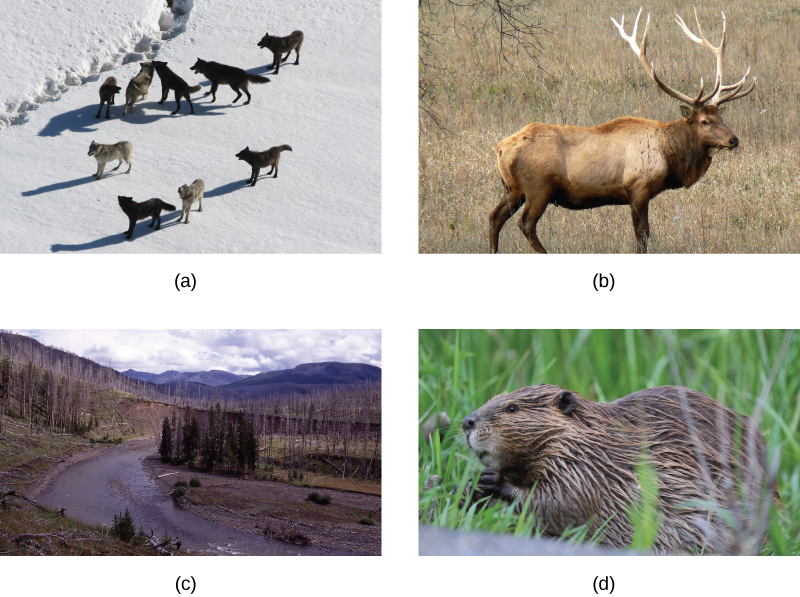 Other large-scale restoration experiments underway involve dam removal. In the United States, since the mid-1980s, many aging dams are being considered for removal rather than replacement because of shifting beliefs about the ecological value of free-flowing rivers and because many dams no longer provide the benefit and functions that they did when they were first built. The measured benefits of dam removal include restoration of naturally fluctuating water levels (the purpose of dams is frequently to reduce variation in river flows), which leads to increased fish diversity and improved water quality. In the Pacific Northwest, dam removal projects are expected to increase populations of salmon, which is considered a keystone species because it transports key nutrients to inland ecosystems during its annual spawning migrations. In other regions such as the Atlantic coast, dam removal has allowed the return of spawning anadromous fish species (species that are born in fresh water, live most of their lives in salt water, and return to fresh water to spawn). Some of the largest dam removal projects have yet to occur or have happened too recently for the consequences to be measured. The large-scale ecological experiments that these removal projects constitute will provide valuable data for other dam projects slated either for removal or construction.
The role of captive breeding
Zoos have sought to play a role in conservation efforts both through captive breeding programs and education. The transformation of the missions of zoos from collection and exhibition facilities to organizations that are dedicated to conservation is ongoing. In general, it has been recognized that, except in some specific targeted cases, captive breeding programs for endangered species are inefficient and often prone to failure when the species are reintroduced to the wild. Zoo facilities are far too limited to contemplate captive breeding programs for the numbers of species that are now at risk. Education is another potential positive impact of zoos on conservation efforts, particularly given the global trend to urbanization and the consequent reduction in contacts between people and wildlife. A number of studies have been performed to look at the effectiveness of zoos on people's attitudes and actions regarding conservation; at present, the results tend to be mixed.
Section summary
New technological methods such as DNA barcoding and information processing and accessibility are facilitating the cataloging of the planet's biodiversity. There is also a legislative framework for biodiversity protection. International treaties such as CITES regulate the transportation of endangered species across international borders. Legislation within individual countries protecting species and agreements on global warming have had limited success; there is at present no international agreement on targets for greenhouse gas emissions. In the United States, the Endangered Species Act protects listed species but is hampered by procedural difficulties and a focus on individual species. The Migratory Bird Act is an agreement between Canada and the United States to protect migratory birds. The non-profit sector is also very active in conservation efforts in a variety of ways.
Conservation preserves are a major tool in biodiversity protection. Presently, 11percent of Earth's land surface is protected in some way. The science of island biogeography has informed the optimal design of preserves; however, preserves have limitations imposed by political and economic forces. In addition, climate change will limit the effectiveness of preserves in the future. A downside of preserves is that they may lessen the pressure on human societies to function more sustainably outside the preserves.
Habitat restoration has the potential to restore ecosystems to previous biodiversity levels before species become extinct. Examples of restoration include reintroduction of keystone species and removal of dams on rivers. Zoos have attempted to take a more active role in conservation and can have a limited role in captive breeding programs. Zoos also may have a useful role in education.
Art connections
[link] Which of the following statements is not supported by this graph?
There are more vulnerable fishes than critically endangered and endangered fishes combined.
There are more critically endangered amphibians than vulnerable, endangered and critically endangered reptiles combined.
Within each group, there are more critically endangered species than vulnerable species.
A greater percentage of bird species are critically endangered than mollusk species.