As shown in [link] , every other glucose monomer in cellulose is flipped over, and the monomers are packed tightly as extended long chains. This gives cellulose its rigidity and high tensile strength—which is so important to plant cells. While the β 1-4 linkage cannot be broken down by human digestive enzymes, herbivores such as cows, koalas, buffalos, and horses are able, with the help of the specialized flora in their stomach, to digest plant material that is rich in cellulose and use it as a food source. In these animals, certain species of bacteria and protists reside in the rumen (part of the digestive system of herbivores) and secrete the enzyme cellulase. The appendix of grazing animals also contains bacteria that digest cellulose, giving it an important role in the digestive systems of ruminants. Cellulases can break down cellulose into glucose monomers that can be used as an energy source by the animal. Termites are also able to break down cellulose because of the presence of other organisms in their bodies that secrete cellulases.
Carbohydrates serve various functions in different animals. Arthropods (insects, crustaceans, and others) have an outer skeleton, called the exoskeleton, which protects their internal body parts (as seen in the bee in [link] ). This exoskeleton is made of the biological macromolecule chitin , which is a polysaccharide-containing nitrogen. It is made of repeating units of N-acetyl- β -d-glucosamine, a modified sugar. Chitin is also a major component of fungal cell walls; fungi are neither animals nor plants and form a kingdom of their own in the domain Eukarya.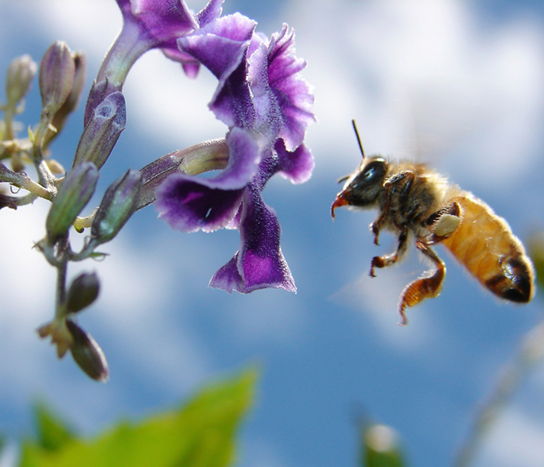 Which of the following is a characteristic of carbohydrates?
Carbohydrates are hydrophobic and have the general formula CH2O
Carbohydrates are hydrophobic and have the general formula CHO
Carbohydrates are hydrophilic and have the general formula CHO
Carbohydrates are hydrophilic and have the general formula CH2O
Benefits of carbohydrates
Are carbohydrates good for you? People who wish to lose weight are often told that carbohydrates are bad for them and should be avoided. Some diets completely forbid carbohydrate consumption, claiming that a low-carbohydrate diet helps people to lose weight faster. However, carbohydrates have been an important part of the human diet for thousands of years; artifacts from ancient civilizations show the presence of wheat, rice, and corn in our ancestors' storage areas.
Carbohydrates should be supplemented with proteins, vitamins, and fats to be parts of a well-balanced diet. Calorie-wise, a gram of carbohydrate provides 4.3 Kcal. For comparison, fats provide 9 Kcal/g, a less desirable ratio. Carbohydrates contain soluble and insoluble elements; the insoluble part is known as fiber, which is mostly cellulose. Fiber has many uses; it promotes regular bowel movement by adding bulk, and it regulates the rate of consumption of blood glucose. Fiber also helps to remove excess cholesterol from the body: fiber binds to the cholesterol in the small intestine, then attaches to the cholesterol and prevents the cholesterol particles from entering the bloodstream, and then cholesterol exits the body via the feces. Fiber-rich diets also have a protective role in reducing the occurrence of colon cancer. In addition, a meal containing whole grains and vegetables gives a feeling of fullness. As an immediate source of energy, glucose is broken down during the process of cellular respiration, which produces ATP, the energy currency of the cell. Without the consumption of carbohydrates, the availability of "instant energy" would be reduced. Eliminating carbohydrates from the diet is not the best way to lose weight. A low-calorie diet that is rich in whole grains, fruits, vegetables, and lean meat, together with plenty of exercise and plenty of water, is the more sensible way to lose weight.
Link to learning
For an additional perspective on carbohydrates, explore "Biomolecules: the Carbohydrates" through this interactive animation .
For a more details on carbohydrates go to UC Davis Chemwiki pages on Carbohydrates at Chemwiki Carbohydrates
Which of the following are functions of carbohydrates?
energy storage
structure
cell recognition
cell signaling
a, b and c
all of the above
Section summary
Carbohydrates are a group of macromolecules that are a vital energy source for the cell and provide structural support to plant cells, fungi, and all of the arthropods that include lobsters, crabs, shrimp, insects, and spiders. Carbohydrates are classified as monosaccharides, disaccharides, and polysaccharides depending on the number of monomers in the molecule. Monosaccharides are linked by glycosidic bonds that are formed as a result of dehydration reactions, forming disaccharides and polysaccharides with the elimination of a water molecule for each bond formed. Glucose, galactose, and fructose are common monosaccharides, whereas common disaccharides include lactose, maltose, and sucrose. Starch and glycogen, examples of polysaccharides, are the storage forms of glucose in plants and animals, respectively. The long polysaccharide chains may be branched or unbranched. Cellulose is an example of an unbranched polysaccharide, whereas amylopectin, a constituent of starch, is a highly branched molecule. Storage of glucose, in the form of polymers like starch of glycogen, makes it slightly less accessible for metabolism; however, this prevents it from leaking out of the cell or creating a high osmotic pressure that could cause excessive water uptake by the cell.
Art connections