References
Alderfer, C. P. (1972). Existence, relatedness, and growth; Human needs in organizational settings . New York: Free Press.
Berry, B. (2009). Leadership. Teacher working conditions toolkit web site . Retrieved from http://www.teacherworkingconditions.org/leadership/index.html .
Browne-Ferrigno, T. (2003). Becoming a principal. Roll conception, initial socialization, role-identity transformation, purposeful engagement. Educational Administration Quarterly , 39 (4), 468-503.
Campbell, J., Dunnette, M., Lawler, E.,&Weick, K. (1970). Managerial behavior, performance, and effectiveness. McGraw-Hill. New York.
Carr, M.&Million, J. (2010, February). Shortage of qualified candidates hindering the
Cooley, V. E.,&Shen, J., (1999, April). Who will lead? The top 10 factors that influence teachers moving into administration. NASSP Bulletin, 83 (606), 75-80.
Cotton, K. (2003). Principals and student achievement: What the research says . Alexandria, VA: Association for Supervision and Curriculum Development.
Cranston, N. C. (2007). Through the eyes of potential aspirants: Another view of the principalship. School Leadership&Management , 27 , 109-128.
Cusick, P. (2003, January). A study of Michigan's school principal shortage . The Education Policy Center at Michigan State University. Retrieved from http://www.epc.msu.edu .
Eckman, E. W. (2004). Similarities and differences in role conflict, role commitment, and job satisfaction for female and male high school principals. Educational Administration Quarterly , 40 (3), 366-387.
Evans, R. (1996). The human side of school change: Reform, resistance, and the real-life
Fink, D.,&Brayman, C. (2004). Principals' succession and educational change. Journal of Educational Administration . 42 (4), 431-449.
Fiore, D. (2009). Educational administration: Standards, theories, and practice (2nd ed.) Larchmont, NY: Eye on Education.
Fullan, M. (1997). What's worth fighting for in the principalship . New York: Teachers College Press.
Grubb, W.N.,&Flessa, J. (2006). A job too big for one: Multiple principals and other nontraditional approaches to school leadership. Educational Administration Quarterly , 42 (4), 518-550.
Guthrie, J. W.,&Schuermann, P. J. (2010). Successful school leadership: Planning, politics, performance, and power . Boston: Allyn&Bacon.
Harris, A. (2007, April). The current crisis in leadership: Threat or opportunity. School Leadership and Management, 27 (2), 105-107. doi:10.1080/ 13632430701237065
Hill, R.,&Banta, B. (2008, February 11). Principal flight on the rise in the age of accountability. Retrieved from http://statesman.printthis.clickability.com .
Hinton, L.,&Kastner, J. (2000, May 1). Vermont legislative research shop. Vermont's principal shortage. Retrieved from http://www.uvm.edu.
Howley, A., Andrianaivo, S.,&Perry, J. (2005). The pain outweighs the gain: Why teachers don't want to become principals. Teachers College Record, 107 (4), 757-782.
McKay, L. (1999, August 22). Back to school: A matter of principals. Pittsburgh Post-Gazette , 1-6.
Mezzacappa, D. (2008, May). A better pipeline to the principalship. Improving leadership for learning: Stories from the field. Center for the Study of Teaching and Policy, University of Washington. Retrieved from http://www.wallacefoundation.org .
Murphy, J. (1998). Preparation for the school principalship: The United States' story. School Leadership&Management , 18 (3), 359-372.
National Association of Elementary School Principals, (2007, July). NAESP fact sheet on the principal shortage. Author.
No Child Left Behind Act of 2001, 20 U.S.C. § 6319 (2008).
Quinn, T. (2002, October). Succession planning: Start today. Principal Leadership , 3 (2), 24-28.
Reddekopp, T. (2008, December). Building leaders. Principal Leadership . 9 , 48-50.
Reeves, D. B. (2006). The learning leader: How to focus school improvement for better results . Alexandria, VA: Association for Supervision and Curriculum Development.
Sanders, M. G.,&Sheldon, S. B. (2009). Principals matter: A guide to school, family, and community partnerships . Thousand Oaks, CA: Corwin.
Sava, S.G. (1998). Help wanted. Principal , 77 , 72.
Vroom, V.,&Yetton, P. W. (1973). Leadership and decision-making. Pittsburg, PA: University of Pittsburg Press.
Winter, P.A.,&Morgenthal, J.R. (2002). Principal recruitment in a reform environment: Effects of school achievement and school level on applicant attraction to the job. Educational Administration Quarterly. 38 , 319-342.
Witters-Churchill, L. (October, 1991). University preparation of school principals. School Organization . 11 (3), 339.
Appendix 1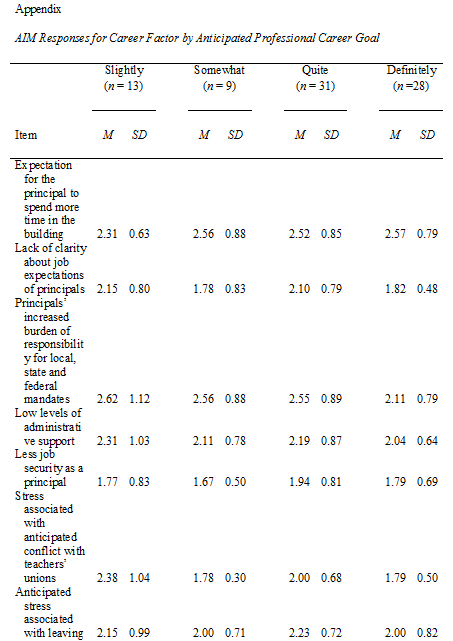 Appendix 2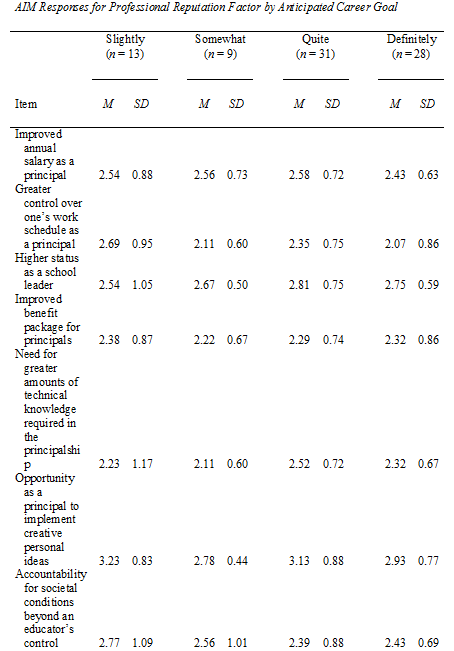 Appendix 3