Cephalopods ( [link] ) are able to move quickly via jet propulsion by contracting the mantle cavity to forcefully eject a stream of water. Cephalopods have separate sexes, and the females of some species care for the eggs for an extended period of time. Although the shell is much reduced and internal in squid and cuttlefish, and absent altogether in octopus, nautilus live inside a spiral, multi-chambered shell that is filled with gas or water to regulate buoyancy.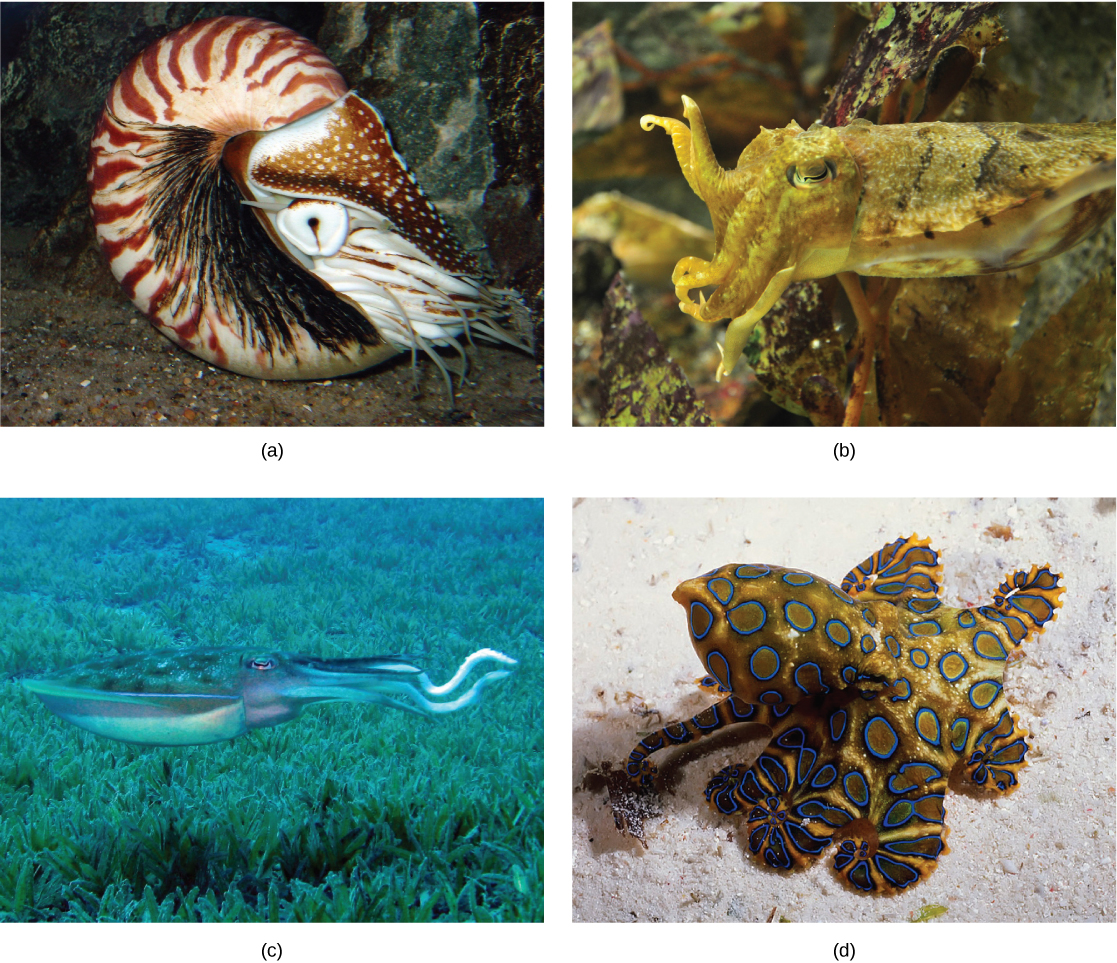 Members of the class Scaphopoda ("boat feet") are known colloquially as "tusk shells" or "tooth shells." Tooth shells are open at both ends and usually lie buried in sand with the front opening exposed to water and the reduced head end projecting from the back of the shell. Tooth shells have a radula and a foot modified into tentacles, each with a bulbous end that catches and manipulates prey ( [link] ).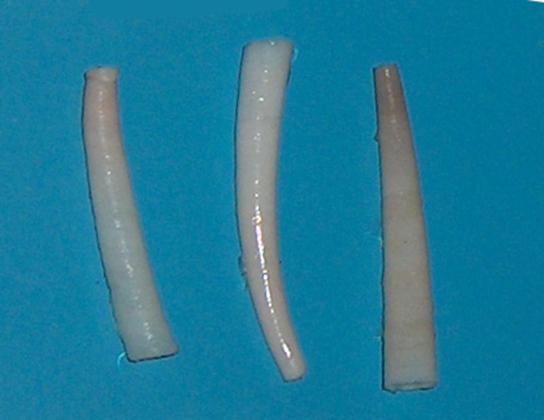 Annelida
Phylum Annelida are segmented worms found in marine, terrestrial, and freshwater habitats, but the presence of water or humidity is a critical factor for their survival in terrestrial habitats. The name of the phylum is derived from the Latin word annellus , which means a small ring. Approximately 16,500 species have been described. The phylum includes earthworms, polychaete worms, and leeches. Like mollusks, annelids exhibit protostomic development.
Annelids are bilaterally symmetrical and have a worm-like appearance. Their particular segmented body plan results in repetition of internal and external features in each body segment. This type of body plan is called metamerism . The evolutionary benefit of such a body plan is thought to be the capacity it allows for the evolution of independent modifications in different segments that perform different functions. The overall body can then be divided into head, body, and tail.
Physiological processes of annelida
The skin of annelids is protected by a cuticle that is thinner than the cuticle of the ecdysozoans and does not need to be molted for growth. Chitinous hairlike extensions, anchored in the skin and projecting from the cuticle, called chaetae , are present in every segment in most groups. The chaetae are a defining character of annelids. Polychaete worms have paired, unjointed limbs called parapodia on each segment used for locomotion and breathing. Beneath the cuticle there are two layers of muscle, one running around its circumference (circular) and one running the length of the worm (longitudinal). Annelids have a true coelom in which organs are distributed and bathed in coelomic fluid. Annelids possess a well-developed complete digestive system with specialized organs: mouth, muscular pharynx, esophagus, and crop. A cross-sectional view of a body segment of an earthworm is shown in [link] ; each segment is limited by a membrane that divides the body cavity into compartments.