Often the most difficult part to learning to use a new class library is learning how to read and interpret the documentation, and the Processing libraryis no exception.
The main documentation for Processing is accessible from the Reference and Learning links at the top of the Cover page . While extensive, this documentation is not presented in industry standard javadoc format.Documentation in standard javadoc format is available here .
Android and HTML 5 make Processing more relevant
The Processing environment has been around for a long time. It was initially developed to serve as a software sketchbook and to teach fundamentals of computer programming within a visual context.While it originally occupied a very narrow niche market, it has now become more relevant on a broad scale for two important reasons:
Processing can be used to develop Android apps .
Processing has a sister product named Processing.js that will automatically convert (with some limitations) Processing source code into JavaScript code suitable for use with the canvas element in HTML 5.
In other words, Processing directly supports two of the newest and hottest items in information technology; mobile apps and HTML 5 canvas.
Discussion and sample code
The Processing website provides a number of tutorials that explain important aspects of the Processing environment and also provide sample codethat illustrates those aspects of the environment.
An integrated development environment (IDE)
As you will see when you study those tutorials, the Processing programming environment comes with its own integrated development environment (known as the Processing Development Environment or PDE). A screen shot of the PDE is shown in Image 1 .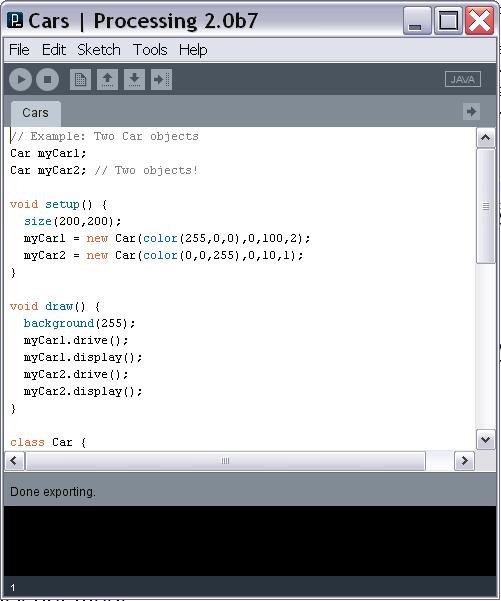 Click here to view an extensive discussion of the PDE.
While it is possible to develop Processing programs outside the PDE, that that presents several issues that I prefer not to deal with involving libraries, etc. Therefore, I will probably use the PDE in most of the modules in thiscollection.
The Getting Started tutorial
The Getting Started tutorial explains how to download and install the Processing environment on Windows, Mac,and Linux.
In addition, that tutorial shows you how to create your first sketch along with a lot of other useful information. Study it carefully.
Run the sketch
The Objects tutorial explains how to write a sketch in which you define your own class named Car and then instantiate and manipulate objects of that class.
I encourage you to copy the code from that tutorial into the PDE. ( Image 1 shows the beginning of that sketch.)
Once you have copied the code into the PDE, you have three optional ways to run the sketch:
Run directly from the PDE.
Run in JavaScript mode.
Export and run as an application.
Run directly from the PDE
You can run the sketch directly from the PDE by either clicking the triangular arrow button shown near the upper-left corner in Image 1 , or by selecting Run from the Sketch menu.