Wiskunde
Graad 5
Meetkunde, datahantering en waarskynlikheid
Module 44
Meetkunde
Aktiwiteit 1:
Om 2d-vorms te beskryf, te sorteer en te vergelyk [lu 3.2.2]
2d-vorms te ondersoek en te vergelyk [lu 3.3.3]
1. Kom ons hersien die werk wat jy in graad 4 gedoen het. Kyk sommer hoe goed jou geheue is. Vir die volgende aktiwiteit moet jy jou pa se hamer en spykers gebruik. Pasop net vir jou duim!
Jy benodig:
'n Houtplankie - 30 cm × 30 cm
Spykers
Rekkies
Slaan die spykers ongeveer 1,5 cm van mekaar af in.
Onthou jy nog?
'n Vierhoek is enige figuur met 4 sye en 4 hoeke.
'n Vierkant het vier ewe lang sye en vier 90° hoeke.
'n Reghoek se teenoorstaande sye is ewe lank en al 4 die hoeke is 90°.
'n Driehoek is enige figuur met 3 hoeke en 3 sye.
1.1 Vorm die volgende figure met die rekkies op die spykerbord.
1.2 Teken twee van elke figuur op 'n kolletjiesblad.
Vierhoek
Vierkant
Reghoek
Driehoek
1.3 Hou 'n klasbespreking. Maak 'n lys van al die ooreenkomste tussen jou figure op die spykerbord.
1.4 Teken en kyk nou hoeveel verskille julle as klas tussen die figure op 'n kolletjiesblad kan raaksien.
Aktiwiteit 2:
Om 2D-vorms vanaf tekeninge en prente te beskryf, te sorteer en te vergelyk [LU 3.2.2]
Om natuurlike en kulturele 2D-vorms te herken en te beskryf [LU 3.6]
1. Blaai nou deur ou koerante en tydskrifte en knip voorbeelde uit van vierhoeke, vierkante, reghoeke en driehoeke. Plak hulle op 'n vel papier. Laat 'n maat kontroleer of jy reg gewerk het. (Wenk: Kyk of die eienskappe van die figuur pas by dit wat jou maat geplak het!)
Aktiwiteit 3:
Om 2d-vorms te visualiseer en te benoem [lu 3.1.2]
Kom ons kyk hoe fyn jy kan kyk. Hieronder is vierkante, driehoeke en sirkels bo-op mekaar neergesit. Kyk goed daarna en voltooi dan die opdragte wat volg.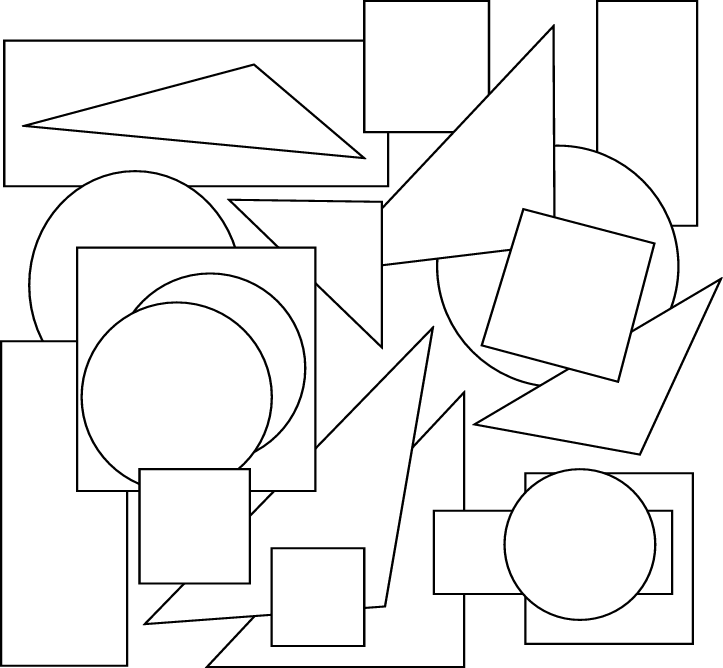 1. Kleur die deel van al die driehoeke wat jy kan sien pers in. Hoeveel driehoeke is daar?
2. Kleur al die sirkels pienk in. Hoeveel sirkels is daar?
3. Kleur al die vierkante rooi in. Hoeveel vierkante is daar?
4. Kleur al die reghoeke groen in. Hoeveel reghoeke is daar?
4. Rangskik die getalle in die sirkel van groot na klein.
5. Watter getal is in die vierkant en as dit verdubbel word, is dit 34 minder as 100?
Aktiwiteit 4:
Om 2d-vorms te vergelyk n.a.v. sekere eienskappe [lu 3.2.2]
Hoewel dit baie eenvoudig klink, is dit tog belangrik dat jy weet hoeveel sye en hoeke 'n figuur het, omdat dit ons kan help om veelhoeke maklik te klassifiseer. Gebruik die tekeninge hieronder en voltooi dan die tabel.

Driehoek , Vierhoek en Vyfhoek

Seshoek, Sewehoek en Agthoek
| | | | | | | | | | |
| --- | --- | --- | --- | --- | --- | --- | --- | --- | --- |
| Getal sye in die veelhoek | 3 | 4 | 5 | ......... | ......... | 8 | 12 | 100 | 220 |
| Getal driehoeke in die veelhoek | 1 | ......... | ......... | 4 | 5 | ......... | ......... | ......... | ......... |
Aktiwiteit 5:
Om 2d-vorms te maak en te beskryf in terme van simmetrie [lu 3.3.1]
Hierdie aktiwiteit is 'n taak vir jou portefeulje. Lees die opdragte sowel as die kriteria vir die assessering goed deur voordat jy begin. Vra jou opvoeder om te verduidelik waar nodig.
Toets eers jou geheue. Kan jy aan jou maat verduidelik wat "simmetrie" beteken?
1. Gebruik tydskrifte en soek prente van vorms / figure wat simmetries is.