Afrikaans eerste addisionele taal
Graad 4
Wie is ek?
Module 2
Luister ook na ander
Aktiwiteit 1
Om na instruksies te luister [lu 1.2.1]
SIMON SÊ . . .
Nou ken julle al die dele van jul liggaam. Kom ons speel 'n speletjie.
Een leerder staan voor en gee instruksies soos: Simon sê: Steek op jou hande! of Knip jou oë!
Die res van die klas doen die aksie. As die leerder nie die instruksie met die woorde Simon sê begin nie, moet die res van die klas stil staan. Hulle reageer net op Simon sê se instruksies.
Neem beurte om instruksies te gee. Jy kan selfs jou eie naam gebruik.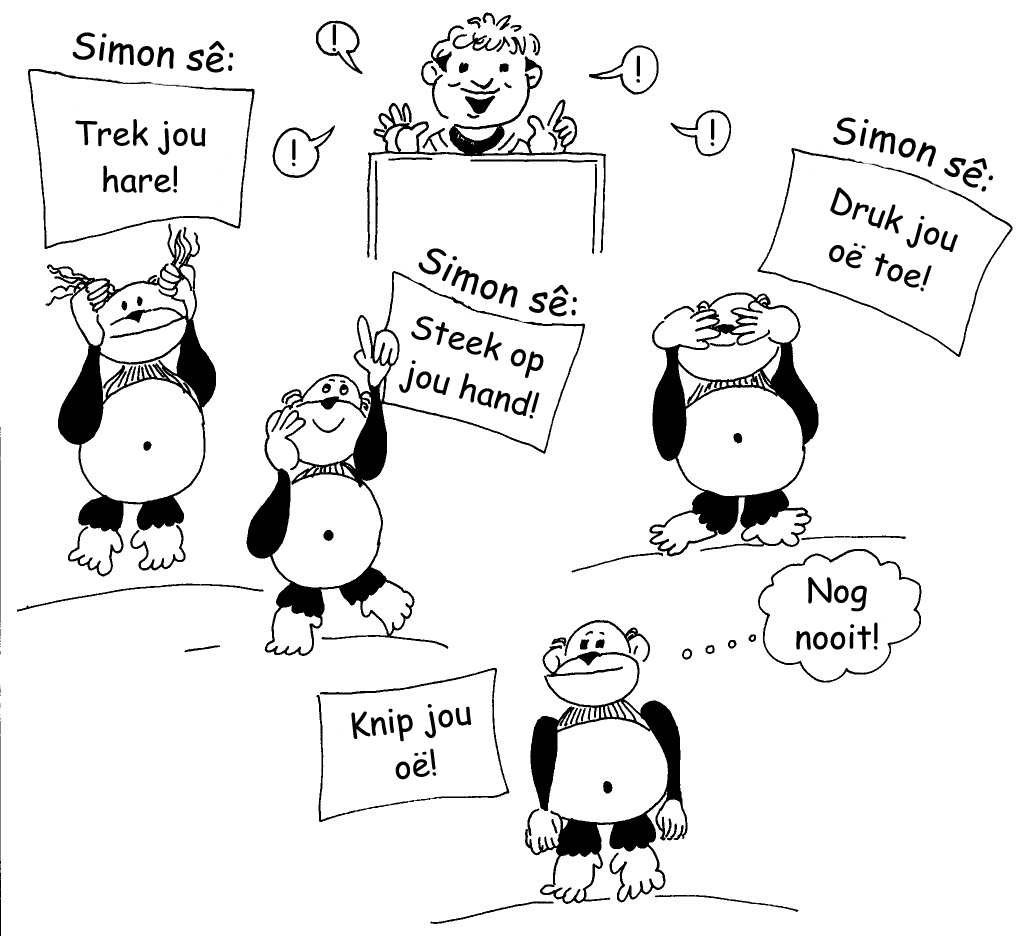 Lees nou die woorde en die spelling van die liggaamsdele (ken die woorde).
Aktiwiteit 2
Om ander ook 'n kans te gee om te praat [lu 1.5.1]
Om 'n gedig vir genot te lees [lu3.5.1]
(a) Lees die gediggie in groepe van vier. Elkeen lees een strofe en vertel vir die res van die groepie wat hy/sy gelees het.
Die groot wonder
As die grootmense bymekaar kom
Wonder hul gedurig oor elke kind.
Hul skinder oor ons ore, hare en mond
By wie hul dieselfde sal vind.
Grace het Ouma se groen oë
En Eben het sy pa se krom neus,
Asook Oupa Gert se bakore
En kyk tog, voete soos 'n reus!
As hul na my rooikop kyk
Kan hulle tog nie verstaan
Hoe ek so anders as die familie lyk
En wil weet waar kom ek vandaan?
Met my sproetgesig en andersheid
Verwar ek al wat grootmens is.
Hul bly wonder en skinder
En dink seker ek is aspris.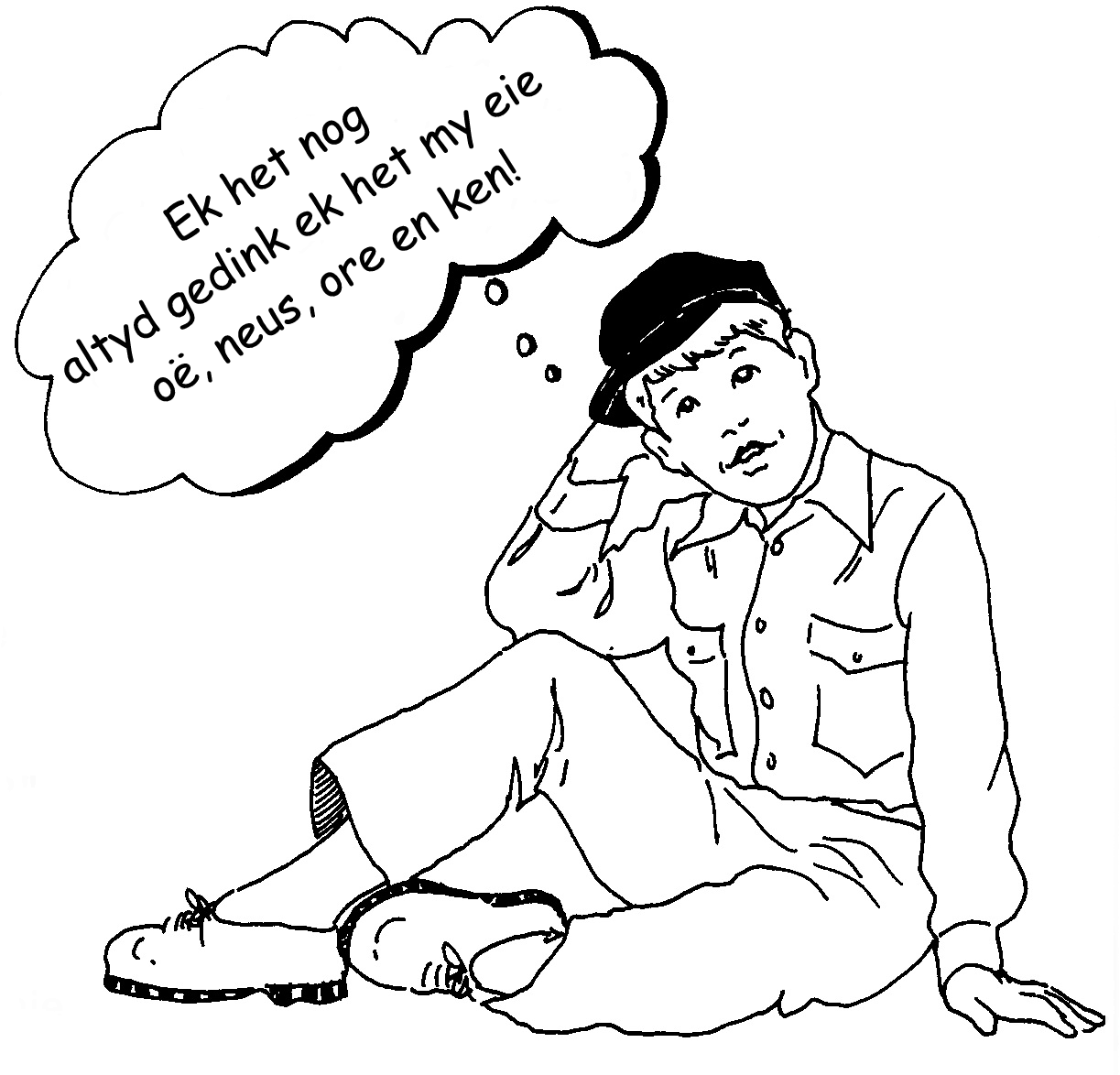 (b) Neem beurte in jul groepe om die hele gedig te lees. Maak gebruik van die assesseringstabel om mekaar se hardoplees te assesseer. Jy kan vir jou opvoeder of ouers lees. As julle klaar is, kan julle dramatiseer hoe die grootmense altyd na die kinders kyk en oor hulle praat.
KRITERIA VIR HARDOPLEES
(a) Woordherkenning en vlotheid ..........
(b) Ken nie die woorde nie en kan dit nie uitspreek nie ..........
(c) Woorde is nie almal bekend nie en lees is nie vlot nie ..........
(d) Haak vas met sekere woorde ..........
(e) Ken al die woorde en lees vlot ..........
(f) Duidelikheid en toonhoogte ..........
(g) Uitspraak is baie onduidelik en op dieselfde eentonige noot ..........
(h) Verstaanbare uitspraak, maar die stem is te eentonig of te sag ........
(i) Enkele woorde is onduidelik, maar goeie wisseling in die stem ........
(j) Woorde word duidelik uitgespreek met wisseling in die stem ........
(k) Frasering ..........
(l) Neem geen leestekens in ag nie ..........
(m) Probeer, maar vergeet om op die regte plekke asem te haal ..........
(n) Haal korrek asem, maar lees te vinnig ..........
(o) Lees met goeie asemhaling en spoed ..........
Aktiwiteit 3
Om vir inligting te lees [lu 3.3.5]
STILLEES
Lees weer die leesstuk "Ek sal hulle wys!"
Kyk na die sinne hieronder en dui aan of die stellings waar of onwaar is of nie genoeg bewyse het nie. Vergelyk jou antwoorde met die res van jou groep en bespreek julle antwoorde as julle nie saamstem nie.
Merk met
W - waar
O - onwaar
OB - onvoldoende bewyse
| | | | |
| --- | --- | --- | --- |
| | W | O | OB |
| a) Eben is Tony se beste maat | | | |
| b) Grace het geen tande in haar mond nie | | | |
| c) Tony het rooi krulhare | | | |
| d) Die kinders het elk vyf vingers aan een hand | | | |
| e) John se wange is vet | | | |
| f) Manus kan hoër as Tony spring | | | |
| g) Eben het 'n lang neus | | | |
| h) Tony is die beste krieketspeler in die skool | | | |
| i) Manus het 'n skewe ken | | | |
| j) Tony is baie bly dat hy anders lyk | | | |
| | | | |
Assessering
Leeruitkoms 1: luister
Die leerder is in staat om vir inligting en genot te luister en gepas en krities binne 'n wye verskeidenheid situasies te reageer.
Assesseringstandaard
Dis duidelik wanneer die leerder:
ander leerders respekteer:
1.5.1 ander leerders 'n beurt gee om te praat.
Leeruitkoms 3: lees en kyk
Die leerder is in staat om vir inligting en genot te lees en te kyk en krities op die estetiese, kulturele en emosionele waardes in tekste te reageer.
Assesseringstandaard
Dis duidelik wanneer die leerder:
3.3.5 met ondersteuning 'n opsomming van 'n paragraaf maak (vul byvoorbeeld ontbrekende woorde in 'n paragraaf in);
3.5 vir genot en inligting lees:
3.5.1 heelwat fiksie- en nie-fiksie-boeke op 'n gepaste lees- en taalvlak lees.
Memorandum
Aktiwiteit 3
(a) W
(b) O
(c) OB
(d) W
(e) W
(f) O
(g) O
(h) O
(i) W
(j) O