Aardrykskunde
Graad 4
Voedselproduksie
Module 23
Hoenderboerdery
Hoe gereeld eet julle huisgesin hoendervleis of eiers? Waar kom dit vandaan? Hoenderboere kan in twee hoofgroepe verdeel word:
Lêhoenderboere
Slaghoenderboere
Definisie
Produseer eiers om te verkoop
Produseer hoenders wat vir hul vleis geslag word
"Werking"

Henne begin lê wanner hul 18 weke oud is.
Word in lê-huise aangehou (batterystelsel).

Hane en henne om bevrugte eiers te lê.
Eiers word in broeiery in broeimasjien geplaas.

Hen lê meeste eiers op 20 weke.
26 – 28 weke lae eierproduksie (verkoop).
Sommige vryloopstelsel.
Tot 50 000 onder een dak.
Temperatuur word beheer.
Gereeld ingeënt teen

hoendersiektes.

Eiers onbevrug.
Oor 'n periode van 52 weke lê 'n hen ongeveer 300 eiers.
Eiers sorteer volgens kwaliteit van dop en grootte.

Broei op dag 21 uit.
Kuikens teen siektes ingeënt.
Kuikens onder verwarmers gehou.
Ligte brand vir 16 uur per dag.
Kuikens word spesiale kos gevoer om vinnig te groei.
Na 40 dae weeg slaghoender ongeveer 2 kg.
Gereed vir slag en verpakking.
Na winkels versprei (heel of stukke).
Teel
Kuikens wat vir teeldoeleindes gebruik word, word op ouderdom 21 weke na 'n teelafdeling oorgeplaas. Hier word hane en henne saam in een hoenderhuis aangehou (tien henne by een haan). Vanaf die 22ste week word eiers (broei-eiers) in neste gelê. Die eiers word vyf keer per dag versamel. Slegs sommige van die bevrugte eiers word vir teeldoeleindes gebruik. Die hane en henne volg 'n spesiale dieet en word op ongeveer 64 weke saam met lê-hoenders verkoop.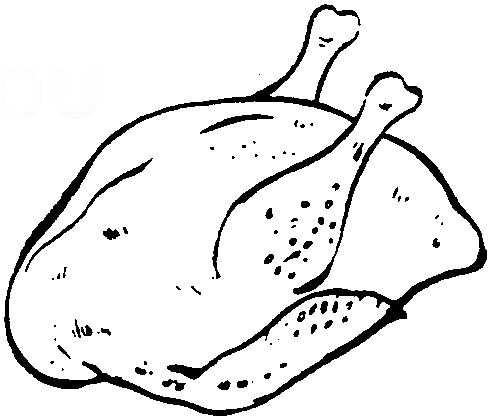 Waarom is hoendervleis goedkoper as rooivleis?
Aktiwiteit 1
Om in julle groepe die volgende vrae te bespreek en dan terugvoering aan die klas oor die groep se bevindings te gee [lu 1.6, 1.7]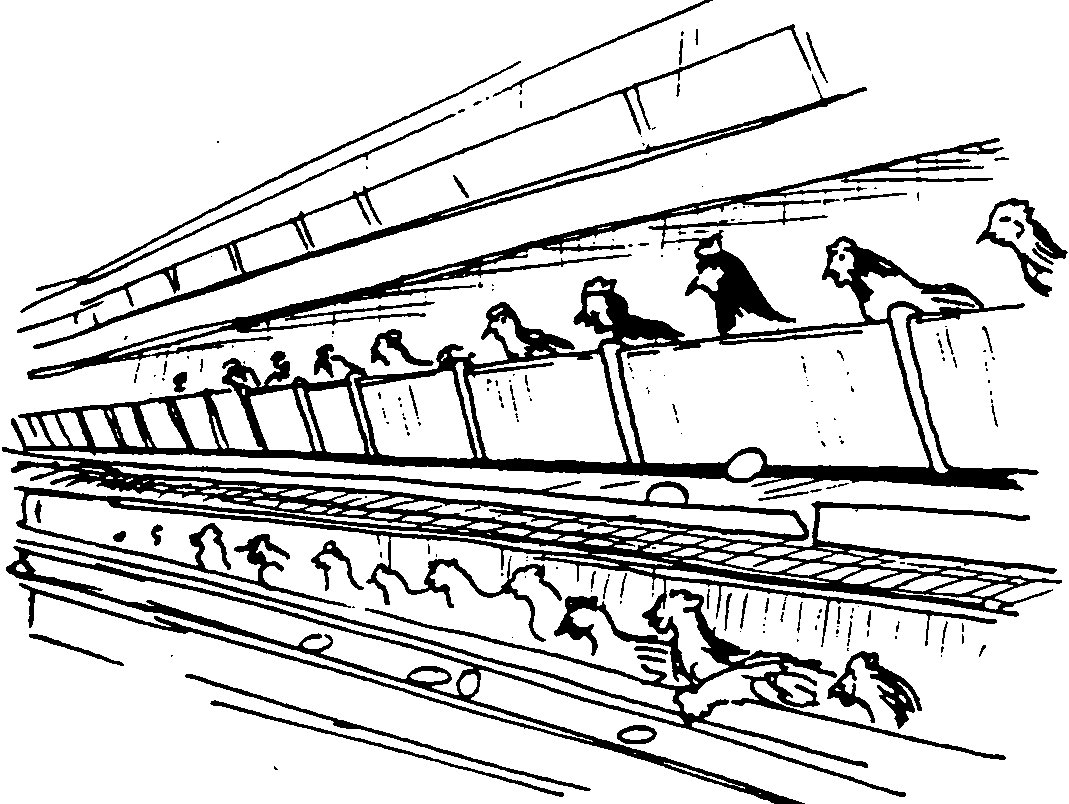 Kyk na die skets van die lêhoenders in die battery. Hoe voel jy oor die omstandighede waaronder die hoenders aangehou word?
Waarom dink jy word die henne in sulke klein hokkies aangehou?
Wat is "skarrel-" eiers en weglêhoenders?
Assessering
Leeruitkoms 1: aardrykskundige ondersoek
Die leerder is in staat om ondersoekvaardighede te gebruik om aardrykskundige en omgewingsbegrippe en -prosesse te ondersoek.
Assesseringstandaard
Dis duidelik wanneer die leerder
1.6 inligting vanaf kaarte gebruik (insluitend eie waarnemings) om vrae oor mense en plekke te beantwoord (bv. "Waarom is dit so?") [beantwoord die vraag];
1.7 aardrykskundige en omgewingsbegrippe en -terme gebruik om op verskillende maniere verslag te doen oor ondersoeke [dra die antwoord oor].
Memorandum
Hoendervleis is goedkoper as rooivleis omdat:
Vinniger; korter lewensiklus; min spasie benodig vir teel; geen weiding nodig.