Just as some observers are concerned about the possibility of Medicare being overburdened, Social Security is considered to be at risk. Social Security is a government-run retirement program funded primarily through payroll taxes. With enough people paying into the program, there should be enough money for retirees to take out. But with the aging boomer cohort starting to receive Social Security benefits and fewer workers paying into the Social Security trust fund, economists warn that the system will collapse by the year 2037. A similar warning came in the 1980s; in response to recommendations from the Greenspan Commission, the retirement age (the age at which people could start receiving Social Security benefits) was raised from sixty-two to sixty-seven and the payroll tax was increased. A similar hike in retirement age, perhaps to seventy, is a possible solution to the current threat to Social Security (Reuteman 2010).
Aging around the world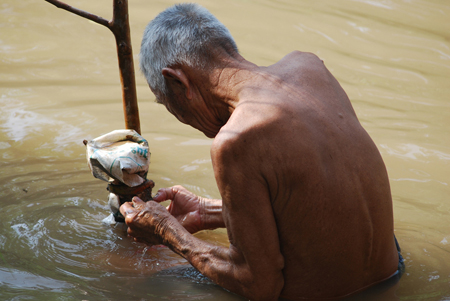 From 1950 to approximately 2010, the global population of individuals age sixty-five and older increased by a range of 5–7 percent (Lee 2009). This percentage is expected to increase and will have a huge impact on the dependency ratio : the number of nonproductive citizens (young, disabled, or elderly) to productive working citizens (Bartram and Roe 2005). One country that will soon face a serious aging crisis is China, which is on the cusp of an "aging boom"— a period when its elderly population will dramatically increase. The number of people above age sixty in China today is about 178 million, which amounts to 13.3 percent of its total population (Xuequan 2011). By 2050, nearly a third of the Chinese population will be age sixty or older, which will put a significant burden on the labor force and impacting China's economic growth (Bannister, Bloom, and Rosenberg 2010).
As healthcare improves and life expectancy increases across the world, elder care will be an emerging issue. Wienclaw (2009) suggests that with fewer working-age citizens available to provide home care and long-term assisted care to the elderly, the costs of elder care will increase.
Worldwide, the expectation governing the amount and type of elder care varies from culture to culture. For example, in Asia the responsibility for elder care lies firmly on the family (Yap, Thang, and Traphagan 2005). This is different from the approach in most Western countries, where the elderly are considered independent and are expected to tend to their own care. It is not uncommon for family members to intervene only if the elderly relative requires assistance, often due to poor health. Even then, caring for the elderly is considered voluntary. In the United States, decisions to care for an elderly relative are often conditionally based on the promise of future returns, such as inheritance or, in some cases, the amount of support the elderly provided to the caregiver in the past (Hashimoto 1996).