Different businesses compete against one another by making their products or prices as attractive as possible to attract the consumer. Each business has to try to convince the consumer that its product is better, or cheaper, or more fashionable, even, than that offered by the other business.
Let's take bread, for example. Both of the businesses that feature below sell bread. How will you decide whose bread to buy?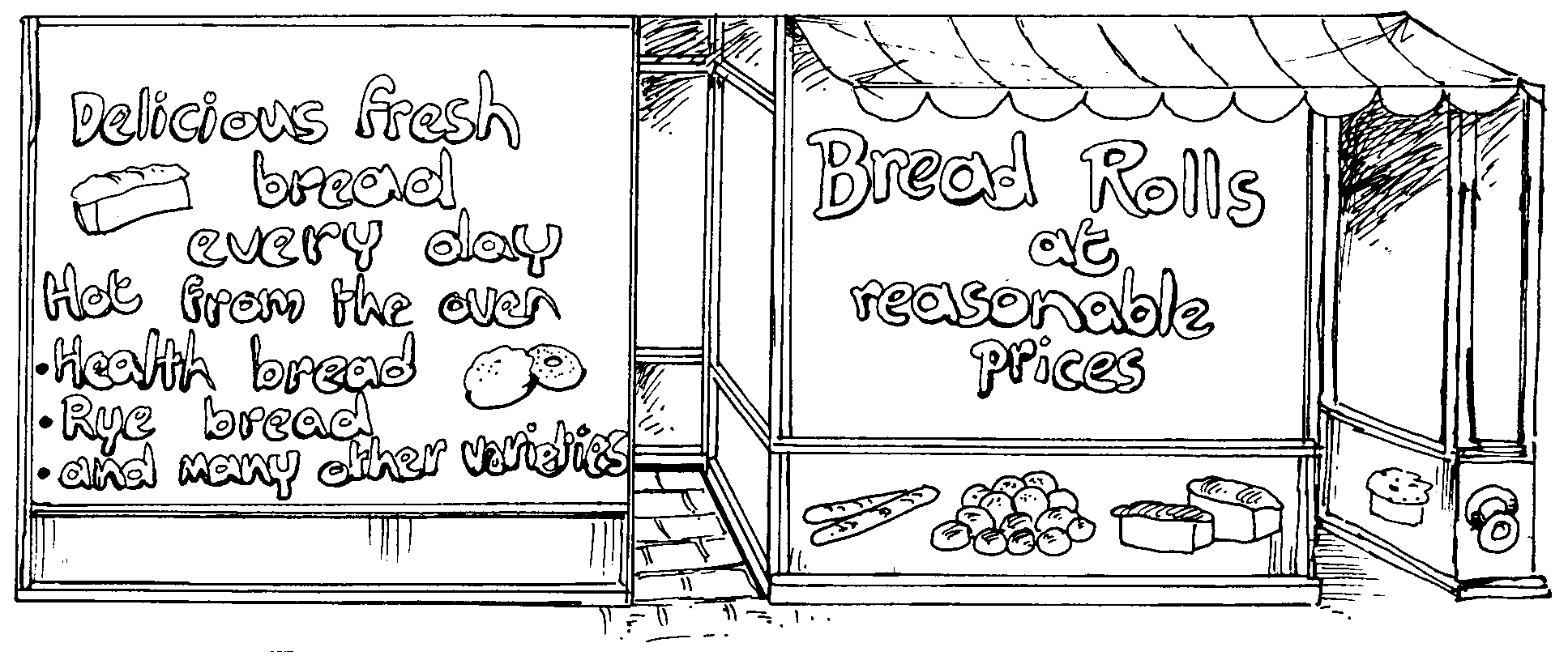 List some reasons to motivate your choice:
Advertisements
It is important for the producer to introduce his product to you as the consumer. He can do it by means of advertisements in magazines, newspapers, on the radio, on television, posters, advertising boards and even by means of pamphlets dropped in your letterbox. Sometimes the advertisements are so alluring that we buy articles that we do not really need.
Activity 2
To investigate the features of good advertisements [LO 4.1]
Discuss the features of good advertisements in your groups. What is it that captures your attention or fails to do so?
Activity 3
To differentiate between more and less successful advertisements [LO 3.2]
Collect a variety of advertisements from different sources and differentiate between those you regard as more successful or less successful. Provide reasons for your decisions.
| | |
| --- | --- |
| More successful | Less successful |
| | |
| Reasons | Reasons |
| | |
| | |
| | |
| | |
| | |
Design an advertisement for any new product on the market. You must try to ensure that the consumer will definitely consider the product.
Assessment
LEARNING OUTCOME 3: MANAGERIAL, CONSUMER AND FINANCIAL KNOWLEDGE AND SKILLS
The learner will be able to demonstrate knowledge and the ability to apply responsibly a range of managerial, consumer and financial skills.
Assessment Standard
We know this when the learner:
3.2 distinguishes three different types of local businesses.
LEARNING OUTCOME 4: MANAGERIAL, CONSUMER AND FINANCIAL KNOWLEDGE AND SKILLS
ENTREPRENEURIAL KNOWLEDGE AND SKILLS
The learner will be able to demonstrate entrepreneurial knowledge, skills and attitudes.
Assessment Standard
We know this when the learner:
identifies different characteristics (abilities and talents) of entrepreneurs;
explains how entrepreneurs combine labour (work), capital (money, machinery, tools), and natural resources (raw materials) to gain profit;
differentiates between the entrepreneurial actions of buying, selling and producing.
Memorandum
Page 1 : Stimulate a class discussion on What I want to become one day.
Page 2 : Working for oneself has many advantages (and also disadvantages). List the advantages after a class discussion.
Page 3 : Study the example of Sonja as an entrepreneur and decide whether she is going to make enough profit with her fancy paper. Remember that for every sheet of writing paper she will also need a sheet for an envelope. From 100 sheets she can make only five packets with 10 sheets and 10 envelopes.
Page 4 : Learners are made aware once more that different businesses compete against one another to convince clients to buy from them. Through a process of comparison, decide why they have chosen to buy from a specific baker.
Page 5 and 6 : Let learners scrutinise magazines and collect advertisements that capture their attention. Then give feedback to the class and list features of advertisements that are visually and creatively stimulating.
Cut out examples of such appealing advertisements and give reasons for the decisions.