A third hormone, calcitonin, is produced by parafollicular cells of the thyroid either releasing hormones or inhibiting hormones. Calcitonin release is not controlled by TSH, but instead is released when calcium ion concentrations in the blood rise. Calcitonin functions to help regulate calcium concentrations in body fluids. It acts in the bones to inhibit osteoclast activity and in the kidneys to stimulate excretion of calcium. The combination of these two events lowers body fluid levels of calcium.
Parathyroid glands
Most people have four parathyroid glands ; however, the number can vary from two to six. These glands are located on the posterior surface of the thyroid gland, as shown in [link] . Normally, there is a superior gland and an inferior gland associated with each of the thyroid's two lobes. Each parathyroid gland is covered by connective tissue and contains many secretory cells that are associated with a capillary network.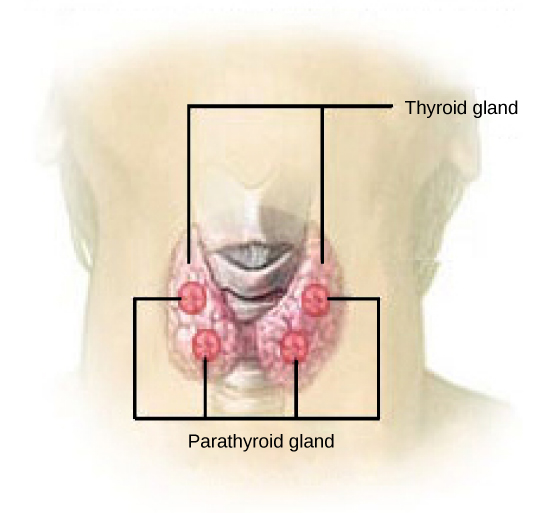 The parathyroid glands produce parathyroid hormone (PTH). PTH increases blood calcium concentrations when calcium ion levels fall below normal. PTH (1) enhances reabsorption of Ca 2+ by the kidneys, (2) stimulates osteoclast activity and inhibits osteoblast activity, and (3) it stimulates synthesis and secretion of calcitriol by the kidneys, which enhances Ca 2+ absorption by the digestive system. PTH is produced by chief cells of the parathyroid. PTH and calcitonin work in opposition to one another to maintain homeostatic Ca 2+ levels in body fluids. Another type of cells, oxyphil cells, exist in the parathyroid but their function is not known. These hormones encourage bone growth, muscle mass, and blood cell formation in children and women.
Adrenal glands
The adrenal glands are associated with the kidneys; one gland is located on top of each kidney as illustrated in [link] . The adrenal glands consist of an outer adrenal cortex and an inner adrenal medulla. These regions secrete different hormones.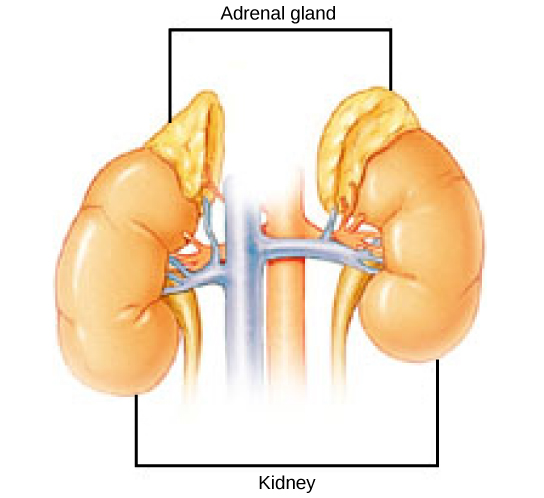 Adrenal cortex
The adrenal cortex is made up of layers of epithelial cells and associated capillary networks. These layers form three distinct regions: an outer zona glomerulosa that produces mineralocorticoids, a middle zona fasciculata that produces glucocorticoids, and an inner zona reticularis that produces androgens.
The main mineralocorticoid is aldosterone, which regulates the concentration of Na + ions in urine, sweat, pancreas, and saliva. Aldosterone release from the adrenal cortex is stimulated by a decrease in blood concentrations of sodium ions, blood volume, or blood pressure, or by an increase in blood potassium levels.
The three main glucocorticoids are cortisol, corticosterone, and cortisone. The glucocorticoids stimulate the synthesis of glucose and gluconeogenesis (converting a non-carbohydrate to glucose) by liver cells and they promote the release of fatty acids from adipose tissue. These hormones increase blood glucose levels to maintain levels within a normal range between meals. These hormones are secreted in response to ACTH and levels are regulated by negative feedback.