Environmental scans focusing on the search and display functions of existing web applications highlighted a number of useful user features. A useful feature of some applications is the suggestion of search terms to the user, either by way of a drop-down list or by auto-completion of the search string. Other applications offer "bookshelves" of saved search items, allowing their users to group items together and to tag, rate, and comment on them ( Figure 8 ). The survey of reader and display functions similarly suggested useful features that we could implement in the PReE user interface. As outlined in more detail above (see 5.2), there is growing interest in the research application of social annotations and annotation tools ( Figure 9 ). Other web applications enrich their content through the inclusion of user-contributed data, such as comments, tags, links, ratings, and other media ( Figure 10 ). As in the original proof-of-concept, the capacity for viewing images and texts side-by-side was also expected to be included ( Figure 11 ). As indicated in the movie above ( Movie 2 ), all of these features were included in the PReE workflow sketches, simple prototypes, and initial designs of the user interface.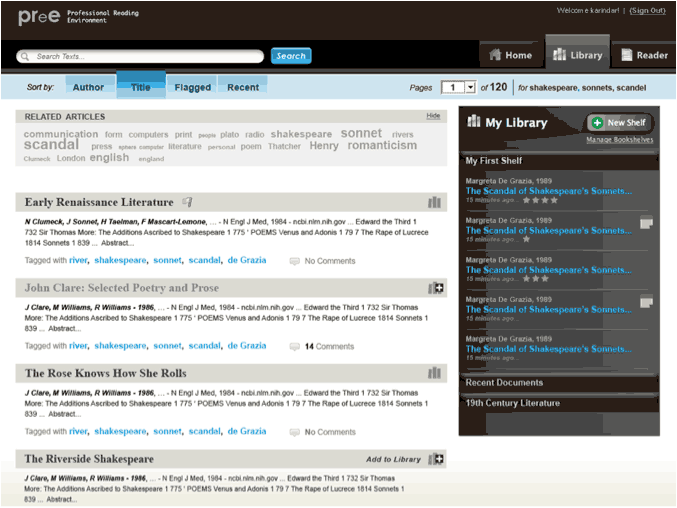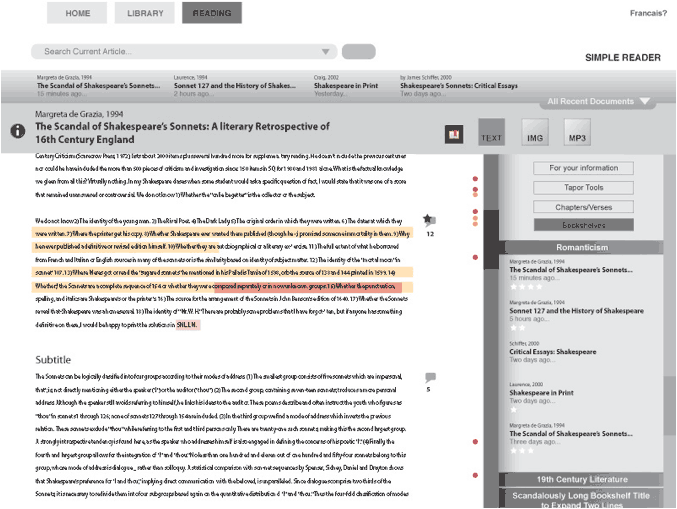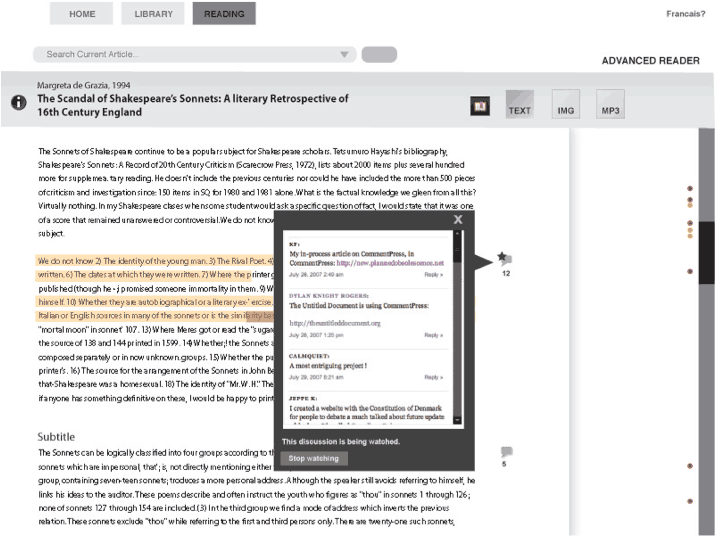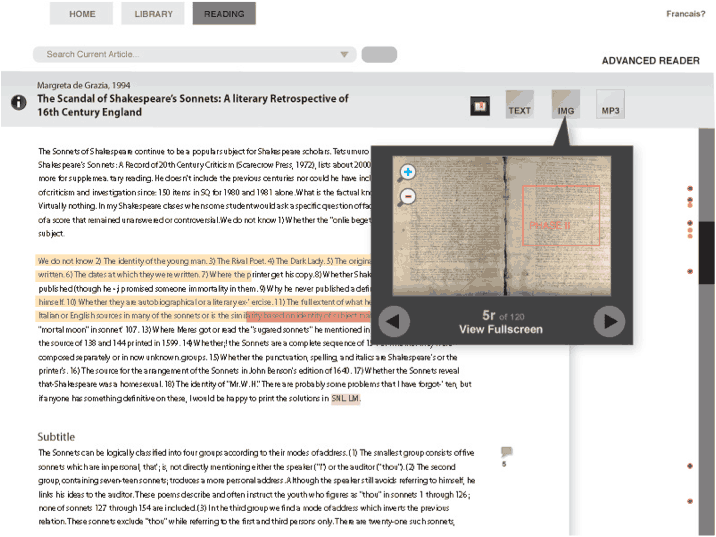 6. new insights and next steps
6.1. research insights and the humanities model of dissemination
While we have learned much about humanistic engagement with the technologies under consideration, we recognize also that we have gained significant experience and understanding about the nature of the work itself from a disciplinary perspective.
One unexpected insight involved the nature of where the research lies in our endeavor. Our original approach to the project was to work toward a reading environment that suited the needs of professional readers, with the belief that we understood our own needs best and could therefore contribute to the development of professional reading tools through our active participation in pertinent research processes. Conceptualizing and theorizing the foundations of and rationales for humanist tools and their features was an important part of our role, as was modeling the features and functions computationally so that it was clear that what we wished to do could be done. Indeed, we had particular success in amalgamating previously unconnected (but research-pertinent) database contents so that a researcher could speed workflow by not having to enter search terms across several unconnected databases and interfaces. By modeling these processes we were better able to understand the problems and to suggest possible solutions. From our perspective as researchers, developing the prototype that proved the concept was our primary goal —anything beyond this was more production- than research-oriented, and it was unclear to us whether production was part of our endeavor.