2) attach the circuit components to the breadboard
Most of the breadboards should already have their components pre-inserted in the correct places by the labbies. This section is included for completeness and so you can double check their work if necessary.
The MSP430 launchpad goes in the middle right hand side of the board. Its upperleftmost pin goes in hole H47 , and the chip sits across both halves of the breadboard. Once it's in, put in the 4 toggle dip switch across the channel above the Launchpad. The switch's top leftmost pin goes into hole E52.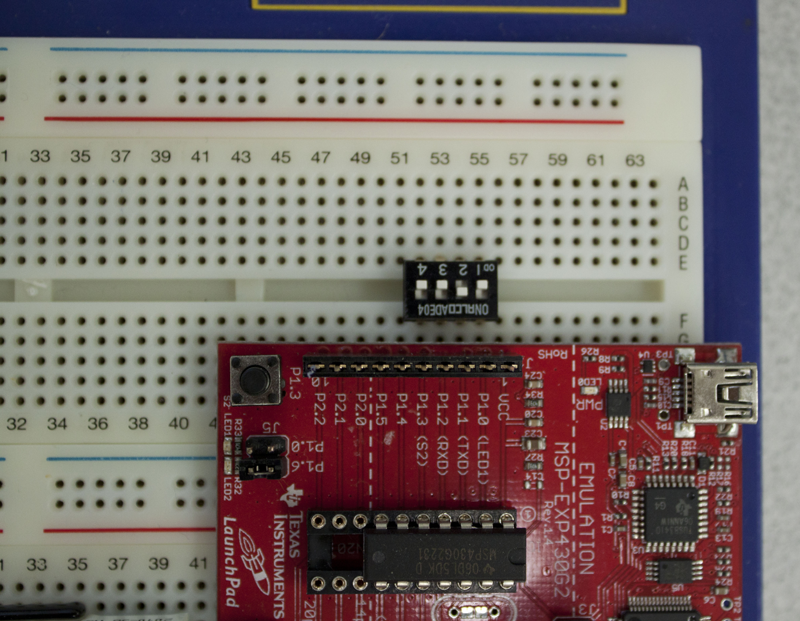 Now insert the decoder IC (the 16 pin chip MC14511BCP) into the board. The top leftmost pin goes into hole E21 across the lower breadboard channel.
Then put the 7-segment display across the same channel, with its top leftmost pin in hole C36 .
Take one of your resistor arrays (the long black sticks with a rubberized coating) and place it with the leftmost pin in hole B28 , connecting it to the top right pin of the decoder by doing so.
Lastly, put the other resistor array with its leftmost pin in hole I21 of the upper half of the breadboard.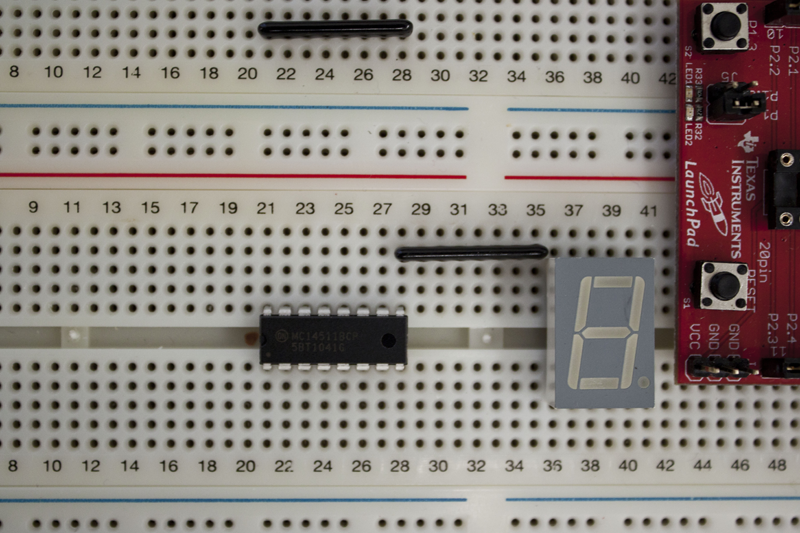 3) wire your power busses together
To give some additional flexibility, the breadboard busses aren't automatically connected together. In our applications, we will want to run all circuits off of the same power used by the MSP430 itself, so we need to tie all the different bus sections together.
Using the orange wires in the wiring kit, connect each half of all the horizontal bus strips . The wide gaps in the middle of the strips indicate that there is a gap we need to bridge with an external jumper wire.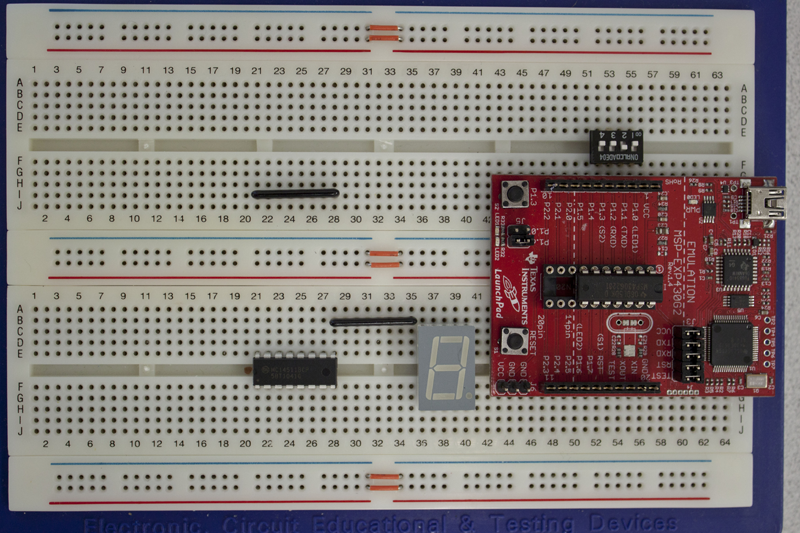 Since the lab setup only needs one power level, for convenience tie all the power busses together. This will allow shorter runs from the chips to whichever bus is closest. Using the red wires, connect all three red and all three blue busses together . Put the connections off to the far left hand side of the board out of the way of your main circuit.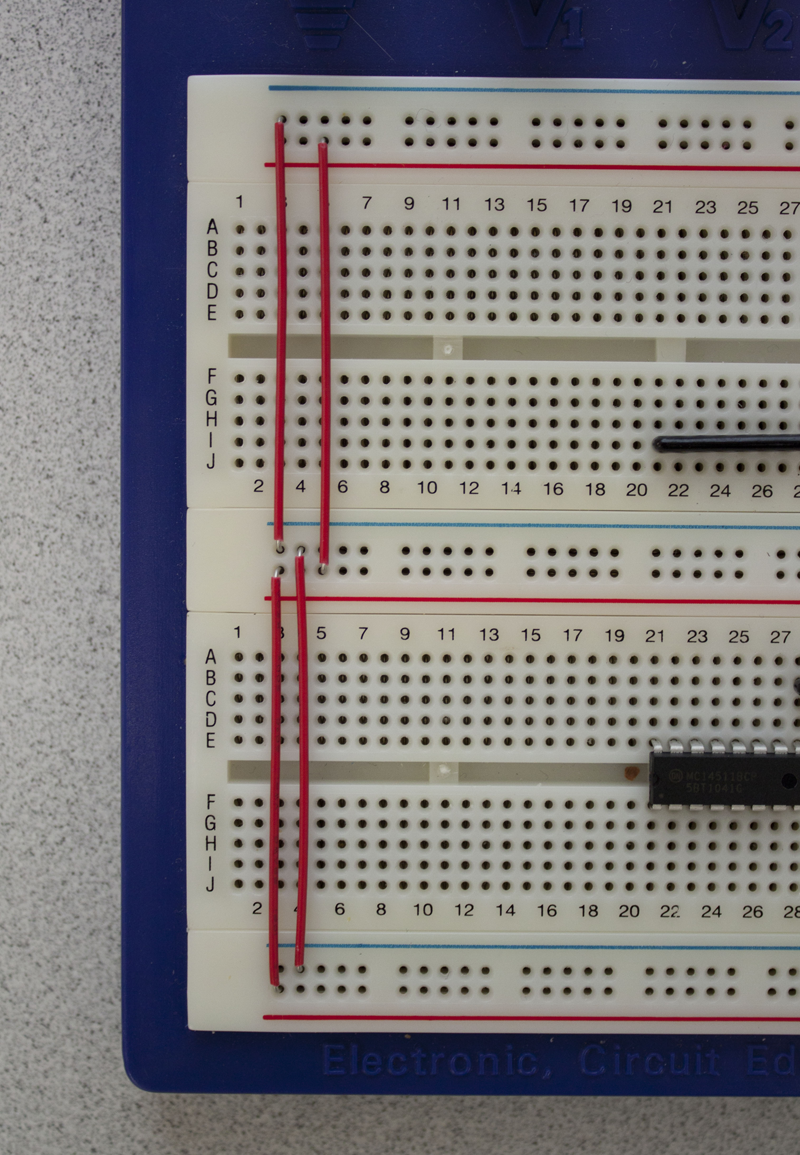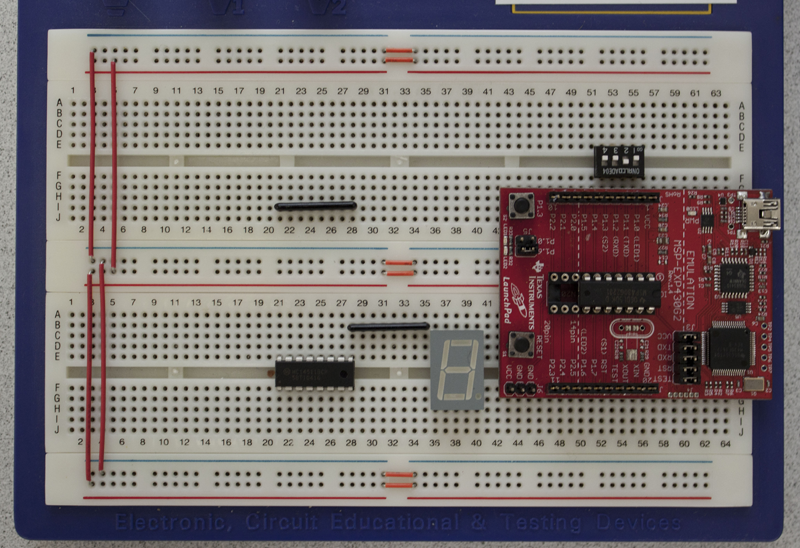 4) connect power to busses
We already wired the busses together, but now we need to connect the +3.3v and GND provided by the MSP430 Launchpad's USB connection and voltage regulators. Connect the blue bus strip to GND (lower F-J column 56) using a green wire and the red bus strip to Vcc (upper F-J column 56) using a blue wire. You will need to use a small orange jumper to cross the upper channel as shown in the picture below.