Afrikaans eerste addisionele taal
Graad 5
Ontdek die wêreld van sport
Module 4
Geweld in sport
Lees hardop wat die volgende mense te sê het oor geweld in sport.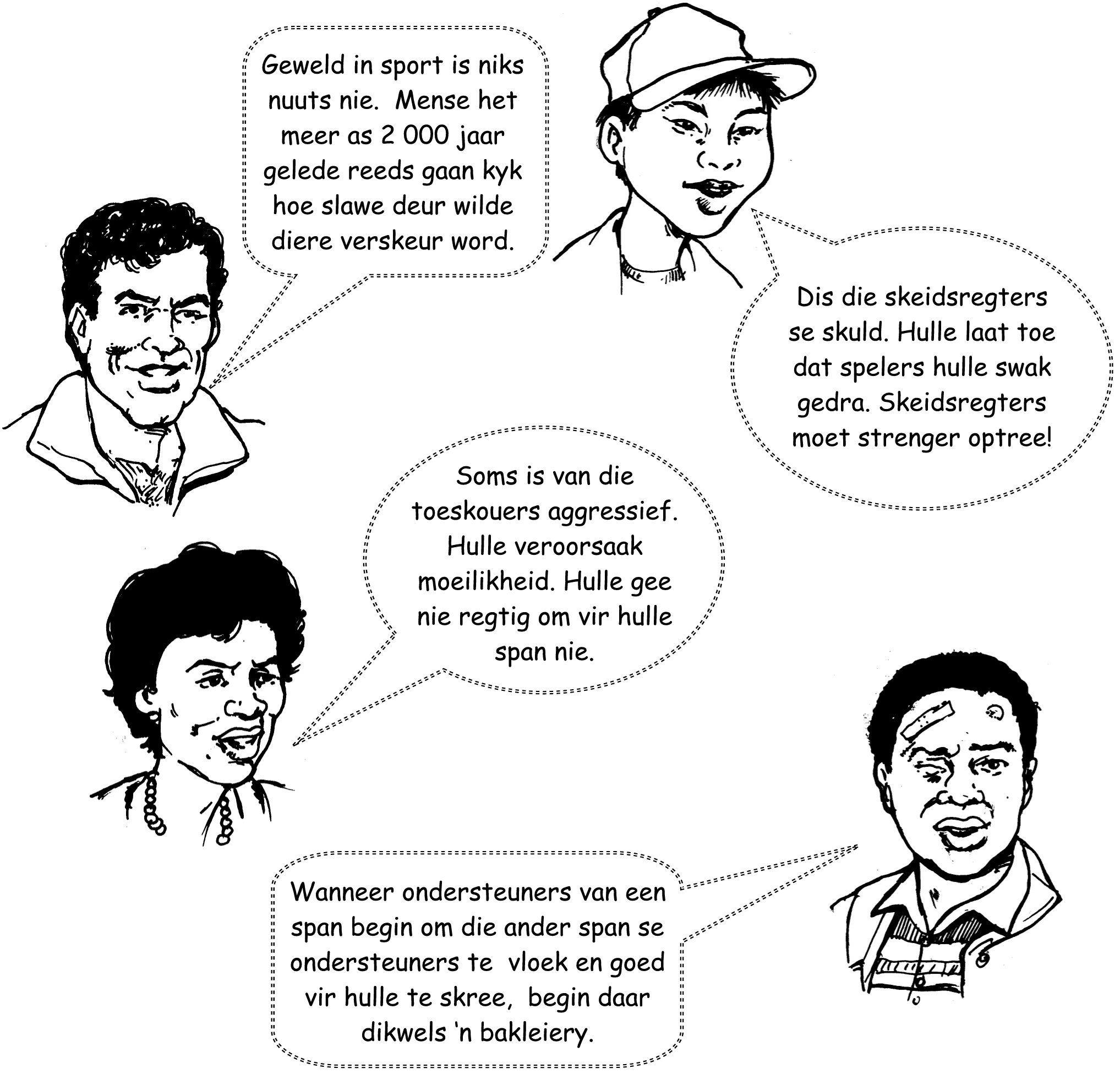 Elke mens word een of ander tyd kwaad, ook sportmanne op die sportveld. Die toeskouers by sportwedstryde kan ook kwaad word. Het julle al kwaad geword terwyl julle 'n wedstryd speel of na een kyk?
Gesels in groepe oor die redes vir geweld by sport.
Wanneer word spelers kwaad?
Wanneer word toeskouers kwaad?
Watter rol speel die skeidsregter?
Is dit reg of verkeerd om kwaad te word?
Hoe kan geweld voorkom word?
Kopieer hierdie tabel. Beoordeel die geweld by die volgende sportsoorte met 'n telling van 0 tot 5.
0 : geen geweld
5 : baie geweld
| | |
| --- | --- |
| Sportsoort | Beoordeling |
| Krieket | |
| Netbal | |
| Hokkie | |
| Atletiek | |
| Boks | |
| Karate | |
| Tennis | |
| Rugby | |
| Sokker | |
| Stoei | |
[LU 2.1.2; 2.1.3; 2.1.4]
1. die hond en die hokkiespelers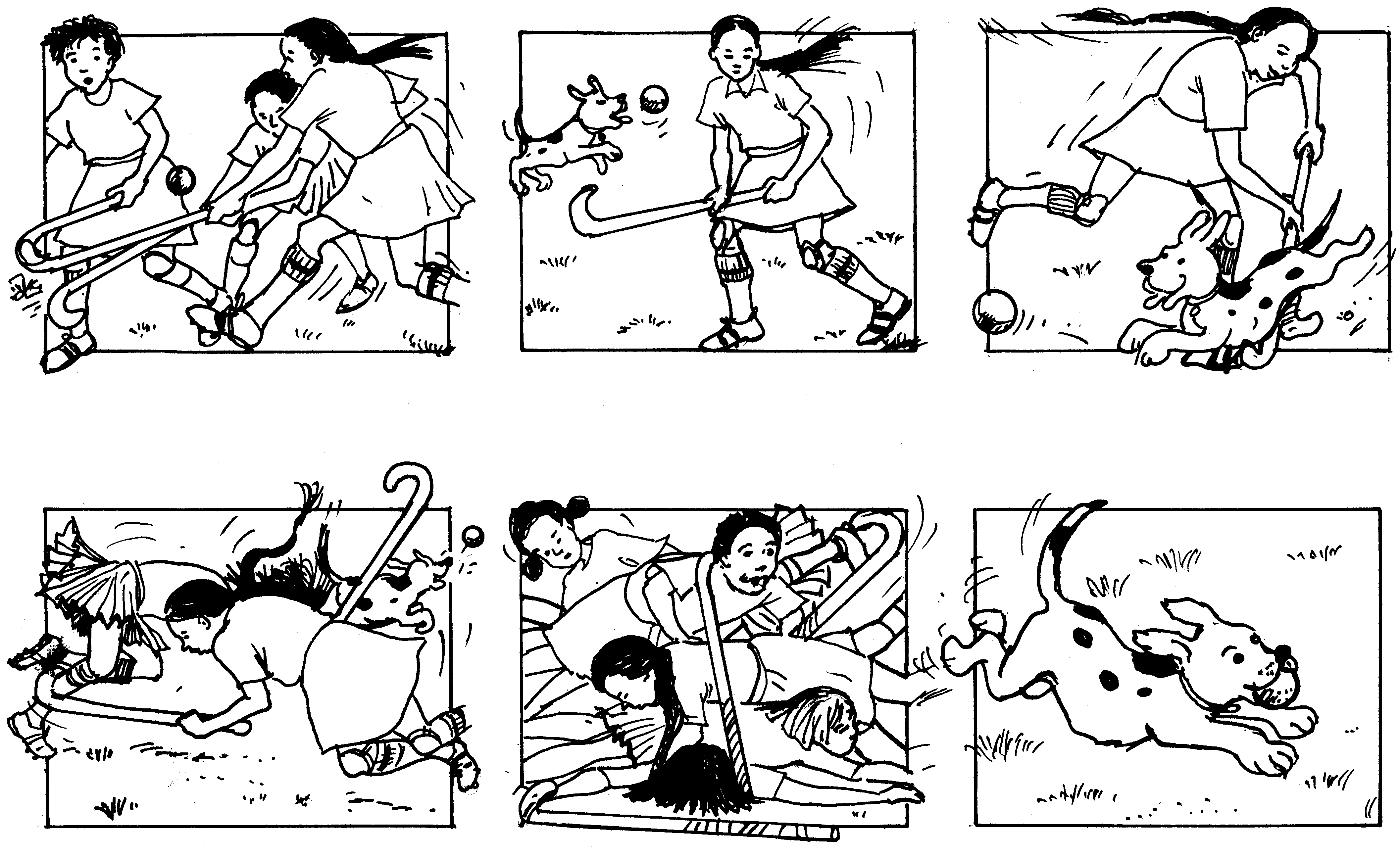 Kyk baie mooi na die prentjies. Skryf een of twee sinne oor elke prentjie om sodoende te vertel wat gebeur. Lees dit hardop vir jou maat. Ruil om met jou maat en voltooi 'n kopie van die volgende tabel deur 'n х in die blokkie van jou keuse te plaas.
MAKKERASSESSERING
| | | | | |
| --- | --- | --- | --- | --- |
| | | | | |
| | Glad nie | Soms | Dikwels | Altyd |
| Sinne begin met hoofletters en eindig met punte. | | | | |
| Die woorde is reg gespel. | | | | |
| Die sinskonstruksie is goed. | | | | |
| Dit is in goeie Afrikaans geskryf. | | | | |
| Die storie is verstaanbaar en sinvol. | | | | |
[LU 4.1.3]
2. voorlesing
Julle onderwyser gaan nou 'n baie kort stukkie voorlees. Luister baie mooi. Nadat julle dit drie maal gehoor het, gaan daar vrae gestel word wat julle hieronder moet beantwoord.
Sara is 'n tien jaar oue dogter. Sy is baie opgewonde, want sy gaan vandag weer perdry. Perdry is haar gunsteling sportsoort en 'n ideale sportsoort vir mense wat lief is vir diere. Sara en haar ouers bly in 'n woonstel en sy kan nie haar eie perd aanhou nie. 'n Mens moet 'n stal hê as 'n mens 'n perd aanhou, asook genoeg ruimte vir die perd om oefening te kry.
Wat is die dogtertjie se naam?
Wat is haar gunsteling sportsoort?
Waarvoor moet 'n mens lief wees as jy wil perdry?
Kies die regte antwoord:
'n Perd bly in 'n (stal, hok, kraal).
Waar of onwaar?
Die dogter bly in 'n huis.
[LU 1.1.1]
Assessering
LU 1
LUISTER
Die leerder is in staat om vir inligting en genot te luister en gepas en krities binne 'n wye verskeidenheid situasies te reageer.
Dit is duidelik wanneer die leerder die volgende doen:
1.1 verstaan stories (aan leerders vertel of gelees):
1.1.1 beantwoord letterlike vrae;
1.3 verstaan mondelinge beskrywings:
1.3.3 teken relevante inligting op (soos in 'n tabel).
LU 2
PRAAT
Die leerder is in staat om vrymoedig en doeltreffend in gesproke taal binne 'n wye verskeidenheid situasies te kommunikeer.
Dit is duidelik wanneer die leerder die volgende doen:
2.1 voer interaksie in sy/haar addisionele taal:
2.1.2 neem deel aan 'n gesprek oor 'n bekende onderwerp;
2.1.3 lug mening en gee 'n rede daarvoor;
2.1.4 druk gevoelens uit;
2.2 tree op kultureel gepaste maniere op:
2.2.1 rolspeel bekende situasies met gepaste taal en gebare;
2.3 gebruik die addisionele taal om inligting oor te dra:
2.3.1 vertel 'n reeks gebeurtenisse oor deur verbindingswoorde te gebruik;
2.4 gebruik die addisionele taal op 'n kreatiewe wyse:
2.4.3 speel speletjies wat taal betrek.
LU 4
SKRYF
Die leerder is in staat om verskillende soorte feitelike en verbeeldingstekste vir 'n wye verskeidenheid doeleindes te skryf.
Dit is duidelik wanneer die leerder die volgende doen:
4.1 skryf om inligting oor te dra:
4.1.3 beskryf gebeurtenisse skriftelik;
4.1.6 druk mening skriftelik uit en gee 'n rede daarvoor (soos waarom 'n boek interessant of vervelig is);
4.4 ontwerp mediatekste:
4.4.1 ontwerp 'n eenvoudige plakkaat of kennisgewing.
Memorandum
1.
(Eie sinne. Hierdie is slegs voorbeelde.)
Die meisies het hokkie gespeel.
Die hondjie het op die veld gehardloop en die bal probeer gryp.
Een van die meisies het hom probeer keer en hom met haar hokkiestok weggekeer.
Die hokkiestok het per ongeluk om 'n ander meisie se been gehaak. Die hondjie kon lustig agter die bal aanhardloop, want skielik het 'n hele klomp meisies oormekaargeval. Uiteindelik het die hondjie met die bal in sy bek weggehardloop.
2.
(a) Sara
(b) perdry
(c) diere
(d) stal
(e) waar