Section 2.1.1 describes the historical development through Vacuum Tube Era.
2.1. history of electron devices- vacuum tube era, solid state era and nanotechnologyera.
In 1897, while studying Cathode Ray in a Vacuum Tube, J.J.Thomson for the first time identified the Cathode Ray with 'Electrons'. For this J.J.Thomson was awarded Nobel Prize in Physics in 1906.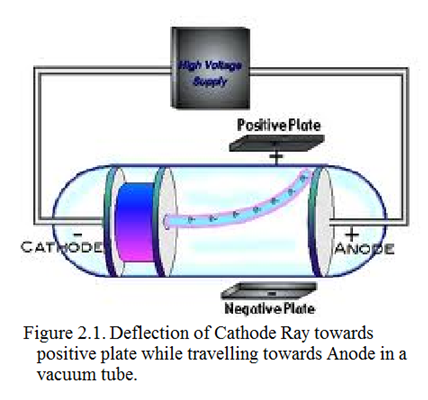 Thomson's Vacuum Tube was a very simple contraption. The Tube was evacuated to a vacuum of 10 -3 Torr by a rotary pump. 1 Torr is 1mm Hg Vacuum. 1 Atmosphere pressure will support 76cm column of Hg. We can go to still higher vacuum using diffusion pump. For MOSFET fabrication we require ion-pump which can evacuate to 10 -8 Torr.
This evacuated Vacuum Tube (VT) contains a filament, cathode and anode. Filament is made of tungsten which on passage of current gives a lot of thermal energy by resistive heating. This heats the Cathode.
Cathode is made of Strontium-BariumCuO with a work-function W F = 1eV.
The energy band diagram of Cathode is given in Figure 2.2.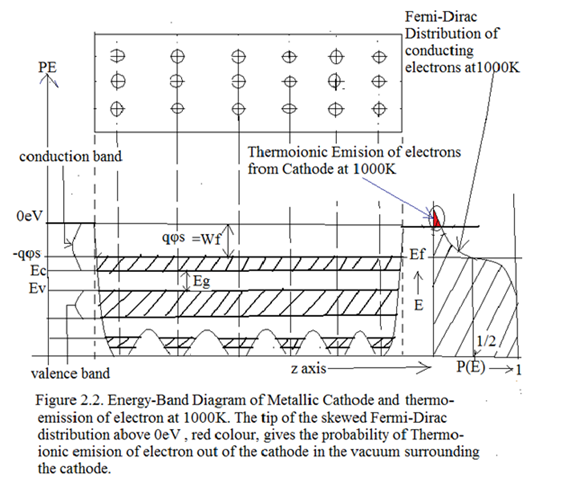 As seen in Figure 2.2., Cathode is heated to 1000K.Conducting electrons in the Cathode are energetic enough to cross the Surface Barrier Potential (φs) and constitute the thermoionically emitted electrons which form a space charge cloud around the cathode as shown in Figure 2.4. As emitted electrons leave the surface of the cathode, a positive charge builds up on the cathode surface because of unbalanced charge within the cathode. This positive charge holds on to emitted electrons causing space charge cloud. From this space charge cloud electrons are pulled to the anode held at positive potential of 100V. This motion of electrons from the cathode to anode constitute the Anode Current and which was interpretated as Cathode Ray until Thomson revealed the mystery of thermoionic emission of electrons from the cathode.
Thomson studied this beam of electron meticulously and established the charge 'q' and q/m ratio of electron where m is the mass of electron. The set up is shown in Figure 2.3.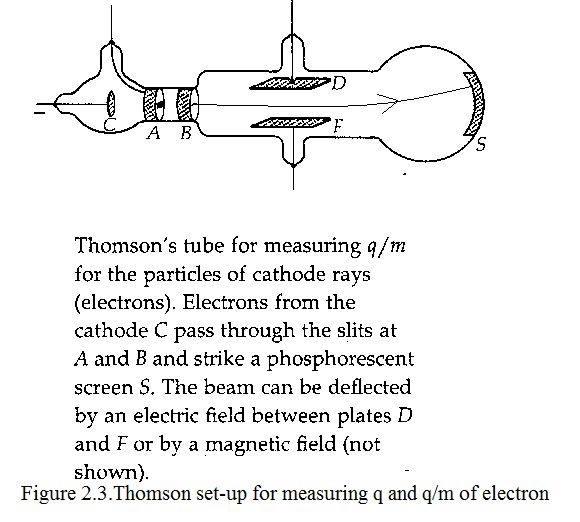 The verification of the negative charge of electron led J.J.Thomson to hypothesize the Plum-Pudding Model. He suggested that negatively charged electrons are swimming in a sea of positive charge. It was only later on that by Gold-foil experiment Rutherford decisively established the planetary model of atom. He found that 99% of the mass of the atom is concentrated in the nucleus and it was positively charged. Electrons are orbiting this nucleus and their opposite charges are equal in magnitude to make an atom neutral in charge.
The discovery of electrons formally launched the Branch of Engineering we know as Electronics and Communication Engineering. This was also the start of Vacuum Tube Era.
2.1.1. vacuum tube era
Vacuum Diode - After the discovery of electron in 1897, Vacuum Diode was invented by John Ambrose Fleming in 1903. Vacuum Diode is identical to the CRT shown in Figure 2.1 except that it does not have parallel set of deflecting plates and is shown in Figure2.4. I-V characteristics of the Vacuum Diode is shown in Figure 2.5.