The third year of the New York Etching Club minutes.
1879 events
The American Water Color Society held its Twelfth Annual Exhibition during February and early March at the National Academy of Design. "The Black and White Room," as it was identified in the exhibition catalogue, featured some seventy-five works of art. Etchings were shown by New York Etching Club members A. H. Baldwin, Frederick Dielman, Henry Farrer, Charles Henry Miller, R. Swain Gifford, James D. Smillie, George. H. Smillie, and future member J. M. Falconer. Additional works of graphic art from the Art Students League, F. Hopkinson Smith, Frederick S. Church, Robert Blum, and Winslow Homer were also displayed in the gallery.
The founding in Boston of American Art Review by its editor, Mr. S. R. Koehler. Significantly, each ensuing issue of the publication was illustrated with original etchings—mostly by members of the New York Etching Club. This unique publication inspired widespread public attention to the etching medium newly popular among American artists.
Ninth regular monthly meeting – n. y. etching club, held in j. d. smillie's studio monday evening _ jany. 13" 1879.
There was no quorum until after 9 o'clk. At that time a telegram was received from the Pres.' Dr. L. M. Yale stating that he could not be present at the meeting. Mr. Saml. Colman was then requested to take the chair, and by him the meeting was called to order at 9.30. The Secty. Called the roll – Present Messrs Colman, Bellows, Gifford, Baldwin, Miller, Farrer, Dielman, Shirlaw and Jas. D. Smillie – Later, Mr. T. W. Wood came in. 10. The minutes of the last meeting were read and approved. The election of members then being in order, messrs Farrer&Baldwin were appointed tellers. They declared as the result, the unanimous election of Wm. M. Chase&F. S. Church. The Secty then proposed the name of Geo. H. Smillie for membership, seconded by Saml. Colman&A. F. Bellows.
Mr. Hy. Farrer presented pfs. of 13 etchings
" A. F. Bellows " ' 3 "
" J. D. Smillie 1 ____ 17 pfs of etchings
Several proofs of etchings by messrs Blum&Brennan were also shown by a member.
At 10.15, there being no further business and, being duly moved&seconded the meeting was adjourned.
James D. Smillie Secty
Approved Feby. 10" 1879.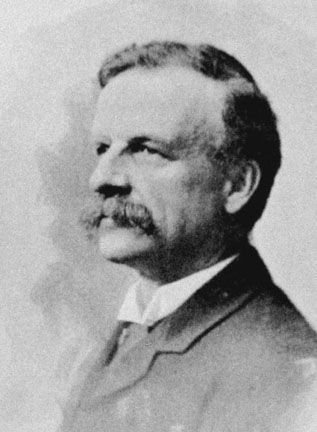 Tenth regular monthly meeting n. y. etching club, held in smillies studio monday eveng. feby 10' 1879.
At 8.30 the meeting was called to order by the Pres.' Dr. L. M. Yale. The roll was called by the Secty. Present messrs L. M. Yale, Baldwin, Tiffany Farrer, Bellows Church Gifford and Smillie_8_ The minutes were then read and approved. The first regular
business was the election of members. Messrs Church&Baldwin were appointed tellers and after the balloting announced that Geo. H. Smillie was unanimously elected.
Dr. Yale presented 6 proofs of etchings
Figure 7. Frederick S. French (Church?)
Mr. Chas. Miller presented 3 pfs of etchings
" F. S. Church " 2 " ' "
" L. C. Tiffany " 3 " __ 14 pfs.
A proof of an etching by Mr. Blum after Fortuny, presented by a member, was much commented upon. There was also a very informal discussion without result about an Etching Club excursion, to take place as soon as the weather should be sufficiently pleasant. The idea being that the plates should be taken&etched out of doors from nature.