Click here to see a 2-minute video explaining greenhouse gases and global warming.
Susan solomon
Atmospheric and climate scientist Susan Solomon ( [link] ) is the author of one of The New York Times books of the year ( The Coldest March , 2001), one of Time magazine's 100 most influential people in the world (2008), and a working group leader of the Intergovernmental Panel on Climate Change (IPCC), which was the recipient of the 2007 Nobel Peace Prize. She helped determine and explain the cause of the formation of the ozone hole over Antarctica, and has authored many important papers on climate change. She has been awarded the top scientific honors in the US and France (the National Medal of Science and the Grande Medaille, respectively), and is a member of the National Academy of Sciences, the Royal Society, the French Academy of Sciences, and the European Academy of Sciences. Formerly a professor at the University of Colorado, she is now at MIT, and continues to work at NOAA.
For more information, watch this video about Susan Solomon.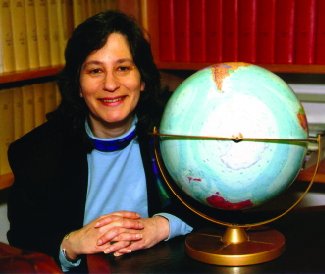 Key concepts and summary
The ideal gas law can be used to derive a number of convenient equations relating directly measured quantities to properties of interest for gaseous substances and mixtures. Appropriate rearrangement of the ideal gas equation may be made to permit the calculation of gas densities and molar masses. Dalton's law of partial pressures may be used to relate measured gas pressures for gaseous mixtures to their compositions. Avogadro's law may be used in stoichiometric computations for chemical reactions involving gaseous reactants or products.
Key equations
P Total = P A + P B + P C + … = Ʃ i P i
P A = X A P Total
Chemistry end of chapter exercises
A cylinder of O 2 ( g ) used in breathing by emphysema patients has a volume of 3.00 L at a pressure of 10.0 atm. If the temperature of the cylinder is 28.0 °C, what mass of oxygen is in the cylinder?
Got questions? Get instant answers now!
Consider this question: What is the molecular formula of a compound that contains 39% C, 45% N, and 16% H if 0.157 g of the compound occupies l25 mL with a pressure of 99.5 kPa at 22 °C?
(a) Outline the steps necessary to answer the question.
(b) Answer the question.
Got questions? Get instant answers now!
Questions & Answers
Receive real-time job alerts and never miss the right job again
Source:  OpenStax, Chemistry. OpenStax CNX. May 20, 2015 Download for free at http://legacy.cnx.org/content/col11760/1.9
Google Play and the Google Play logo are trademarks of Google Inc.
Notification Switch
Would you like to follow the 'Chemistry' conversation and receive update notifications?