Just below the middle of the furnace, the temperature is high enough to melt both the iron and the slag. They collect in layers at the bottom of the furnace; the less dense slag floats on the iron and protects it from oxidation. Several times a day, the slag and molten iron are withdrawn from the furnace. The iron is transferred to casting machines or to a steelmaking plant ( [link] ).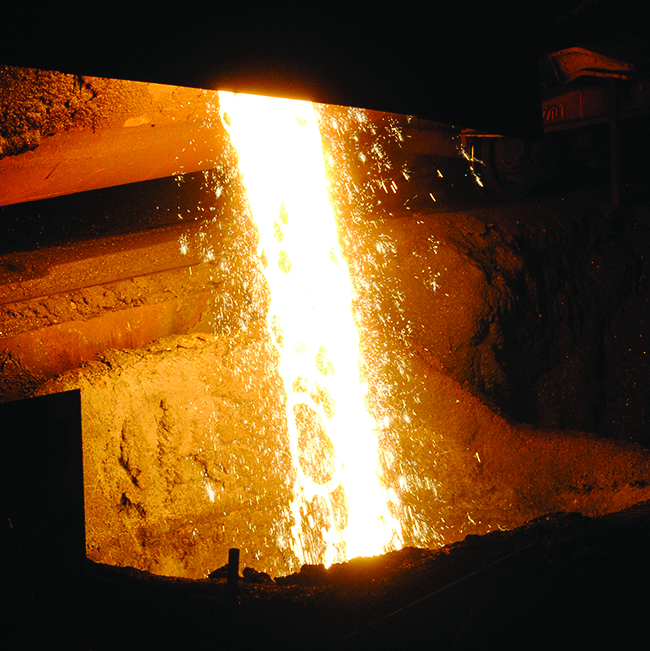 Much of the iron produced is refined and converted into steel. Steel is made from iron by removing impurities and adding substances such as manganese, chromium, nickel, tungsten, molybdenum, and vanadium to produce alloys with properties that make the material suitable for specific uses. Most steels also contain small but definite percentages of carbon (0.04%–2.5%). However, a large part of the carbon contained in iron must be removed in the manufacture of steel; otherwise, the excess carbon would make the iron brittle.
You can watch an animation of steelmaking that walks you through the process.
Isolation of copper
The most important ores of copper contain copper sulfides (such as covellite, CuS), although copper oxides (such as tenorite, CuO) and copper hydroxycarbonates [such as malachite, Cu 2 (OH) 2 CO 3 ] are sometimes found. In the production of copper metal, the concentrated sulfide ore is roasted to remove part of the sulfur as sulfur dioxide. The remaining mixture, which consists of Cu 2 S, FeS, FeO, and SiO 2 , is mixed with limestone, which serves as a flux (a material that aids in the removal of impurities), and heated. Molten slag forms as the iron and silica are removed by Lewis acid-base reactions:
In these reactions, the silicon dioxide behaves as a Lewis acid, which accepts a pair of electrons from the Lewis base (the oxide ion).
Reduction of the Cu 2 S that remains after smelting is accomplished by blowing air through the molten material. The air converts part of the Cu 2 S into Cu 2 O. As soon as copper(I) oxide is formed, it is reduced by the remaining copper(I) sulfide to metallic copper:
The copper obtained in this way is called blister copper because of its characteristic appearance, which is due to the air blisters it contains ( [link] ). This impure copper is cast into large plates, which are used as anodes in the electrolytic refining of the metal (which is described in the chapter on electrochemistry).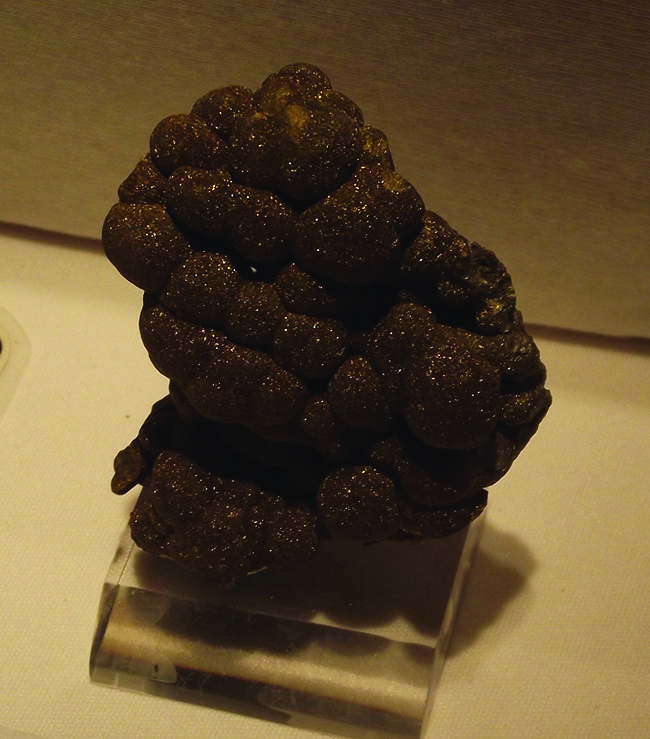 Isolation of silver
Silver sometimes occurs in large nuggets ( [link] ) but more frequently in veins and related deposits. At one time, panning was an effective method of isolating both silver and gold nuggets. Due to their low reactivity, these metals, and a few others, occur in deposits as nuggets. The discovery of platinum was due to Spanish explorers in Central America mistaking platinum nuggets for silver. When the metal is not in the form of nuggets, it often useful to employ a process called hydrometallurgy to separate silver from its ores. Hydrology involves the separation of a metal from a mixture by first converting it into soluble ions and then extracting and reducing them to precipitate the pure metal. In the presence of air, alkali metal cyanides readily form the soluble dicyanoargentate(I) ion, from silver metal or silver-containing compounds such as Ag 2 S and AgCl. Representative equations are: